'Queer Eye' Star Antoni Porowski's Restaurant Is Opening Even Sooner Than You Think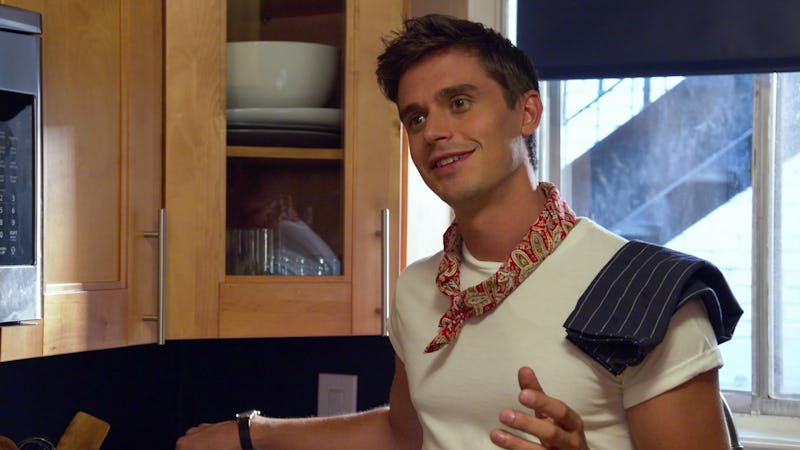 Netflix
After becoming instantly adored by fans, this Fab Five member is proving he's got a whole lot more than dashing good looks and avocado tricks up his sleeve. Queer Eye's Antoni Porowski is opening an NYC restaurant, and soon, people will be able to see what the food connoisseur can really do. But when will Antoni's restaurant open? Stay hungry, New Yorkers, because his spot, Village Den, is opening very soon.
In an interview with The New York Times, the TV personality revealed that Village Den, located in NYC's West Village, will open next month. Queer Eye's food and wine expert is all about tasty yet healthy and nutritious eating, and it looks like he's bringing that same mindset to his restaurant (which he told NYT is aimed for the "30s health and fitness" crowd, such as himself). NYT describes the theme as comfort food with a nutritious spin, and says it "will give a healthier update to the TV dinner." A modern update to enhance a beloved classic? Sounds familiar.
Obviously, most fans are probably wondering: What's the grub like? Well, after spending three weeks "locked in a kitchen" to figure out a menu with his partners, people should assume it's going to be pretty darn good and executed with precision and care.
According to the New York Times, the menu will consist of dishes such as cabbage rolls stuffed with turkey and cauliflower rice as well as spins on classic TV dinners, including macadamia-crusted fish sticks with maple parsnip mash. Some menu items are inspired by his Polish heritage. "There is a level of intimacy in sharing the foods that have shaped me," he told NYT.
Antoni basically became an instant meme from Queer Eye, due to elongated sequences of him explaining extremely simple avocado techniques and recipes. Responses included tweets like, "Get you a guy who looks at you the way @antoni looks at someone slicing an avocado." There's literally a Twitter account named Antoni Porowski's avocados. And believe it or not, avocado originally wasn't on his restaurant's menu.
"That scarred me a little," he told NYT. "The first draft of the menu didn't have a single avocado anywhere." Avocado dishes remain TBD as of now. Further, Antoni reportedly plans on being as hands-on and involved with the restaurant as he can, aiming to be present to oversee everything when Queer Eye isn't being filmed.
He unintentionally revealed his restaurant plans and explained his inspiration during a panel in June, according to Food & Wine, saying:
"I'm all about like cheese and pork belly and decadence, and as a result of the increased vanity of being on camera all the time and working out and eating healthy, I'm developing a fast-casual food concept restaurant that I'm gonna be opening here in New York."
Although he's worked in the service industry for years (previously working for original Queer Eye food expert and Food Network host Ted Allen), Antoni admitted to NYT that he never dreamed of opening his own restaurant. But eventually, his passion took over. "I know how much work goes into it, [but] I get to hyper-focus on one simple thing, which is food." Antoni's food is made with love, and that will definitely be reflected in the taste... with or without avocado.