Changes Are Coming To 'Chicago Fire' Season 6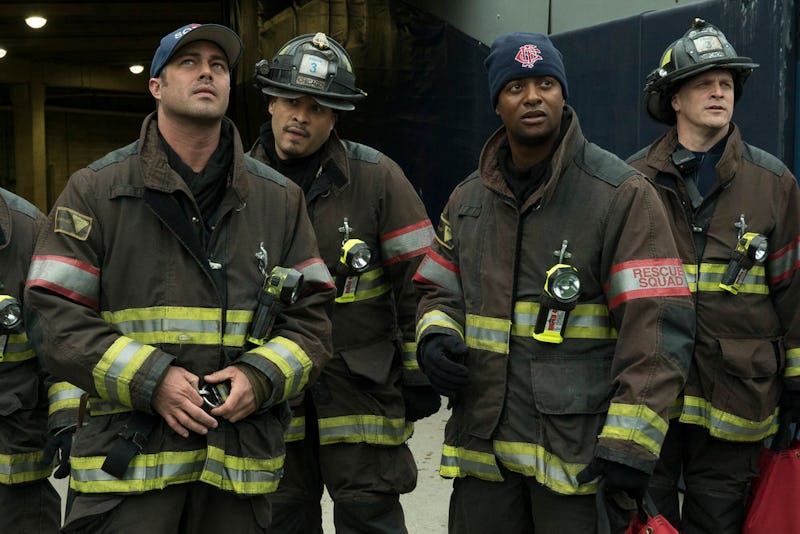 Elizabeth Morris/NBC
The end of the regular TV season means a tsunami of season finales and pickup announcements. But fans of some shows don't have to worry about renewal or cancellation. For example, a few days before its May 16 finale, it was announced that firehouse drama Chicago Fire will return for Season 6. According to Deadline, NBC renewed Chicago Fire, Chicago P.D., and Chicago Med well in advance of the fall of 2017, when their new seasons should premiere (except for Chicago Med, which is reportedly heading to midseason 2018).
Behind the scenes at Chicago Fire, there will be some shifts, however. Showrunner Michael Brandt and Executive Producer Joe Chappelle are leaving Chicago Fire after the Season 5 finale, according to Deadline.
However, fans shouldn't be too worried about the upcoming changes. First of all, Chicago Fire has gone through a fair amount of on-camera rearrangements over the years, and it's never really been an issue. Yes, surely fans are disappointed to lose a favorite actor like Steven McQueen, but the heart of the show is 51, not any singular character. Now the same Deadline piece reports that one of the original co-creators of the Chicago franchise, Derek Haas is taking over as solo showrunner. He's already excitedly sharing some of his ideas for Season 6 and beyond on Twitter.
Here's what Haas has to say about Chicago Fire's return — and why viewers should be excited for the sixth installment of the series.
The Finale Will Be Shocking
It sounds like the Chicago Fire finale will be particularly explosive, and Haas promises that there will not only be a cliffhanger, but that it will rival any episode the show has ever made... that means a lot to unwind in Season 6.
He Ships Brettonio
As one of the responses to this tweet read, "don't tease," because the Brett and Antonio relationship breakup really came out of nowhere. A lot of shows struggle once a compelling couple gets together, but it sounds like Haas is interested in potentially exploring a rekindling.
He Has Strong Opinions On All The Show's Relationships
And it doesn't stop with Brettonio, because Haas has shared his input on lots of Chicago Fire couples on Twitter before. Whether you're disappointed in the lack of a future for Severide and Stella or thrilled about the prospect of Casey's new relationship, this showrunner knows that fans care deeply about the series' couples — and he does too.
He Believes Strongly In His Staff
It takes more than just a showrunner to make a series, and a good staff of writers is the most important thing a good producer can have by their side. And while there have been some changes at the highest levels, it sounds like Haas is happy to keep the rest of the staff if they're able to stay.
He's Not Going To Soften The Show's Edges
I mean, this should come as no surprise given that Haas has always been a part of the show, but it looks like fans can expect that there will be more shocking deaths in the future.
Haas Has His Own Chicago Bucket List
There are certainly plenty of motorcycle fans on the Chicago franchise. The dream of seeing Jack on a motorcycle has propelled Haas through the last five seasons of writing... and perhaps, now that he's running Chicago Fire solo, he can finally make it happen.
Chicago Fire is making some alterations behind the scenes before Season 6, but the franchise tentpole shows no signs of slowing down.