This One Person Might Be Able To Stop Michael Langdon On 'AHS: Apocalypse'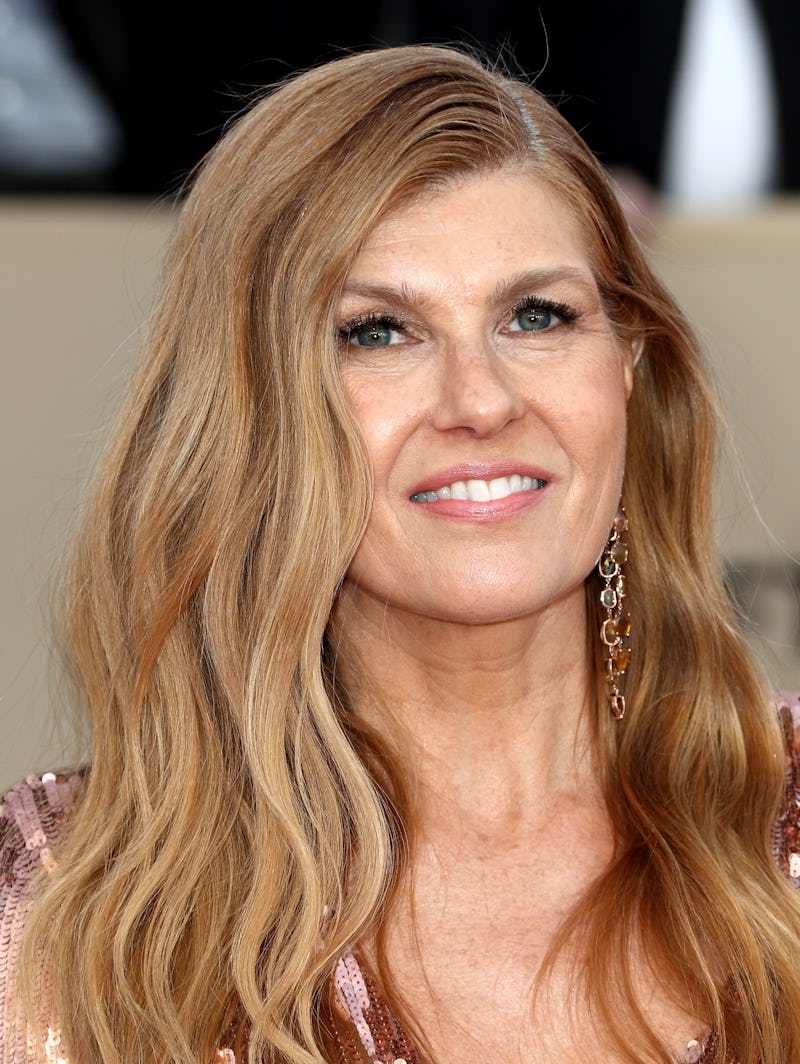 Frederick M. Brown/Getty Images Entertainment/Getty Images
For an apocalypse, there have been a surprising amount of unexpected guests announced for American Horror Story: Apocalypse. The demonic anti-christ Michael Langdon has already made an appearance, and if the reports are true, his birth family isn't very far behind him. The entire Harmon family, featured in AHS: Murder House, are set to make a guest appearance in Apocalypse, and that includes the Harmon matriarch and Michael's birth mother, Vivien, played by the incredible and beautifully coiffed Connie Britton. But when will Connie Britton be on AHS: Apocalypse?
Details about American Horror Story are notoriously hard to come by, so nothing has officially been released about when the Harmon family can be expected to make an appearance in Outpost 3. But a little IMDb sleuthing reveals that the actors who play the Harmon family are listed as cast members for Episode 6 of the season, including Taissa Farmiga as Violet Harmon, Dylan McDermott as Dr. Ben Harmon, and, you guessed it, Connie Britton as Vivien Harmon. They will be accompanied by Jessica Lange, who is returning to reprise her role as the Harmon's mysterious neighbor and Michael Langdon's grandmother, Constance Langdon. Murder House will be colliding with the apocalypse soon enough.
Britton's return to the show will mark her first time back on AHS since appearing in the first season, and Vivien will likely play a key role in Apocalypse. After all, she is Michael Langdon's birth mother. Even though she died giving birth to him, and he's a demonic fellow who doesn't seem to care about anyone, Vivien might have some power over Michael that no one else has. Maybe she alone can stop him from fully carrying out the apocalypse, an apocalypse that was predicted by the physic Billie Dean Howard in Season 1.
And if Vivien can't convince Michael to stop what he's set in motion (or kill him— this is American Horror Story, after all) then maybe his grandmother, Constance, can. Jessica Lange is reprising her role, and maybe, along with her dead neighbors, she can help the survivors in Outpost 3 stop the apocalypse. On the other hand, maybe she's there to revel in the chaos her grandson has created. After all, she didn't seem exactly distressed when three-year-old Michael murdered his nanny in the Season 1 finale.
Whether the Harmons arrive at Outpost 3 to help stop Michael or for some other reason remains to be seen. But we do know that these beloved characters won't just be featured in the Outpost. Actor Dylan McDermott, who plays Ben Harmon, posted a photo of him with Evan Peters, in costume as Tate Langdon, on set at the Murder House. And show runner Ryan Murphy has also posted a picture of McDermott on set with Britton, in their "forever home"... Murder House. Will there be a Murder House flashback? Or did Murder House somehow managed to survive the atomic blast? To be honest, I would not be surprised.
But if the house is still standing, then the show will have to explain how the Harmon family is able to leave the site of their death. Murder House made very clear that those who died in the house were doomed to wander its halls for eternity, with the exception of Halloween night. Maybe the Harmons make the journey to Outpost 3 on Halloween, or maybe the apocalypse has set the spirits of the world loose. Right now, Michael Langdon might feel invincible. But if anyone can take down the anti-christ, it's Connie Britton. She is his mother, after all.