This Is When DACA Will Disappear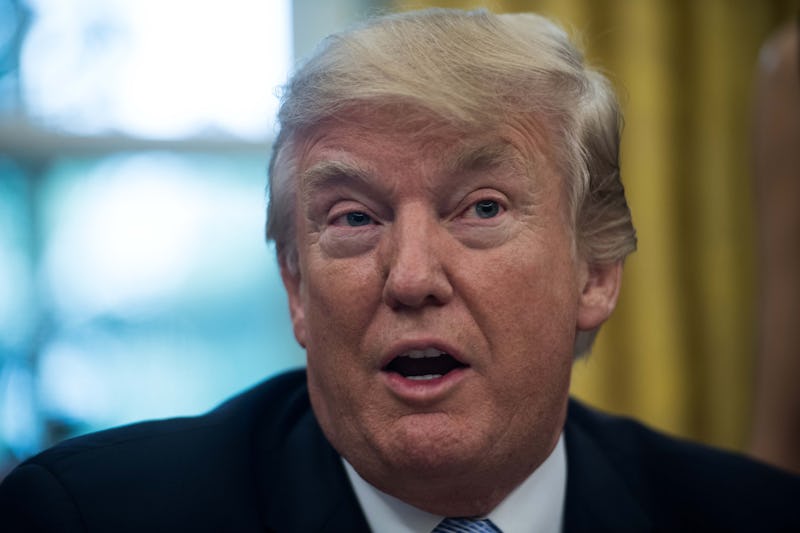 NICHOLAS KAMM/AFP/Getty Images
On Sunday, days after reports trickled out that it was being considered, Politico announced President Donald Trump's intention to end the Deferred Action for Childhood Arrivals immigration program, better known as DACA. As a result, hundreds of thousands of undocumented immigrants throughout the country, those popularly known as the "Dreamers," will soon face the possibility of arrest and deportation, threats that the program had previously mitigated. Suffice to say it's a grave day for many people, who're now left to wonder: when will DACA actually be gone?
It's a very important question, because there are very different ways Trump could've decided to end the program. As Dara Lind expertly detailed for Vox last week, the most draconian version could've seen DACA recipients' two-year work permits immediately and irrevocably revoked, in addition to the promise of delayed action on deportation disappearing.
A more lenient, albeit ultimately still debilitating option, would've been to simply refuse to renew the permits. That would mean that once the permits ran out, those DACA recipients wouldn't be able to get new ones, which while still a tragedy for the Dreamers would allow them some additional amount of time to prepare.
In the days leading up to Politico's announcement, Fox News reported that he was leaning towards this option, which would give some Dreamers up to two years of time to prepare for their permits to expire ― if they'd renewed relatively recently ― but would also leave those with soon-to-expire work permits in the lurch.
The White House is planning a six-month window after the president's announcement, Politico reports, giving Congress an opportunity to step in.
According to The New York Times, about 800,000 undocumented immigrants brought to the United States as children have sought protection through DACA since the program's launch in 2012. However, as a federal program launched by the Obama administration rather than a law enacted by Congress, it's core vulnerability has always been the ease with which another president could undo it, which is precisely the scenario that's now unfolding.