Here's Exactly How Long UK Fans Will Have To Wait For Michael Sheen's 'Good Omens'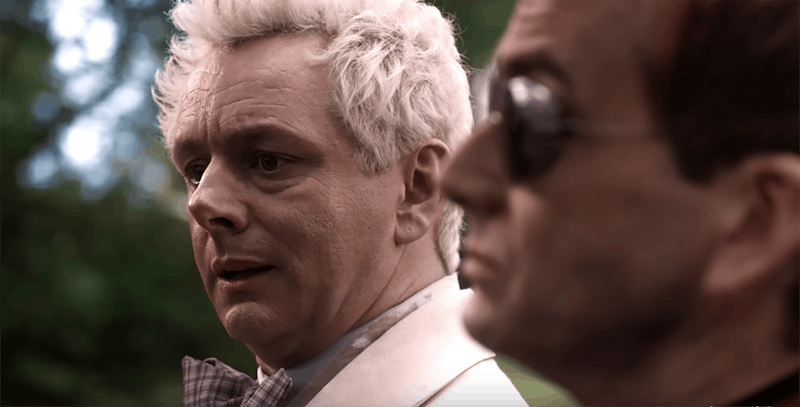 Amazon Prime/YouTube
The buzz for the TV adaptation of Terry Pratchett's Good Omens has been accumulating for years. It makes sense since Pratchett TV adaptations have always been cracking. Remember the delightfully ridiculous Hogfather? Or going even further back, the lovably ludicrous Soul Music? But Good Omens is expected to be the best yet. With acclaimed writer Neil Gaiman at the helm, alongside a seriously talented cast, the show's basically a recipe for success. The arrival of the show, which stars David Tennant and Michael Sheen, is imminent, but when will 'Good Omens' be on Amazon UK?
Well, back in 2017, the Guardian reported that the worldwide release of the show would happen sometime in 2018. But since there's only a few months of the year to fill with some fantasy goodness, that release has been pushed back. So now, despite the story being set in 2018, the TV series won't arrive on Amazon Prime until the first half of 2019, as Radio Times reported. So, if you're not already subscribed, make sure to time your 31 day Amazon Prime trial perfectly. Or, on the other hand, if you're one of those very patient people (please, teach me your ways), and you can somehow wait until later on in the year, then the show will come to BBC2, as Radio Times reported. However, if you seriously can hold off that long to see John Hamm playing a broody archangel, then you my friend must be some kind of patient saint yourself. I salute you.
It's now been seven years since Gaiman first teased a TV adaptation of Good Omens. Speaking to Digital Spy back in March. 2011, the best-selling author told the site that the adaptation was "in development." But what's it about exactly? Well, the adaptation's based on a book that Gaiman and Pratchett wrote together in the nineties, and it sees an angel named Aziraphale (played by Michael Sheen) and a demon named Crowley (David Tennant) working together to stop the end of the world. The first trailer was unveiled at this year's Comic Con in New York, on Oct. 6, and it featured Tennant looking, well, shall we say very different to how we normally see him on the box.
There have of course been numerous attempt to bring the story to the small screen, as The Verge previously reported. In fact, originally, the TV adaptation was originally set to be released in the '90s with Fearing And Loathing In Las Vegas director Terry Gilliam taking the reigns, and Robin Williams and Johnny Depp playing the angel and demon. And while yep, that sounds seriously amazing, this show's been a long time coming for a reason. The cast will attract today's audience, while Gaiman's personal involvement will itself add something special to the show.
Following Pratchett's tragic passing in 2015, aged 66, Gaiman told The Verge: "I came back from his funeral and started writing the first episode of Good Omens and tried to convince myself that it was funny." Personally, I reckon he's gonna make his old friend proud.