Why 'Grace And Frankie' Season 5 Needs To Happen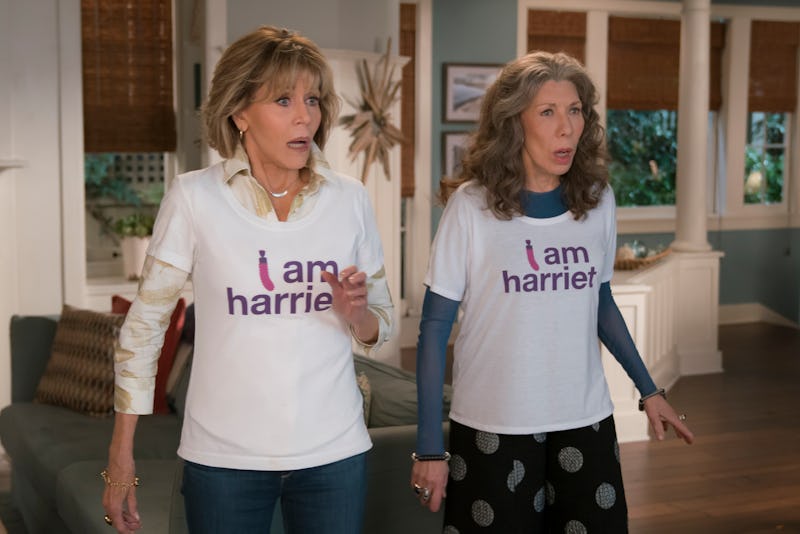 Melissa Moseley/Netflix
As Grace & Frankie premieres its fourth season on Netflix, even 10 new episodes of the series doesn't feel like quite enough. So, even though any more seasons will be at least a year away (ah the Netflix model), when will Grace And Frankie Season 5 premiere? The series hasn't been renewed for a fifth season yet, so right now any date forecasting is still wishful thinking. But, given that the third season was only out for a few short weeks before Netflix announced the fourth season renewal, Season 5 should be incoming shortly.
The series' first two seasons premiered in spring, while the third in March 2017 and now the fourth in January, so there's no telling when the fifth would premiere, but somewhere between eight and twelve months seems reasonable. Of course, Netflix has offered a few unexpected cancellations in the last year, so it's possible that Grace & Frankie will not be renewed at all. But, provided that the show's two stars Jane Fonda and Lily Tomlin are still game, there shouldn't be anything keeping the show from renewal — after all, Netflix does not have many other shows directly aimed at and starring older women, nor does it have many other casts filled with TV legends beyond Fonda and Tomlin like Martin Sheen and Sam Waterson. It's a pretty unique but still popular show.
The series isn't deeply plot driven, since showrunner Marta Kauffman has mentioned before to Deadline that she doesn't want to tie the show to any real news, events, or anything that would stop her from continuing the series indefinitely. "The show isn't about politics and I don't want it to be topical. Once you make it topical it gets very, very difficult to have it continue to air at all times and not feel dated. I'm in the business of entertaining people," Kauffman said to Deadline after producing Season 3. "I've never thought about how long the show needs to be ... but yes, I think the show can go on further."
There are plenty of new avenues for a fifth season to explore. In addition to broaching more topics relevant to older women, there's also plenty of inspiration in real life — take Jane Fonda's shocking moment on an episode of Megyn Kelly Today, when the host asked Fonda about getting plastic surgery. That type of invasive query could easily be a storyline, especially as their vibrator business continues to take off. And Fonda is already joking about the incident in other press appearances.
On a more positive note, Season 4 will feature a new guest star: Lisa Kudrow, joining the series as a new friend who may get between the titular BFFs. Kudrow worked with Kauffman on Friends for a decade, so it's possible that more Friends stars could pop up in the future as more characters continue to join the world of Grace and Frankie. And, of course, there's always the great white whale cameo of the series: Dolly Parton. According to what Kauffman said to Deadline, if Dolly can make some room in her busy schedule, she's happy to try to find a place for her on the show, but "I don't want it to feel like a 9 To 5 reunion" (as much as fans would surely love it). Kauffman added, "If we can find a way to do it where it doesn't feel to us it's like the reunion of these three people but we have a special way in, then sure."
Just like the show's characters, Grace and Frankie has plenty of life left, and it certainly can't end without an appearance from Dolly Parton, so expect that Season 5 renewal soon and start counting down the days until early 2019.