Maks' Return To 'DWTS' Is Up In The Air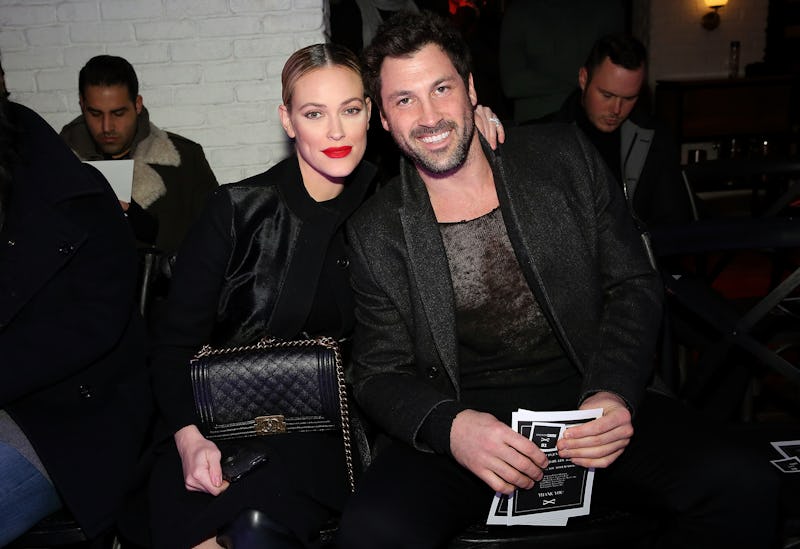 Monica Schipper/Getty Images Entertainment/Getty Images
Professional dancers on Dancing With The Stars typically don't get injured in Week 2 of the show, but here we are, and Maksim Chmerkovskiy (aka my favorite dancer on the show besides his brother, Val) is out with a tear to his calf. Ouch. I know. These kinds of hurts beyond bumps and bruises usually happen in Week 8 or 10 when long days of rehearsing and choreographing catch up to the dancers. Because it's hard for Chmerkovskiy's partner, Heather Morris, to dance without him, let's take a survey of the situation — When will Maks Chmerkovskiy return to Dancing With The Stars?
Unfortunately, Chmerkovskiy's injury isn't a simple sprain or twist or something that can be iced and elevated. He's already missed a week of competition, and Morris had to dance with troupe member Alan Bersten for her Week 2 performance. I'm not saying that Bersten is a bad dancer, but he is not what Morris signed up for. It has to be hard to be thrown in this crazy world of Dancing With The Stars and just start to learn your partner and his rhythms and then bam — he's out with a bad injury. Morris and Bersten danced really well together, but I'm sure that Chmerkovskiy is aching to get back in the game.
According to Entertainment Tonight, a source claimed that Chmerkovskiy tore his calf muscle "pretty badly" and that it is allegedly "a lot worse than everyone initially thought." That being said, I don't see Chmerkovskiy wanting to take it easy, and I was right, because he posted a video to Instagram that showed him up and walking around just days after surgery to fix his calf.
Only three days after the tear, Chmerkovskiy is confident that he will make it back to Dancing With The Stars to help Morris conquer the Mirrorball trophy. "I still feel like we have a chance," he told Morris on Good Morning America. "You deserve it and I want to give you 150 percent effort and be physically active as I was at my best when nothing hurt. I want to come back and win."
That being said, Chmerkovskiy will not be back on Week 3 of Dancing With The Stars. Bersten and Morris will be dancing a tango together, and Chmerkovskiy will be cheering them on from the sidelines of his recovery room. Chmerkovskiy said himself that he does not "have a concrete return date," but he'll give his recovery "his all." And you know what? That's the best thing he can do right now.
I know that he is probably aching to get back onto the dance floor, but rest and recuperation are the smartest things for him to focus on. Missing out on something now to not hurt yourself worse for later is the best road to take here, and I know that Chmerkovskiy will be back on television eventually.