Here's When You Can Catch The 2017 VMAs If You Miss It The First Time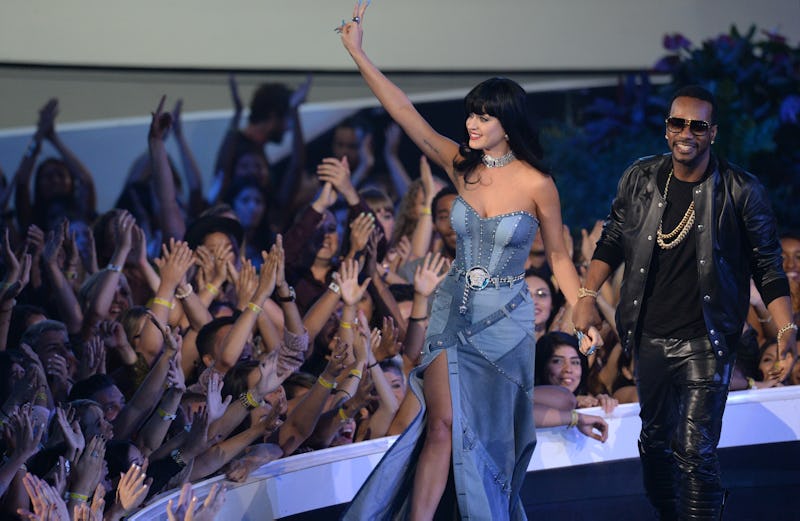 ROBYN BECK/AFP/Getty Images
Few things are as highly anticipated as MTV Video Music Awards season. While watching the VMAs live on MTV at 8 p.m. ET on Sunday is your best chance to catch all the hot gossip that will be spreading Monday morning, not all hope is lost if you can't make it. If you miss your chance to experience the excitement when the ceremony is live on the air, then you need to know when MTV will replay the 2017 VMAs.
Luckily for the late arrivals, the Video Music Awards will be rebroadcast on MTV several times in the days following the live show:
Sunday, Aug. 27 at 11 p.m. ET
Monday, Aug. 28 at 6 p.m. and 11:02 p.m. ET
Tuesday, Aug. 29 at 2:30 p.m. ET
Wednesday, Aug. 30 at 11 a.m. ET
Thursday, Aug. 31 at 12:03 a.m. and 10 a.m. ET
Friday, Sept. 2 at 4:50 p.m. ET
For those who prefer to tune in online, a live stream will be made available on MTV's website if you sign up through your TV provider. The MTV app also has the latest shows available one day after they air and is downloadable on many different devices. If past years are anything to go by, MTV may also be posting VMA highlights on their website and on their YouTube channel shortly after the live show.
MTV is telling viewers to brace themselves for the biggest party of the year when the VMAs go down on Sunday. Katy Perry will be hosting this year's celebration, which has returned to The Forum in Inglewood, California for the first time since 2014. Perry is also slated for a special performance, and some have even speculated she and Taylor Swift may settle their feud by performing together. (Producers involved with the VMAs have denied that Swift is set to perform, however.)
In the three days leading up to the big show, MTV will also be hosting and live streaming nightly concerts in Hollywood featuring guests Bebe Rexha, Bleachers, Cardi B, Cheat Codes, DNCE, Echosmith, Kacy Hill, Khalid, Noah Cyrus, Sammi Sanchez, and Why Don't We. There's a lot to look forward to at this years Video Music Awards, so be sure to stay caught up on all the festivities. You will definitely want to be in the know on every crazy moment that will be making headlines after the Moon Person trophies are handed out.