'The Crown' Fans Won't Have To Wait Much Longer To Meet Princess Diana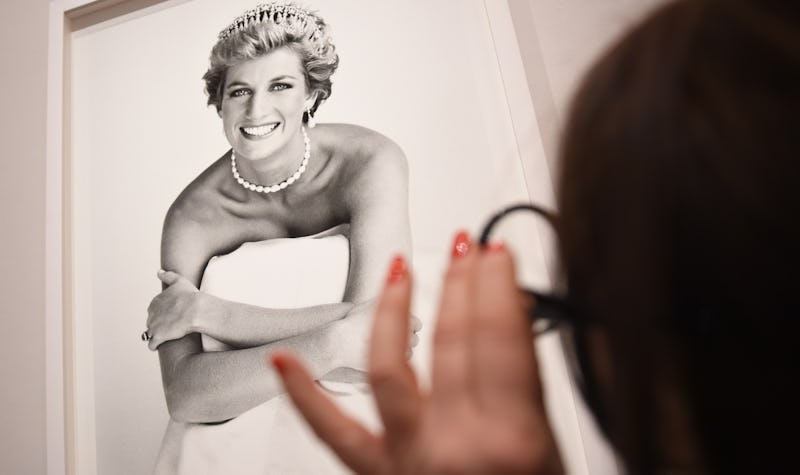 Stuart C. Wilson/Getty Images Entertainment/Getty Images
Now in its second season, Netflix's drama The Crown gives a wonderful (if fictionalized) look at the life behind the longest-serving sovereign of our time, Queen Elizabeth II. The show is rolling through the years, but when will Princess Diana be on The Crown? It's nice to learn the history of the royals, but fans are already clamoring to get to more recent days, including the introduction of the People's Princess.
Per USA Today, Diana Frances Spencer was born in 1961, daughter of the 8th Earl Spencer. Diana met Prince Charles, the heir to the British throne, in 1977, and they married in 1981. They had two sons — William and Harry — and split up in 1996 after a tumultuous marriage. Diana was killed in a car wreck in Paris in 1997, and though she was not technically a royal at the time of her death, she's been dubbed the "People's Princess" ever since. Her admirers loved that she insisted that her children have as normal an upbringing as possible. Diana made it a point to take her sons to the movies and to amusement parks and have her kids be kids. In the ITV film Diana, Our Mother: Her Life and Legacy, Prince Harry recalled how Diana would play tricks on her boys, sending them funny cards at school and hiding lollipops for them to find.
Diana was also a humanitarian who made it her mission to work with everyone from landmine victims to those stricken with leprosy. As reported by Time, Diana was also one of the first public figures to actually touch and embrace AIDS- and HIV-stricken individuals, attempting to "challenge the stigma that the virus could be passed by touch." Though Diana's celebrity for her marriage and relationship with the royal family could eclipse her humanitarian efforts, her legacy is that of a woman who just wanted to help where she could. That's why the arrival of Princess Diana will be so interesting to The Crown — Diana started off her time as a royal as a shy kindergarten teacher and ended as the most popular woman in the world. She also struggled with eating disorders and depression, according to her son William. How will The Crown address that, as well as her reportedly fraught relationship with Queen Elizabeth II?
Well, her arrival is coming sooner than you may think. Every season of The Crown shows a decade or so in the life of the royal family, and that means that Season 3 of the show will fall around 1977 — aka when Charles meets Diana. So she may be a part of the cast by the time the show returns. Peter Morgan, the creator and writer of The Crown, confirmed as much to Vanity Fair, adding that Diana will feature "heavily" in Seasons 4 and 5 of the series, as well. A new season of The Crown drops every year, so loyal viewers need only wait one more year (Season 2 is just out now) for a look at the People's Princess.
How The Crown handles Diana will be especially interesting. After Diana's 1997 death, Elizabeth and her monarchy were judged by some as being callous and cold because they didn't acknowledge Diana's passing until almost a week after it happened. No flags were lowered for Diana until Sept. 6, 1997, and it was only on Sept. 5, according to the New York Post, that the Queen even made a statement. It's reported that, hours after Diana was killed, her sons were forced by Elizabeth to attend Sunday church service, a service in which their mother's name wasn't mentioned. Perhaps The Crown will tell this story from the side of Elizabeth, or at least show the two very distinct, very strong personalities in play. And one must not forget to put Prince Charles in this mix, along with his well-publicized affair with then-Camilla Parker-Bowles.
There's plenty of drama to be had with this lot, and viewers of The Crown don't have to wait that long to get it.