Here's When Rich & LeeAnne From 'RHOD' Are Tying The Knot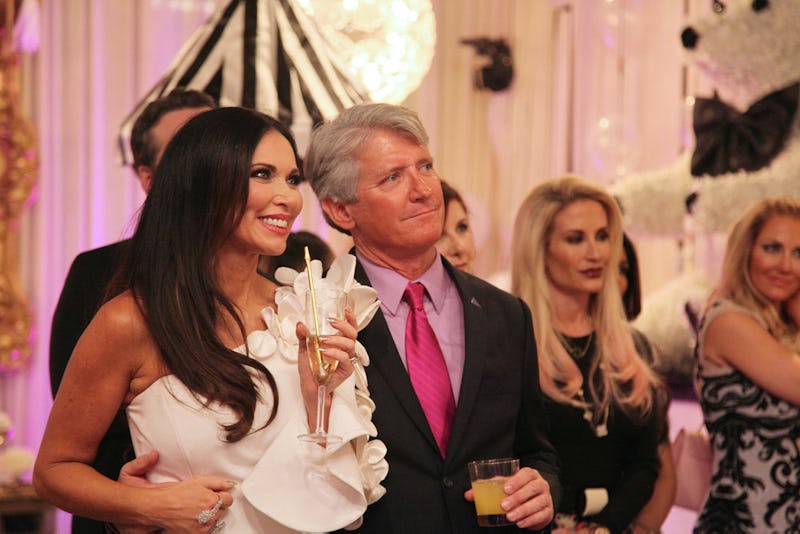 Peter Larsen/Bravo
Rich and LeeAnne's relationship has been front and center for much of the Real Houswives Of Dallas' run, and now after last season's proposal, people are wondering when Rich and LeeAnne will get married. The duo has been pretty open about their wedding plans, and here's what we know so far.
There's an account that appears to be Rich and LeeAnne's on the wedding planning site, The Knot, and the wedding date listed there is Oct. 20, 2018. There really aren't many other details on the site, though, and no way of knowing if it was created by the real Rich and LeeAnne, so take any info with a grain of salt. Regardless of when the actual wedding date will be, it seems like they've been planning things for some time now. LeeAnne told Bravo back in late 2017 that she already had at least a vague idea of who the guest list would entail.
"A few Housewives will more than likely be at my wedding, in the ceremony," she told the network. "Everyone will be welcome to the reception." She also went on to say that as long as she and Rich were happily together, the rest of the people present didn't matter all that much. "Rich and I are each other's family," she said. "We're all each other has had for so long, for eight years, almost nine years. We really don't need anyone else. He is my soul mate."
In another article from Bravo, she also made it clear that her best friend and Real Housewives of Dallas co-star D'Andra Simmons will play a big part in whatever festivities are planned. "D'Andra will be in charge of everything," she said. "D'Andra will be what's called the church monitor, and I would not want to act up at my wedding because I'm not responsible for what D'Andra does. Trust me, D'Andra will have a voice in everything that has to do with my wedding, I have no doubt of it."
According to People magazine, the couple had been dating for eight years prior to Rich officially popping the question, so a wedding plan has probably been on the radar for some time now. They got engaged at the Texas State Fair in October, the same article reports, after LeeAnne found the ring while playing a carnival balloon popping game. Despite the obvious commitment existing between the two, LeeAnne said she was totally surprised.
"It was the happiest carnival prize ever," she told People in the same piece. "I had no clue. Honestly, Rich surprises me every single time that he does something over-the-top, romantic and kind. I'm always like, 'Wow your heart has such a huge capacity for love.' The whole thing really just blew me away. I'm incredibly lucky."
They definitely seem like a happy couple, even though Real Housewives shows can tend to be pretty dramatic at times. After more than eight years, they should be rock solid, and anyone interested in the details of wedding planning will likely get an insider look when the footage hits TV.