The 'RHOD' Season 3 Taglines Are Here & They Probably Sound Pretty Familiar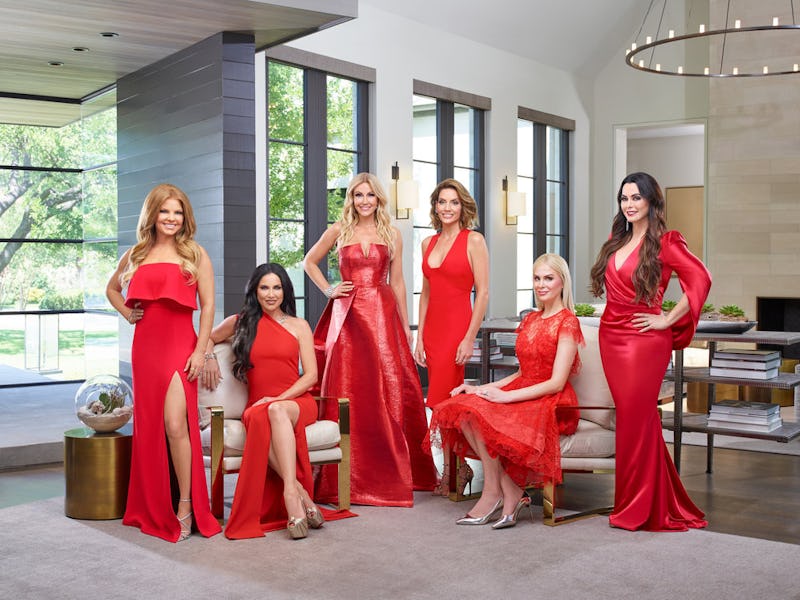 Tommy Garcia/Bravo
On Wednesday, the Dallas Housewives return for another round of drama, which means it's time to analyze the Real Housewives of Dallas Season 3 taglines. The opening lines were revealed on Monday by Entertainment Tonight, and like every season, you can tell a lot about a new season of Housewives by the taglines. As for the upcoming season of RHOD, not only do some of the lines sound pretty similar compared to past seasons, but they seem to tease that not much has really changed with this group of women.
This season's cast is exactly the same as Season 2. That's right, Brandi Redmond, Stephanie Hollman, Cary Deuber, D'Andra Simmons, Kameron Westcott, and LeeAnne Locken are all returning. All of the women had a lot of ups and downs last season, which won't change at all come Aug. 15.
As seen in the RHOD Season 3 trailer, fans will get to experience Brandi's adoption of her baby boy, a trip to Copenhagen, and, yes, more fights with LeeAnne, even though she is ready to change her behavior, according to Bravo's official Season 3 description. Viewers will also watch Cary return to work, unlike last season when she stepped back from her plastic surgery practice with her husband, Mark Deuber.
In not-so-shocking news, D'Andra and her mom are still at odds over the family business. However, D'Andra's new friendship with Brandi (yes, really!) could help ease her stress. Then, there is Kameron, who becomes concerned about D'Andra hanging out with Brandi, especially since it could harm Kameron's reputation in Dallas. Yeah, that sounds about right.
As much as the trailer teases, the taglines highlight further how the women feel in Season 3, in addition to how little has changed with their tight-knit circle.
1. "This isn't my first rodeo, so I'm not taking your bull." - Brandi
Even though Brandi and LeeAnne got along at the beginning of Season 2, by the end they weren't friends. As pointed out by ET, it seems like Brandi might possibly be taking a dig at LeeAnee's tagline from last season, which was: "I'm a true Texan — no bull, but all horns." Or, you know, maybe Brandi is just channeling her inner Texan? These two may never be on the same page.
2. "Investing in drama is not in my budget." - Stephanie
Let's not forget that Stephanie has a brand new home with her husband, Travis Hollman, and their two boys, as showcased in the second season. Don't worry, the pool in the middle of the living room is gone. Once again, Stephanie is using money terminology in her tagline. In Season 2, she used: "I married into money, but family is my fortune." This time around, drama might not be in her budget, but a fancy new home certainly is.
3. "When life gets messy, just build a bigger closet." - Cary
Do you remember Cary's Season 2 tagline? Here's a refresher: "Every girl has skeletons in her closet, mine are next to my birkins." Another season, another way for Cary to integrate her love of fashion into her tagline. Plus, fans know how much her husband, Mark, loves fashion, so maybe they both built bigger closets to make themselves feel better with all of the unfortunate drama they've faced?
4. "Running a family business is a job for one tough mother." - D'Andra
During her first season as a Housewife last year, D'Andra's complicated relationship with her mother was a main focus. Not only was she trying to take over the family business, but D'Andra was trying to get her mom to step back and allow her to take hold of the reins. Yeah, it didn't go exactly as D'Andra had hoped, and it sure sounds like their relationship is still complex. Maybe one day D'Andra can achieve her Season 2 tagline: "I started from a Dallas dynasty, but I'll finish with my own empire."
5. "I've got heels that are higher than your standards." - Kameron
As a first-time Housewife in Season 2, Kameron made it clear she has certain standards she lives by and will not tolerate chid-like behavior. If you aren't up to her what she considers her highest quality (ahem, Brandi), don't expect Kameron to be good friends with you. Clearly, she hasn't changed one bit.
6. "You don't mess with Texas, and you don't mess with me." -LeeAnne
And, finally, there is LeeAnne. She's made it clear since day one she's not to be messed with. Like her first season tagline read: "I grew up a carny kid. Play games with me, and you're gonna pay." Even though LeeAnne is shown practicing mediation in the trailer, it sure sounds like she's ready for a fight, if necessary.
Based on their taglines, the women of RHOD sure haven't changed a whole lot, have they?