Stop Everything, '90s Kids: A Spice Girls Reunion Tour Is FINALLY Happening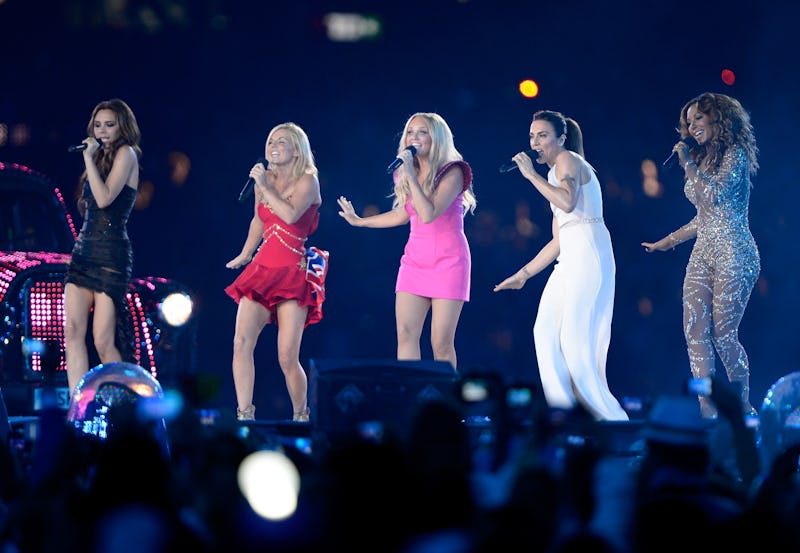 Pascal Le Segretain/Getty Images Sport/Getty Images
What you really, really want is officially on its way! During a June 27 appearance on The Today Show, Mel B. confirmed that the Spice Girls Reunion Tour is finally happening and it's the best thing you're going to hear about all summer. Mel aka Scary Spice revealed the big news during an appearance with morning talk show host Hoda Kotb, explaining, "I'm the only one that keeps on saying we're going to be performing, which we are gonna be performing. Finally, they've got it together. Yes." During the chat, she also went on to shut down the notion of Victoria Beckham being opposed to the reunion, sharing:
"She's always saying that. Stop it. We are touring. Should I have really said that out loud? Yes, we are going to be doing performances together for sure."
Speculation surrounding a Spice Girl reunion has been circulating ever since Victoria Beckham posted a photo of the five girls hanging out at Geri Horner's house this past February. However, that hope was seemingly shattered when The Sun later reported that the crew made no plans to perform, but were in talks for a possible greatest hits album, a TV show, and other endorsement deals.
That same month, Beckham aka Posh Spice told VOGUE: "I'm not going on tour. The girls aren't going on tour." Despite squashing rumors about performing with the legendary 90's group, Beckham did share how close they all remain. She told the magazine:
"It was so great to see the girls. We had such a fun lunch. It was really, really, really lovely. I still speak to them all individually, but for us all to get together was really lovely."
Mel B's Today Show reveal is not the first time she sent fans into an frenzy about the band getting back together for a tour. Back in February of this year, the America's Got Talent judge made an appearance on daytime talk show The Real and fueled speculation about a possible reunion at the Royal Wedding of Prince Harry and Meghan Markle. During that sit down, Mel revealed that all five Spice Girls received invitations to the ceremony and hinted that they might be performing at the reception, but was careful not to give too much away.
"I'm going," Mel explained to host Loni Love while revealing that the whole group was invited. She hesitantly continued, "I swear, I'm just like... I need to go. I'm going to be fired. Mel ended by saying, "Let's pretend I never said that."
The wedding came and went and, as it turns out, there was no Spice Girls performance after all, leading to major let down for fans who were looking forward to hearing all about Harry and Meghan getting down on the dance floor to "Wannabe."
Their absence from the Royal Reception seemed to somewhat close the doors on the reunion tour speculation. That is, until this past Sunday, June 24, when Mel appeared to insinuate that an announcement may still be on the horizon. In an Instagram post celebrating Pride Month, she posted a picture of five people dressed in Spice Girls costumes along with the caption:
"Yesssss Finally, the spice girls have reunited! hahaha JK! Trust me peeps it's actually happening soon! These are the sexy drag queen playmates from @playnashville! Happy Pride Nashville, NYC, and all around the world! #SpiceUpYourLife #LGBTQ #RainbowsForEveryone"
While Mel B's comments are certainly not an official confirmation that the Spice Girls will be heading out on the road to tour together, they definitely appear to mean that something big is on the way. Guess we'll all just have to wait and see just what kind of #GirlPower they have in store when it finally comes our way.