Apple Music Users Might Be Waiting A While For Taylor Swift's 'Reputation'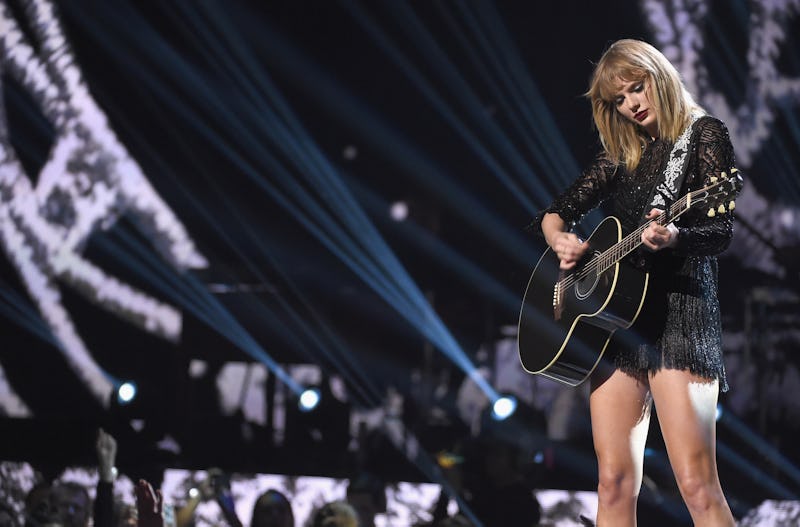 Kevin Winter/Getty Images Entertainment/Getty Images
Simplicity is everything, so if you were wondering when Taylor Swift's Reputation will be on Apple Music, then one joyful announcement: It's likely to be available on the platform after a week. (Bustle reached out to Swift's rep for comment on when fans can expect the album on streaming sites.) Bloomberg reported on Nov. 7 that Swift's representatives had told "streaming-music partners" that her 2017 record won't be available via those channels for its first week of sales. SPIN reported that, initially, you can either buy Reputation in a store, via iTunes and other online stores or stream Reputation via iHeartRadio's mobile app from Nov. 10 onward.
This echoes The New York Times' investigation into the possibility of a Reputation streaming service release, with the newspaper reporting that "four executives at major streaming services" weren't expecting the album to be able to be streamed initially. While Apple Music wasn't explicitly name-checked here, it seemed likely they were one of the major streaming services cited. However, as The Fader has already observed, Apple Music appears to be promoting Swift's new work (something The New York Times report noted that Spotify don't appear to have been doing, omitting her new music from their Today's Top Hits playlist). The Fader cites her singles featuring on the "Hot New Tracks" section of the streaming service, and Apple directing users to behind-the-scenes videos of the singer making the album that are exclusive to the platform.
This suggests something interesting: namely, that Swift may have a favorite streaming platform.
This would make sense. After all, Swift made a series of memorable commercials (the blonde falling off her treadmill while rapping along to Drake, anyone?) promoting Apple Music as recently as 2016. It's hard to imagine that she wouldn't give them access to the album for any serious length of time.
Variety begs to differ on this, however. In response to the "wall of 'no comment's on the matter from reps for both Swift and the major streaming services," the magazine reached out to "six well-placed individuals" and confirmed that it isn't about whether or not the musician would choose to release her 2017 opus on a streaming site. It's going to happen, it's just a matter of when, according to Variety. Two of their insiders pointed to the upcoming U2 album and rumored Eminem album as an indication that the record will drop sooner rather than later, any time between one and a few weeks.
They also cite one intriguing insider theory that she's playing a numbers game: By having released over a quarter of the album onto the streaming services as singles, she'll be able to generate enough streaming figures to stay ahead of the pack in terms of digital data while still selling lots of physical copies. Two more insiders think she'll replicate her strategy for 1989 by keeping Reputation off streaming services for months. Perhaps the most intriguing of the theories outlined was the final one, that, if a streaming service makes her a seriously vast, last-minute offer, she'll give them a streaming exclusive; Variety reports the same insider as saying that only Apple Music and Amazon have enough money to make this idea palatable to the blonde. So, again, Apple Music is pretty likely to lead the streaming pack on this release.
Swift has been historically critical of streaming services, arguing in her The Wall Street Journal article that "Music is art, and art is important and rare. Important, rare things are valuable. Valuable things should be paid for." However, as The Telegraph reported, this year she gradually relaxed her policy, with Swift releasing her back catalogue on all streaming services in June 2017. Yes, as we've seen from the sheer amount of sales the 27-year-old generates, she's a savvy businesswoman and part of that is a strategic release that encourages fans to get out their wallets and pay for the album. But realistically, Apple's promotion of her new music and her more relaxed position on streaming this year suggests that we should remain optimistic. Think sooner rather than later.