An Obi-Wan Kenobi Spin-Off Could Be Set At Many Different Times In The Jedi's Life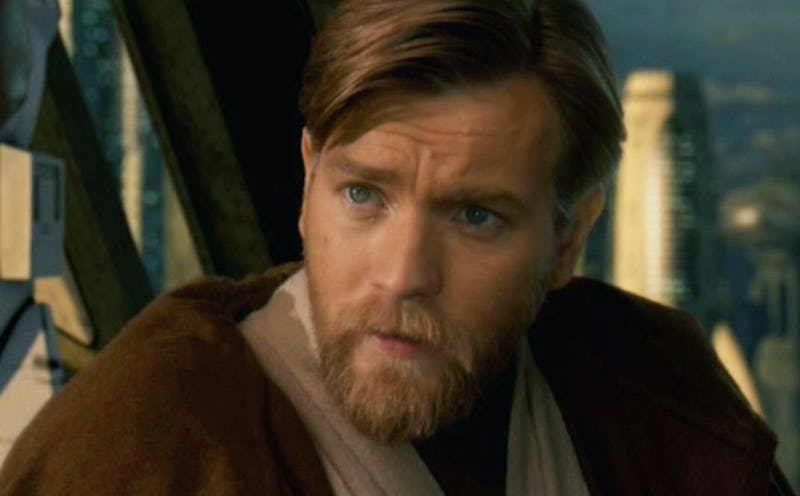 Lucasfilm/Walt Disney Pictures
Brace yourselves. There could be a new Star Wars movie headed to the big screen, and the rumored details are already reeling in. According to The Hollywood Reporter, filmmaker Stephen Daldry is in the early stages of developing an Obi-Wan Kenobi spin-off film. But, if it happens, when would the Obi-Wan spin-off take place? That still remains to be seen. (Bustle reached out to Walt Disney Pictures and Lucasfilm for confirmation.)
If actually set in motion, Dalbry, who's best known for his work in award-winning films Billy Elliott and The Hours, will not only direct, but he would also have a heavy hand in its creation. Reportedly, there are no script as of now and there isn't even any word that Ewan McGregor will be casted to reprise — although the talented actor announced to Entertainment Weekly that he would definitely love to sign on if the project comes to fruition.
The rumored film is being presented as a "standalone," and its story would not fall within any of the trilogies. But since the Jedi Master's early life has already been told, what else is there left to explore? Does this mean that fans could get a more in-depth look at Kenobi's upbringing?
Han Solo and Obi-Wan Kenobi aren't the only characters in the franchise that are, or could be, getting its own spin-off, however. According to Variety, Yoda, Jabba the Hutt and Boba Fett are among the pivotal characters to have standalone projects currently in development.
All of the Star Wars projects coming down the pipeline may sound like a bit of overkill, but, to the franchise's diehard fans, having an Obi-Wan Kenobi feature is almost a no-brainer. And many of its enthusiasts took to Twitter to share their excitement.
Keep your fingers crossed this rumor turns into a reality, because, with all of the spin-off movies on the way, the 1970s phenom is expected to stick around for more decades to come.