Ewan McGregor Seems Open To Being In An Obi-Wan Kenobi Spin-Off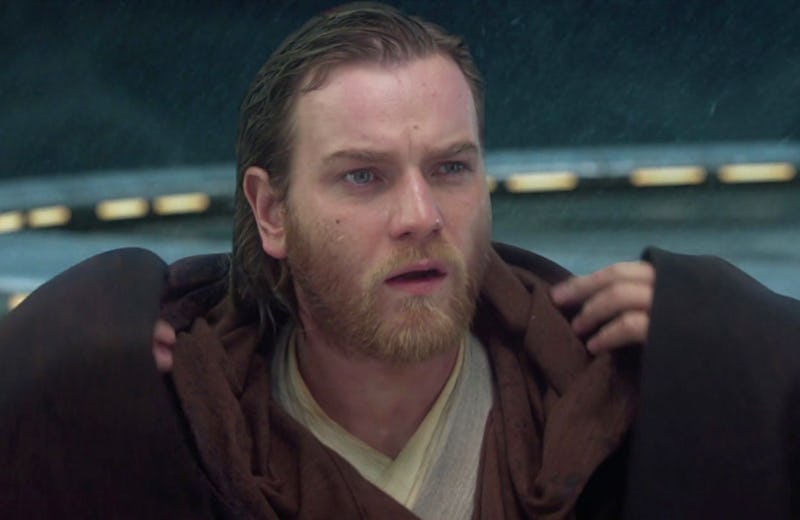 Lucasfilm/Walt Disney Pictures
Sound the alarm, Star Wars fans: Obi-Wan Kenobi may be getting his own movie. According to The Hollywood Reporter, Oscar-nominated director Stephen Daldry is reportedly in talks to helm a standalone film centered around the Jedi master, which leads to the next natural question: will Ewan McGregor be in the Obi-Wan Kenobi spin-off, if it happens? (Bustle has reached out to Lucasfilm and Walt Disney Pictures for confirmation.)
For those unfamiliar with the franchise history, McGregor played Obi-Wan in the '90s-born prequel trilogy, appearing in Episode I: The Phantom Menace (1999), Episode II: Attack Of The Clones (2002), and Episode III: Revenge Of The Sith (2005). He also made a brief voice cameo in 2015's Star Wars: The Force Awakens — the first in J.J. Abrams' sequel series — but his involvement in the more recent features end there. (Alec Guinness portrayed Obi-Wan in the first three movies, but he died in 2000 at age 86.)
Rumors of an Obi-Wan spin-off have been percolating for some time, and, over the years, McGregor has expressed interest in reprising his former role should he be approached to so. In 2016, he told Collider that he'd "very much" like to be in any potential project.
He continued:
"I think the story between Episode III and Episode IV, I think there's a story there. I think that's the Obi-Wan Kenobi movie, if there is one. The one that bridges my Obi-Wan Kenobi and Alec's Obi-Wan Kenobi because there's a — I don't know how long he's in the desert there, but it's got to be twenty or thirty years."
He later clarified to the outlet that he wasn't necessarily campaigning and that he'd never been approached about the idea, he'd just be happy to do it if he was.
As of now, it's unclear how high the likelihood of an Obi-Wan spin-off making it to screen actually is, but it sounds like if Daldry and crew wanted McGregor to return, all they'd have to do is ask.