Tom Tom, The Restaurant From Vanderpump Rules, Got Off To A Rocky Start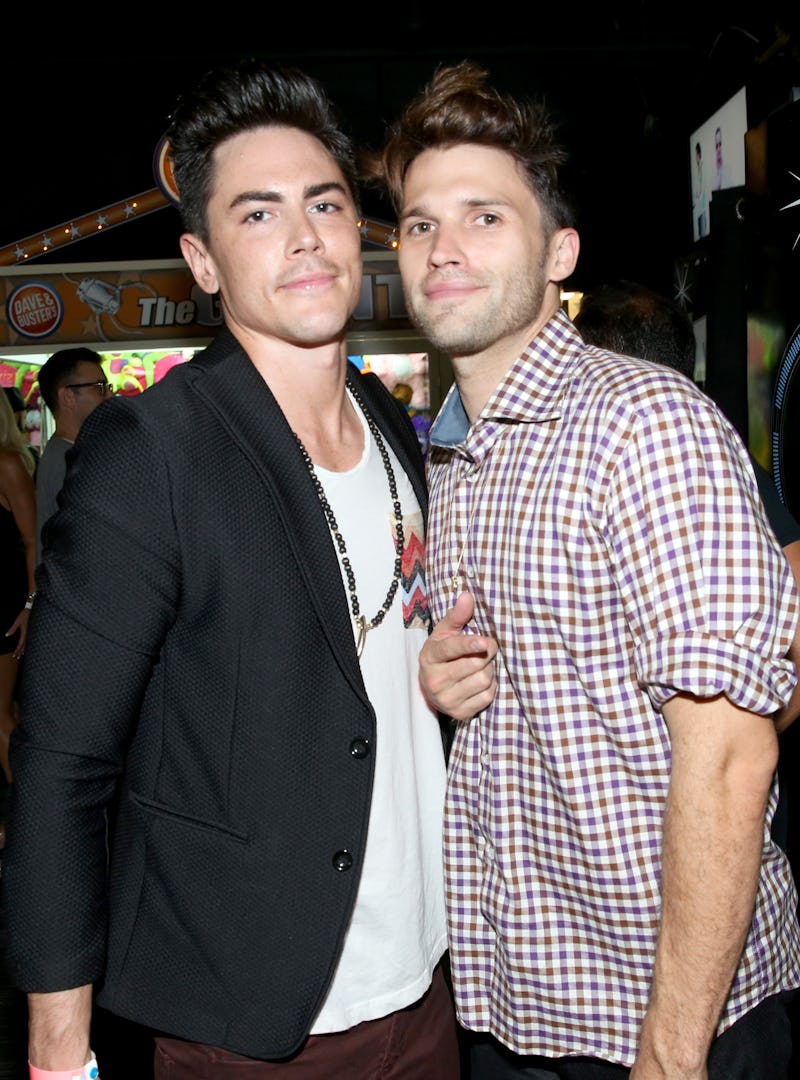 Mark Davis/Getty Images Entertainment/Getty Images
Season 5 of Vanderpump Rules ended with some big cliffhangers hanging in the wind. Tom Sandoval and Ariana discussed the possibility of marriage; Scheana and Shay divorced; Tom Schwartz married Katie and, during their reception, Lisa Vanderpump offered him and Sandoval their own bar under her umbrella — a spot aptly and unofficially named for both of them. When does Tom Tom open? On Vanderpump Rules, after a brief hesitation on Schwartz's part, both Toms seemed to be completely into the project. But since the Season 5 finale, there haven't been a lot of updates about the progress of this business venture. Bustle reached out to Bravo for comment, but received no response by the time of publication.
At the moment, it looks like the last official word about Tom Tom (or Tom & Tom, depending on who you ask) was back in August of this year. In late summer, TMZ reported that the restaurant was definitely happening and would likely be opening its doors on the same West Hollywood block where PUMP and SUR reside. The site also reported that the bar's opening would be sometime in November, or around the time of the Season 6 Vanderpump Rules premiere. (Season 6 premieres on Dec. 4.) The November opening doesn't actually seem to have occurred, but that could be due to any number of reasons. Opening a business, especially one within the Vanderpump franchise of establishments, is a pretty massive undertaking.
The notion that a Tom Tom spot was even on the horizon at all came about on the Season 5 finale. After Schwartz and Katie's gorgeous wedding, Lisa had a little meeting with both Toms during the reception. Once she got them alone, she floated the idea that she might be looking into expanding her restaurant brand and was thinking of bringing the two Toms on to run the place, which would be named after them. At first, Schwartz seemed to refuse the offer. He appeared stunned and confessed that he was worried about the pressure of failing to live up to the expectations that her name and reputation demand. After some light nudging from Sandoval and Lisa's assurance that she believed he could do it, Schwartz agreed, and the project was officially up and running. That was it, though. After that, there was scant information coming from either of the Toms or from Lisa herself about the progress of her new bar.
Of course, it is entirely possible that an update about Tom Tom will come in some form on the show itself. The current lack of information about the establishment may have to do with the people closest to Vanderpump Rules trying to keep things quiet to avoid ruining the secrets of the upcoming season.
A look at both Toms' Instagrams doesn't reveal any mention of Tom Tom at all. A lot of people seem to be inquiring about its progress in the form of comments, yet there don't seem to be any answers coming from either Tom. Lisa's glamorous Instagram is similarly stingy when it comes to information about her new venture. Of course, there are amazing photos of her whimsical lifestyle and her tireless efforts regarding animal advocacy, but among all of it, there is not even one mention of a new restaurant or bar on her page.
At this moment fans may not have an official opening date or a guarantee that Tom Tom bar is actually happening, but there is always the possibility that the upcoming sixth season of Vanderpump Rules will address this burning issue and finally give fans some real answers. And finally, maybe they'll be able to make their reservations.