This 'Pump Rules' Season 6 Detail Will Make Fans Even More Excited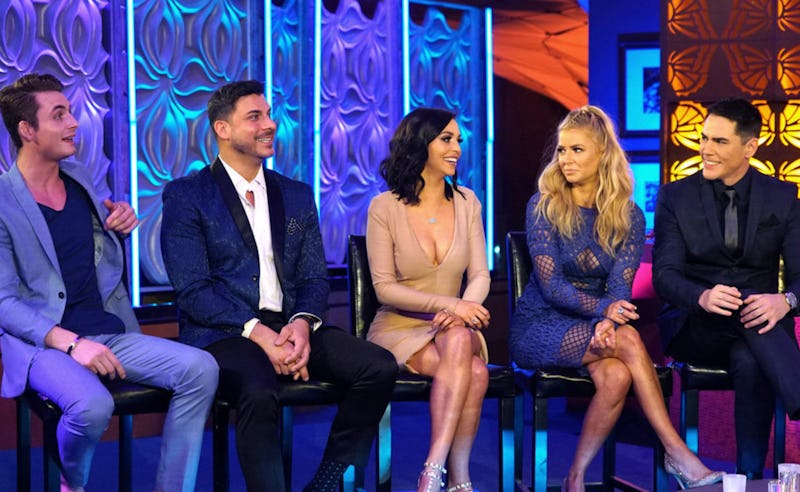 Nicole Weingart/Bravo
In just a few weeks, Vanderpump Rules will finally be back where it belongs: presiding over Bravo's Monday night lineup with a glass of tequila in its hand. The premiere date will happen a month later than usual, and the wait has been an excruciating test of patience. Well, until a SUR-tain morsel appeared, that is. Jax Taylor told Us Weekly that Vanderpump Rules Season 6 is the series' longest season yet. When Us asked the Jax and Brittany Take Kentucky star about the upcoming season at the Vanderpump Dogs Gala last Thursday, he said,
"It's the longest out of all the seasons. There's a lot of ups and downs. Every relationship's tested I think every year, but I think this year, ours was definitely tested a little bit."
Wow. Sorry to state the painfully obvious, but the more Pump Rules, the better. Like, it could be a year-round show, and that wouldn't feel the least bit excessive. The show is just that good, and the cast is just that captivating. Also? An increase in episode count probably means the producers and editors had a lot of solid material (read: drama) to work with, which is simply wond-SUR-ful.
So, what might this extra-long season cover? What could possibly come up during this supersized round of Pump Rules? Please refer to the font of exhilarating moments that is the Season 6 trailer.
Let's see here. For one thing, James Kennedy and Taylor become pals, a shocking development worthy of its own spin-off. And after being ostracized from the group for several seasons, Lala Kent finally befriends all of the women in the cast and, according to her Bravo TV blog, "leads the charge to hold men [in the cast] accountable for their actions and band the women together."
And on the relationship front, There's Taylor and Brittany Cartwright's story, which, as anyone who watched Take Kentucky knows, has been about as smooth as a Hollywood sidewalk. Per usual, there's also conflict between Tom Schwartz and Katie Maloney. And judging from the trailer, it looks like there Ariana Madix and Tom Sandoval hit a speed bump. Oh, and both Scheana Marie and Stassi Schroeder go through some stuff with their then-boyfriends.
While the Season 6 preview doesn't get into the Kristen Doute of it all, that's not a sign of what's to come. On a recent episode of Pump Rules supporting character Rachael O'Brien's podcast, she promised that she brings quite a bit to the Sexy Unique Table this season. Heck, judging from the trailer, the cast's various podcast appearances, and the things the Pumpers have posted on social media, it really seems like everyone brings it to the Sexy Unique Table. Pump fiends are in for it.
So, how many episodes of this apparently exhilarating season are coming down the pike? Jax didn't share a number, but given that Seasons 4 and 5 — the longest yet — are 24 episodes, it's probably safe to say Season 6 will be at least 25 episodes long. Not bad for a spin-off that began with a first season that was done after 10 episodes. Speaking of spin-offs, this season of Pump Rules could be longer than any season of the series whence it came. The Real Housewives of Beverly Hills has capped out at 24 episodes, and unless Season 8 is an extra-long season, too, it looks like Vanderpump Rules will transcend its forefather.
On Dec. 4, a longer season of presumably drama-rich episodes will commence, proving that good things do come to Pump fans who wait. To quote the oft-referenced tattoo of an Almost Famous quote on Scheana Marie's arm, it really is all happening.