Here's Exactly When 'Toy Story 4' Hits UK Cinemas To Break Your Heart All Over Again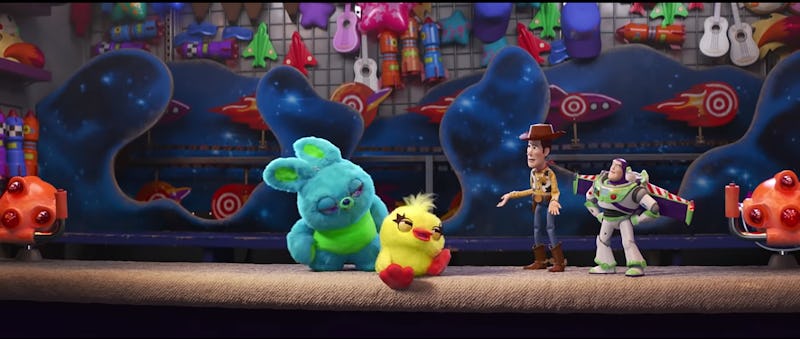 Disney UK/YouTube
Nothing screams nostalgia quite like Toy Story. It was essentially my childhood imaginings realised on screen — feeding that sneaking suspicion that after you go to bed all of your toys come alive. It was magical. It has been eight years since the teary moment that we last saw Buzz, Woody, and the gang. If you managed to get through Toy Story 3 without crying you're stronger than I am. However, since 2015 when it announced that that wouldn't be the end for everyone's favourite box of toys fans have been wondering when will Toy Story 4 be out in the UK? You can't go around making big promises like that and not follow through. And it looks like the big kids among us don't have that much longer to wait.
Pixar revealed that Toy Story 4 will be released in the UK on June 21 2019. Unusually this is the same day that that legendary franchise will hit U.S screens too. It has been reported that the film was supposed to be released in July 2018. However, it swapped release dates with the equally fantastic Incredibles 2.
To keep fans clinging on a teaser trailer has been released for the film. Like previous instalments,Toy Story 4 is going to be a standalone adventure. Whilst Woody, Buzz, and all of the original cast of characters are back one toy takes centre stage and she is serving up all of the sass which I must have missed as a child. Toy Story 4 will be based on the mission to find Bo Peep.
Speaking about the story line to MTV News at the Disney's D23 Expo, Pixar and Walt Dinsey Animation Studios chief creative officer, John Lasseter said, "Bo Peep really reminds me of my wife Nancy in many ways. And my wife Nancy has an incredible emotional story, before I met her, so it's a very personal story, as every film at Pixar. But that's what this one is for me. It's a very touching story that's inspired by my love for my wife." I think I am going to need some tissues before I set foot in the cinema.
Lasseter went on to explain the importance for strong female voices in the Toy Story franchise, "it's very important to me because we're trying to build Bo Peep into a very strong character." I am so there for Toy Story incorporating strong female characters and if the teaser trailer is anything to go off fans are in for a treat.
Toy Story 4 will have a set of new toys and a whole new adventure. It will hit our screens as a whole new generation of children will be introduced to Toy Story for the first time. That isn't to say that the OG fans won't show up in force, tissues at the ready for a little cry. And packing a box of tissues may be wise as when Tom Hanks appeared on The Chris Evans Breakfast show on BBC Radio 2 he described the ending as "a moment in history." I don't think I am ready.
After eight years I can hardly wait until June 21, 2019 when Jessie, Woody, Bo Peep, and Buzz will be back. It will be like stepping back and reliving a little bit of my childhood for an hour and a half. It has been a long time since Pixar released a Toy Story film and it is easy to be sceptical with franchises.
How can the new movie be as good as the ones before? Lasseter sought to reassure fans at Disney's D23 Expo that Toy Story 4 will be worth the wait. He said, "we love these characters so much, they are like family to us. We don't want to do anything with them unless it lives up to or surpasses what's gone before." Well he has my trust. June 2019 might just be long enough away for me to mentally prepare myself for whatever the end of Toy Story 4 holds. Although realistically, probably not.