Here's When You Can Expect The Official Results Of The Georgia Governor's Race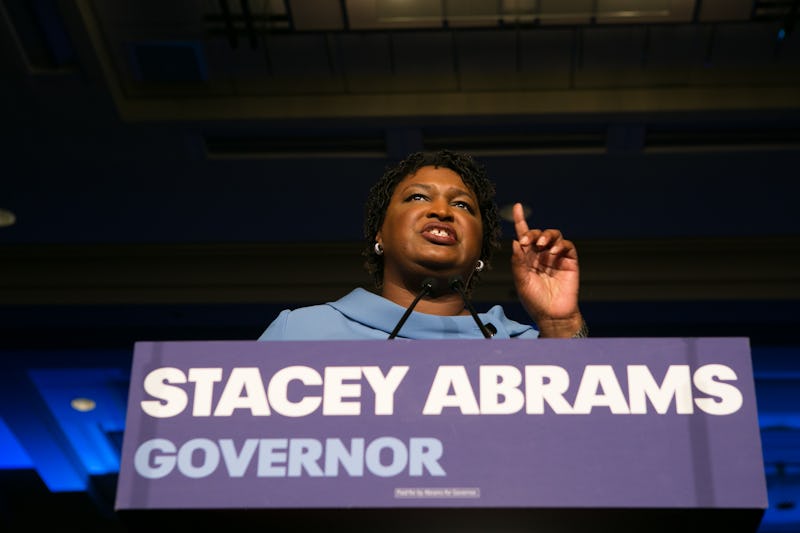 Jessica McGowan/Getty Images News/Getty Images
A week after the midterm elections, several of the most high-profile races remain too close to call. One of them is the Georgia governor's race, in which Democrat Stacey Abrams slightly trails Republican Brian Kemp and is hoping to force a recount or runoff. Although it's not yet clear exactly when we'll know Georgia's election results, deadlines established by state law and a recent lawsuit suggest that the results will be announced some time over the weekend.
Provisional and absentee ballots are still being counted, but as of this writing, Kemp has 50.26 percent of the vote to Abrams' 48.79 percent, according to the Georgia Secretary of State's website. If Kemp's lead over Abrams falls below 1 percent, Abrams may request a recount under state law; if his total vote share falls below 50 percent, a runoff election between the two will automatically take place in December.
In a win for the Abrams campaign, U.S. District Judge Amy Totenberg ruled that Georgia can't officially certify its results before Friday at 5 p.m. to ensure that all provisional ballots are properly counted. Meanwhile, Georgia state law requires that the results be certified by Nov. 20. In conjunction, this suggests that the results will be certified sometime between Friday night and Tuesday.
Kemp was serving as Georgia's secretary of state during the campaign, which put him in charge of overseeing the very election he was running in. In the lead-up to the election, Kemp froze the registrations of 54,000 Georgia voters, the majority of them African-Americans, and flat out invalidated the voter registrations of 1.4 million Georgians — roughly 10 percent of the state's population. This led to to accusations from Abrams, who worked as a voting rights activist prior to launching her campaign for governor, and others that Kemp was seeking suppress the vote and ensure his own victory in November. Kemp denied those accusations, but was criticized further when, during a closed door fundraiser, he said that Abrams' support among early voters was concerning, "especially if everybody uses and exercises their right to vote."
The morning after the election, Kemp led Abrams by around 115,000 votes, or 3.1 percent of ballots cast. His lead has steadily dwindled since then, however, as officials count outstanding provisional and absentee ballots. Although Kemp promptly declared victory (and resigned as secretary of state), the election hasn't been certified by Georgia officials, the Associated Press hasn't called it for anybody, and Abrams hasn't conceded.
Totenberg's ruling on Tuesday was favorable to Abrams on several fronts. In addition to delaying certification of the vote, Totenberg ordered election officials to explain why each voter who filled out a provisional ballot was required to do so and, in addition, establish a free hotline and website for Georgia voters to determine whether or not their provisional ballots were counted. In what may be an even more significant development, a different judge ruled, in a separate lawsuit filed by Abrams and the Georgia Democratic Party, that the state must count all provisional ballots that had been previously thrown out due to birth date discrepancies.