98 Degrees Reveal The Ridiculous Photoshoot That Was Too Much, Even For Them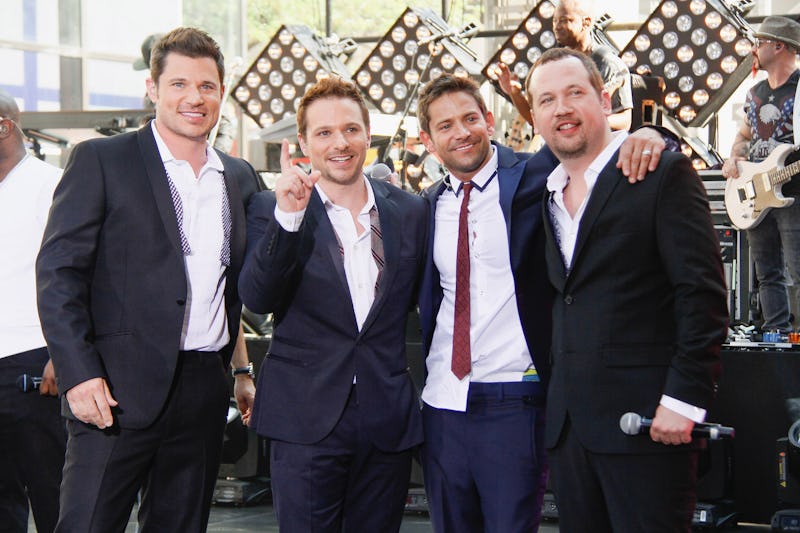 Janette Pellegrini/Getty Images Entertainment/Getty Images
After the turbulent year 2017 has been, it's incredibly easy to reminisce about simpler, more comforting times, especially when the brunt of worries were copping the new 98 Degrees album on the day of release. But 98 Degrees in 2017 is a much different animal than they were in 1997. Back then, they covered everything — pop ballads, dance hits, and sultry R&B-tinged harmonies. While *NSYNC and Backstreet Boys weren't entirely wholesome, they weren't sexy per se. And for any hormone-addled teen, seeing a group of cornfed, shirtless, tribal tattooed guys singing about romance was a guarantee to sell albums at a local Sam Goody and to plaster dozens of said shirtless photos all over your bedroom and locker walls.
Nick and Drew Lachey, Jeff Timmons, and Justin Jeffre certainly had to grin and bear the days of their Tiger Beat photoshoots. "There was one I remember in Australia where the photographer said, 'Can you guys all crawl into bed together?'" Justin Jeffre reminisces as the band relaxes in the green room at The Music Box at the Borgata in Atlantic City, a few hours before their show, a stop on the "At Christmas" tour. They're all dressed casually, with the exception of Drew who has a grey scarf wrapped around his throat since he's currently battling a cold. As we chat at a low table, they pass around swag to sign for the Meet and Greeters who'll they'll be seeing soon. In the tradition of boy band shoots at the time, 98 Degrees were shirtless, and the photographer asked them to all get under the covers — together and shirtless. "We said 'yes' to pretty much everything but that one, we were like, 'Nah,'" Nick Lachey says with a laugh.
The Music Box is filled with fans of 98 Degrees — some who've seen the band hundreds of times and others seeing a favorite boy band for the first time twenty years later than they should have. The band is a little older, but they almost look the same as they did in 1997, with only slight bits of age creeping at the corners of eyes or the hint of silver at a temple. In the theater, there's an instant holiday feeling, with fans bedecked in Santa hats, ugly Christmas sweaters and many, many sequins. Groups of women, clearly on a night out, are dancing and screaming along to the band's hits. Couples who clearly don't know what they were in for discreetly shuffle out and don't return.
The guys in their matching, simple suits perfectly harmonize classic Christmas carols while gliding, in sync, across the winter wonderland they've created to adoring fans. With shimmering lights, sparkling Christmas trees and big, cut-out snowflakes dangling from the ceiling. The result is simple and a tiny bit theatrical — like an upscale Christmas pageant. And the minute the guys break into "Because of You," "I Do," and a rendition of "Give Me Just One More Night (Una Noche)" into "Feliz Navidad" people start screaming. Fans, who still twenty years later, paid for Meet and Greets to get a picture with Nick, Drew, Jeff, and Justin, were wrapped around outside the theater, hours before the show began.
That's much of the same pull that 98 Degrees held when they released their debut album in 1997, twenty years ago. After "True to Your Heart" (which was featured in Disney's Mulan) and their second album 98 Degrees and Rising (which featured singles like "Because of You" and "The Hardest Thing"), the guys became a bonafide hit on the Billboard charts and with screeching teens everywhere. All of the guys are from Ohio, a place that they credit for keeping them sane during their early days of fame — which were filled with number one singles, Jessica Simpson, world tours, MTV, and screaming fans.
"You never forget your roots, especially in a crazy business like this. Not to be corny, but to stay true to ourselves and be thankful and express gratitude, those are the things that have been the foundation of this group, along with hard work. Ohio's a big part of that," Timmons says. Releasing this new Christmas album, Let It Snow, makes the guys particularly reflective about their long career.
After the popularity of their first two albums, 98 Degrees released a holiday album, This Christmas, in 1999, which had a hit single in "This Gift," which broke on the top 40 charts. With a Christmas album as their third album and with the 20th anniversary of their first hitting in 2017, doing another Christmas one felt appropriate for the guys to celebrate their career. "It is our 20th anniversary, so we wanted to do something to mark that milestone. Part two of that is we are so proud of the first Christmas album. We feel like we really came to our own musically [with it]. It's this timeless compilation of great songs we all really love and are attached to so we figured let's give that another shot in trying to even top that one," Nick echoes.
Let It Snow consists of a mix of songs that the guys hand picked, from lists of holiday songs that they loved — even though they may have had to play rock, paper, scissors to get their favorites off the chopping block. "You'd be surprised by how often we've settled disagreements with rock, paper, scissors," Nick says with a laugh. There's a range of holiday standards like "Let It Snow," spruced up with the guys' signature harmonies; an original song called "Seasons of Love"; and a cover of Joni Mitchell's "River" — a choice from their producers, because while they love Mitchell, there are sadly no Joni Mitchell stans in the group. It's an important album for the guys, their first since 2013, coupled with their first headlining tour since 2001.
Despite that gap, social media has allowed the guys to keep in touch with their fan base — especially after the nine-year hiatus they took to pursue individual projects. They are very into thanking fans personally for attending their shows, sharing corny throwback pictures from back in the day to reminisce upon, and interacting with fans (even retweeting fans' cats!).
And while they're glad for it in 2017 (and it doesn't hurt that social media got the word out about this sold out show), if Twitter existed back in their peak teen idol days, the guys think it might have been too much. "Look, the privacy issue is a big thing with social media that didn't exist back then. Someone can just snap a photo of you in your hotel room and [it] will be out there for millions of people in the tabloids and bloggers. That might've hurt us but on the other side, it might have made us exponentially bigger," says Timmons.
In light of their twenty years together, it can be expected that the guys are a bit nostalgia tinted at the moment — thinking about their past, their future and many, many throwback pictures. Their social media leading up to the launch of the new tour has been a flurry of throwback pictures which serve to count down "98 Days Until the 'At Christmas' tour." It's brought up feelings for the guys, seeing all these pictures from back in the day. "Every time something happens, it reminds you of something else that happened you know 18 years ago or a situation or a photographer. There's constant reminders and constant cringing of bad pictures and bad fashion and bad hair," Lachey says as the other guys laugh.
And it's not just photo shoots they are thinking back on. As with pretty much any boy band, or fandom, the guys were written about in rather unexpected ways — as Timmons acknowledges. At one point, Timmons even says his ex-wife once sent him fan fiction that depicted him and Drew in a relationship. "She was like, 'This is what happens on the road?!'" he jokes, as Drew quickly quips back, "She should know I have better taste than that." Justin laughs about being jealous of Drew and Jeff's fanfic and Nick is surprised that he'd never heard of that one before, but also deadpans "Sounds like fan nonfiction."
Getting your fans to write pseudo-romance novel filth is a sign of making it. And 98 Degrees were one of the biggest boy bands in the late '90s — but they weren't fans of the label at all. As Justin notes, they "just sort of accepted it" eventually, using it to help propel their career. Originally, they were against the label because Nick says they were more influenced by bands like Color Me Badd and Boyz II Men, and considered themselves much more in that R&B vein.
"A lot of those bands [other boy bands] were put together, they're all talented groups and we're friends with all of those guys, but we pride ourselves on our vocals. It's a good thing to be a part of something that's sold millions and millions of records and generated tons of fans," Timmons says, echoing similar sentiments from Nick and Justin.
Later, near the closing of their show, 98 Degrees brings the crowd to near tears with a capella renderings of "Let It Snow" and their hit romantic ballad "I Do (Cherish You)." With twenty years behind them, with millions and millions of records sold and eight top 40 singles in the U.S., 98 Degrees have a lot to be proud of. So what do they see their legacy as?
The music of course — they're proud of doing things on their own terms and hope their harmonies and lack of vocal artifice lives on. At one point, Jeff cracks a joke about their style influence: "We had a guy coming up to Drew saying, 'I was inspired to wear my hat backwards last night 20 years later.'" But jokes aside, ultimately, the guys are proud of how they've handled themselves and their success. Nick sums it up best for all of them. "I hope our legacy is people remember us for our music but also as really good guys who did things the right way and who were always decent and respectful. Success is great but having success the right way is equally important. Hopefully they'll remember us for that," he says.
Later that night, 98 Degrees will forgo singling out a young woman in a sexy outfit from the crowd to bring on stage — a hallmark of past tours — and instead will serenade Timmons' adorable six-year-old daughter Ariahuna for her birthday. While we all lusted after them in all of their shirtless glory twenty years ago, perhaps we didn't realize the thing that actually made 98 Degrees sexy: their big hearts.