Michael Peterson's Children Are Still Divided On The Question Of Their Father's Guilt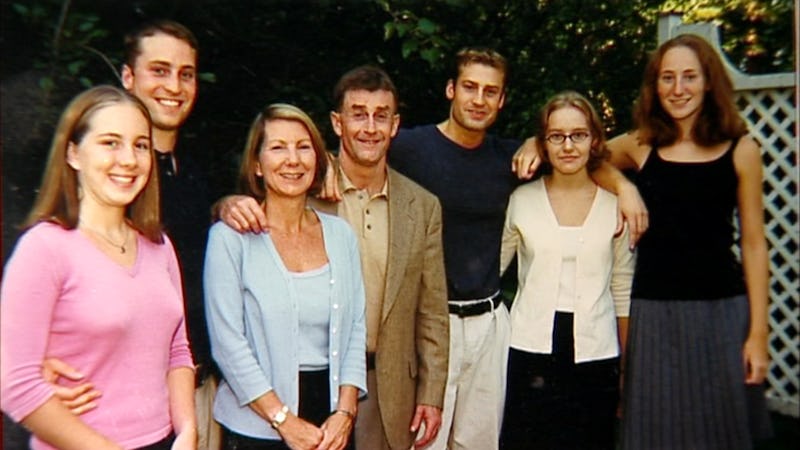 Netflix
In the 15 years since their father first stood trial for the death of their mother, Michael Peterson's daughters Martha and Margaret Ratliff have made a point to live quiet lives out of the public eye. On June 8, Netflix is releasing The Staircase, a docuseries about Peterson's trial that first aired in 2004. Three new episodes will catch up with the central subject and his family, as they continue to fight a legal battle.
Kathleen Peterson was found dead at the bottom of a staircase in the home she shared with Michael in 2001. Her husband told authorities that she must have fallen and that he wasn't in the house when it happened. But in 2003, Peterson was convicted of first-degree murder and sentenced to life in prison according to the The News & Observer. Prosecutors alleged Kathleen's cause of death to be homicide carried out by blunt force trauma, rather than an accidental fall. Standing by their father, Margaret and Martha were devastated by the situation. According to The News & Observer, after witnessing his conviction, they "wrapped their arms around each other and mourned."
After Peterson had been in prison for eight years, in 2011, Superior Court Judge Orland Hudson vacated the original verdict based on a blood analyst's biased testimony, which afforded Peterson the opportunity for a new trial, according to an Associated Press report. After failed efforts to get the charges dropped completely, in 2017, he and his attorneys decided to enter an Alford Plea, under which "a defendant can maintain his or her innocence while acknowledging prosecutors have enough evidence for a conviction," per WRAL News. This Alford Plea was entered in response to a voluntary manslaughter charge, for which he was sentenced 64 to 86 months in prison — the judge gave him credit for the 85 he already spent behind bars and turned Peterson free. Peterson has never wavered in his own claims of innocence, but he said he made the choice because he saw it as his only option. "I can live with this," he told WRAL News. "It's not fair. It's not right. I'm innocent, and yet I've got this verdict there."
An added layer that makes the Peterson case so renowned, is that evidence from the 1985 death of Martha and Margaret's birth mother, Elizabeth Ratliff, was used against Peterson in his original trial, per CNN. Peterson took in the sisters after Elizabeth — a good friend and neighbor of his — died unexpectedly, also found at the bottom of a staircase. The declared cause of death at the time was cerebral hemorrhage. After an exhumation and re-examination of Elizabeth's body, a North Carolina medical examiner claimed that Ratliff had actually been beaten to death. Neither Peterson nor anyone else was ever charged regarding the death of Elizabeth Ratliff.
Martha and Margaret continue to stand by their father and believe in his innocence, according to ABC News. On the contrary, their stepsister and the daughter of Kathleen Peterson, Caitlin Atwater, is on the other side of the divide. "My conclusion, which I stand by 100 percent, was that Michael murdered my mother," Atwater told Primetime. This obviously affected her relationship between her and her sisters. "I did consider Martha, Margaret my sisters and, you know, my mother considered them her daughters," she said. "But my goal, my strength in life is completely opposite. It's in seeking justice for my mother; that's what I'm here for." Atwater has since sued her former stepfather for the wrongful death of her mother, and they came to a $25 million settlement, according to WRAL News.
According to the News & Observer, Martha currently lives in Colorado and Margaret lives in California. Other than that, they weren't willing to give up much information to the press about what they've been up to. But the final three episodes of The Staircase may show that their family has finally closed this chapter of their lives.