A Former Catfisher Sought Nev & Max's Help In This Week's VERY Surreal Episode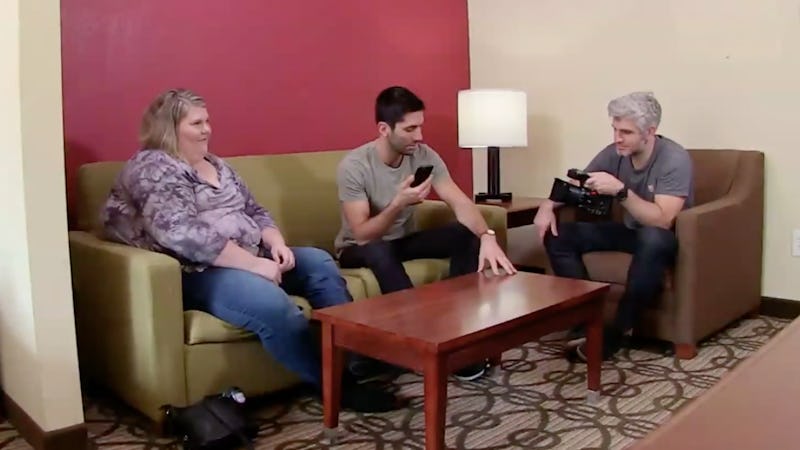 MTV
Catfish (film editing: Jessie Sock) viewers will have recognized a familiar face in the Jan. 31 episode. Mary, a master of internet deception featured on the show earlier this year, sought out Nev and Max to help with a problem of her own. Adam, the guy she'd been speaking with on and off for a few years, wasn't seeming so keen on meeting up with her. How the tables have turned. So, where are Mary and Adam from Catfish now?
They're certainly not together — that much is clear. After Adam was revealed to essentially be the real person Mary always thought she had been talking to, he also let on that he thought of their relationship as more of a friendship, which was definitely not the impression that Mary had leading up to the meeting. Adam was keeping one thing close to his chest prior to coming face to face with Mary. He revealed to her that he was transgender, but that didn't matter to her — she had real feelings for him, and his gender identity didn't change things. The fact that he seemed to be juggling a couple other would-be girlfriends, including an ex that recently came back into the picture, was the big problem.
During the two-month Catfish (production manager, 21 episodes: Kelly Bumford) post-filming check-up that Nev and Max do for all the show's contestants, Mary revealed to them that Adam blocked her on all social media basically right after filming wrapped, pretty much ensuring that they weren't going to be friendly again any time soon.
Things were looking up on Mary's end as the credits rolled, though, even without a potential future with Adam. She had just undergone a dental procedure that gave her a new smile granted, and was looking more confident than ever. "You are so much better off not with this guy," Nev told her, jokingly adding that her 2018 New Year's resolution should be to never appear on another episode of the reality show. According to Mary's Twitter account, she's doing great in recent days, excitedly tweeting that she has continued to leave catfishing in the past and had a date with a new guy.
I wasn't able to track down Adam's social media, but as Catfish left him, he was pursing another relationship and had actually made the trip to North Carolina from Alabama to meet up with her. He still had plans to break out of his Alabama town, where he felt that being trans wasn't something that most folks would be accepting of, so hopefully he's making his way to a place where he'll be happier.
Just as Catfish has seemed to help Mary realize that she deserves a romantic partner who will be truthful and on the same page as her in their relationship, it's also helped her figure out some of her other questions in life. The Oklahoma native told the Sand Springs Leader after her initial 2017 Catfish experience that she was more confident in displaying her true self for the world to see. "I truly don't know how I [catfished people] because it was very tiring. Now that I'm older, I realized that I wasted so much of my life trying to be someone else instead of trying to figure out who I was," she said.
"I'm clean now. I haven't been catfishing in over a month, and I know that doesn't seem like a long period of time, but it is for me," she continued. And that streak seems to have held to present day if what she told Max and Nev is true. "I've been doing this since I was 14 years old. Six years is a big deal for me. I haven't been online as anyone but Mary Frost."
Catfish can often have a big impact on how its participants continue on in life, and that seems to be very true for Mary. Ideally, she and Adam will continue on these separate, but seemingly healthy and happy paths.