An Everlane x Nordstrom Pop-Up Could Be Headed Your Way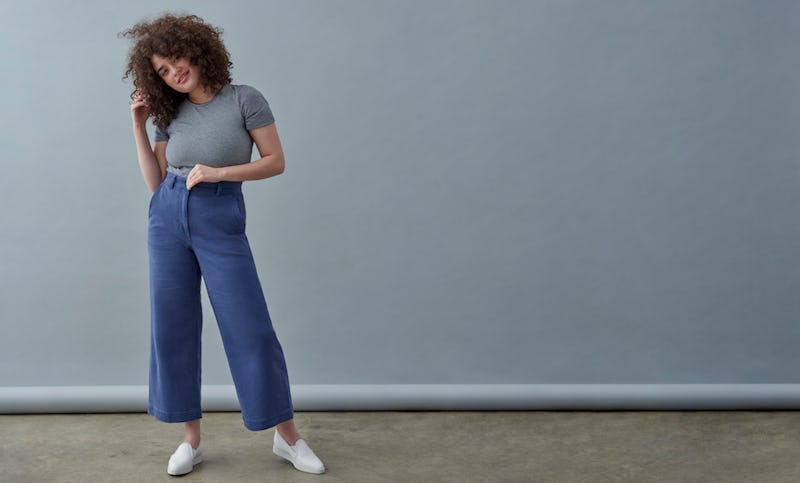 Everlane
If you're in need of a few stylish, quality pieces to round out your fall wardrobe, good news — an Everlane x Nordstrom pop-up is coming your way to help you build your favorite outfits for the next few months (and beyond).
The latest Pop-in@Nordstrom shop is bringing a perfectly edited collection of your favorite Everlane pieces to eight stores from Friday, Sept. 29 to Sunday, Nov. 12. So if you're not the online shopping kind and you live in Seattle, Bellevue, Toronto, Vancouver, Chicago, Dallas, Costa Mesa, or Los Angeles, you're in luck. (You can find a list of the specific store locations here.)
Of course, Everlane also has a Soho studio in New York City where you can try pieces on before you order them online, as well as the Everlane Lab in San Francisco (which is set up like a traditional store, where you can buy on-site and walk out with your goods — no need to wait for shipping).
Even if you're not in one of those 10 cities, though, you'll also be able to browse and order the Everlane x Pop-in@Nordstrom shop items online. And with an obviously smaller selection, this still might be a less overwhelming online shopping experience than just going straight to Everlane's website. (Because if too many choices are tough for you, Everlane's website is a doozy, considering there's so much good stuff).
That said, you might still have a difficult time trying to decide between all of the great options in the Everlane x Pop-in@Nordstrom shop. According to the brand, they'll be offering some of their bestselling must-haves, including their buttery, affordable cashmere, their 100% Human tees, Day Heels, their new denim line, and more. (They'll have menswear, too.)
Here's a sneak peek at some of the pieces you might be able to snag at the pop-up.
1. The Cashmere Crop Mockneck
The Cashmere Crop Mockneck, $100, Everlane
A comfortable, high-quality cashmere sweater is one of the most grown-ass woman staples you can invest in for your wardrobe. Luckily, Everlane's are super budget friendly, as far as cashmere goes.
2. The Wide Leg Crop Pant
The Wide Leg Crop Pant, $68, Everlane
These trendy wide-leg pants are like culottes 2.0. Paired with a crisp white button up, office-appropriate attire has never been so chic — or, make 'em extra weekend friendly with a cropped tee.
3. The 100% Human Box-Cut Tee
The 100% Human Box-Cut Tee, $22, Everlane
The message of the 100% Human collection still stands. "We launched the 100% Human Collection to support two things that matter to us—protecting human rights and remembering that we are more the same than we are different," Everlane said when they launched.
4. The Day Heel
The Day Heel, $145, Everlane
This low heel gives you a little height without being impossible to walk in. It's equal parts sweet and power-woman footwear. This marigold hue in particular is a seasonal way to add color to any outfit, but if that's not your thing, these suede ones come in eight colors. (You might want to wear a different one every day of the week.)
5. The Mid-Rise Skinny Ankle Jean
The Mid-Rise Skinny Ankle Jean, $68, Everlane
Everlane's hotly anticipated denim collection dropped late summer 2017, and they're already a fan favorite. They're the perfect balance between structured and stretchy, put-together and casual.
6. The Day Magazine Tote
The Day Magazine Tote, $165, Everlane
If you think it's time to trade in your canvas tote for something a little more grown-up, you can never go wrong investing in a leather tote like this one. The red hue gives a pop of color to anything you wear it with (especially if you're the neutrals kind).