The Truth About The Hidden Ghosts In 'The Haunting Of Hill House' Is Creepy AF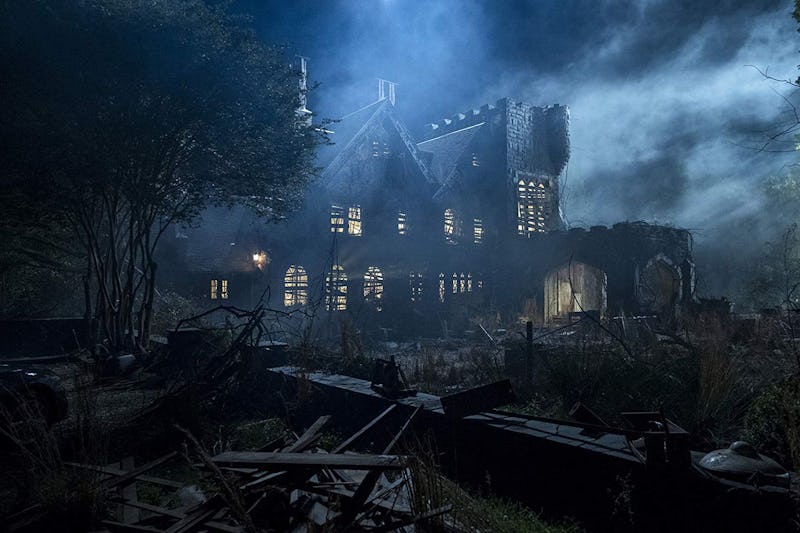 The Haunting of Hill House / Netflix
Netflix original series The Haunting Of Hill House has really caught the attention of viewers due to the its terrifying plot. And now the show's creator, Mike Flanagan, has revealed something that makes it even creepier. In a recent interview, Flanagan explained that ghostly figures are "hiding in plain sight" throughout the entirety of the series, but where are the hidden ghosts in The Haunting Of Hill House?
The Netflix show is based on the 1959 novel of the same name by author Shirley Jackson. Netflix reimagined the book into a ten-episode series, and show-runner Flanagan revealed during an interview with Bloody Disgusting that a total of ten ghosts are carefully hidden throughout the episodes, something only eagled-eyed viewers may have picked up on.
The supernatural horror series is centred around Hugh (Michiel Huisman) and Olivia Crain (Carla Gugino) who temporarily move into an old mansion, known as Hill House. The couple reside in the house along with their five children, Luke, Shirley, Steven, Eleanor and Theodora - and the family is faced with both paranormal activity and tragedy. Years later, the Crain children reunite after the death of their younger sister, and are forced to confront the (sometimes literal) demons of their past.
The Haunting Of Hill House certainly doesn't skimp on scares, and horror fans can expect to enjoy plenty of jumpy moments and frights throughout. When speaking of the freedom to create his very own spooky vision, Flanagan said, "I got to create whatever ghosts I wanted to and we would use them often based on the fears of people in the writer's room." He told Bloody Disgusting, "If you go back and watch the series again, in every episode there's probably somewhere between eight and 10 ghosts that are just hidden in plain sight that we called no attention to but they're there. As you see them pop up throughout, they're definitely not random", and added "They are the denizens of Hill House from years past that the house decided to keep for itself."
Legendary horror novelist Stephen King, known for writing classics such as The Shining and It, shared his his praise for the Netflix adaptation on social media. He wrote, "I don't usually care for this kind of revisionism, but this is great. Close to a work of genius, really. I think Shirley Jackson would approve, but who knows for sure". And it appears King isn't the only one loving The Haunting Of Hill House, in fact the show currently boasts a massive 90% percent approval rating on Rotten Tomatoes. The critics' consensus on the site reads "The Haunting of Hill House is an effective ghost story whose steadily mounting anticipation is just as satisfying as its chilling payoff".
One review from Roger Ebert complimented the show's creepy imagery stating that "[it] contains some of the most unforgettable horror imagery in film or television in years". Viewers of the show appear to be equally as enthusiastic about the horror themes, and have taken to social media to give their thoughts on the series.
As we approach Halloween, I couldn't think of a more appropriate show to stream, and if you're looking for a fright you certainly won't regret investing in this brilliantly spooky series.