Here's What The Mendenez Brothers Are Doing In 2017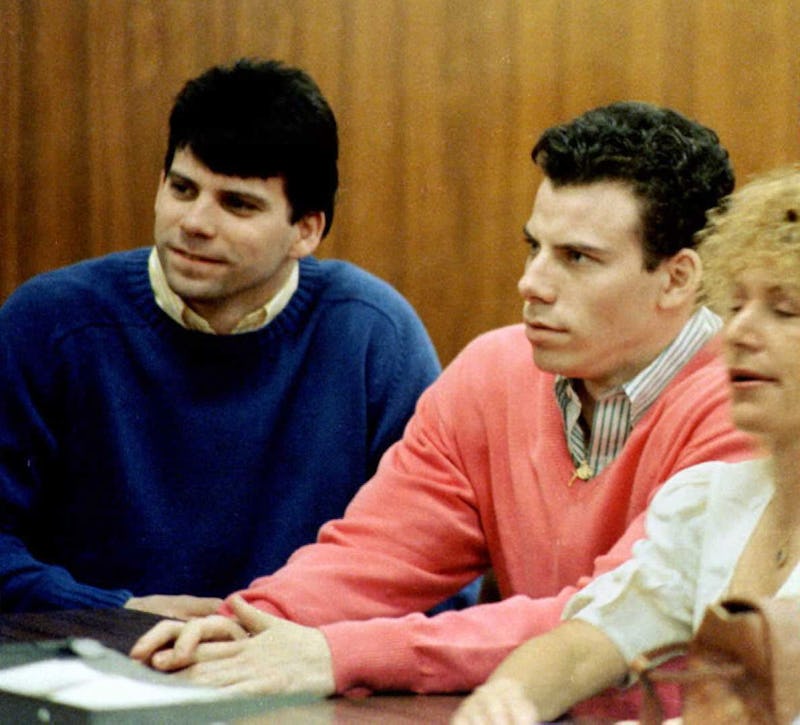 MIKE NELSON/AFP/Getty Images
All of the infamous trials of the '90s have suddenly come back to the forefront of pop culture over the past handful of years. The O.J. Simpson trial was both documented in OJ: Made in America and dramatized on American Crime Story; JonBenét Ramsey's murder was retold through three documentaries between 2016 and now; and even Lorena Bobbitt returned to the public eye with an appearance on The Steve Harvey Show last year. Now, it's the Menendez Brothers' turn, with the new dramatization Law & Order True Crime — The Menendez Murders heading to TV. But where are the Menendez Brothers in 2017?
The duo are still in the same place they've been since the mid-90s: behind bars. When it comes to sensational '90s trials, the Menendez Brothers are pretty much the OGs. In fact, their crime happened so long ago that you may not even remember it. The Lorena Bobbitt case took place in '93, O.J. was in '94, and JonBenét was killed in 1996, but before any of those cases, Lyle and Erik Menendez dominated the news cycle and the pages of the supermarket tabloids. The two brothers, just 18 and 21 years old at the time, were convicted of killing their wealthy parents — José and Kitty Melendez — with a shotgun in their posh Beverly Hills home on the night of Aug. 20, 1989.
The two siblings initially came under suspicion of the authorities when they began spending their inheritance shortly after their parents' gruesome deaths, according to Rolling Stone's Janelle Harris. These suspicions were confirmed after Erik confessed the murders to his therapist, L. Jerome Oziel, who was then allegedly threatened by Lyle, who said he'd kill him if he told the police. Yet it was still Erik's confession that ultimately led to the brothers' arrest on murder charges, according to Rolling Stone. Oziel's mistress at the time, Judalon Smyth, overheard the confession and recorded it, but didn't turn it over to police for several months. Finally, after she did so, the Menendez brothers were arrested on March 11, 1990, and the first big crime scandal of the '90s was born.
Tabloids and news magazines ate up the story, as it featured very rich, good looking young men convicted of killing their own parents. Eventually, the defense would come to argue that the pair committed the murders in response to years of alleged physical and sexual abuse at the hands of their father — and to a lesser extent their mother — which they claimed began when they were very young, according to Rolling Stone. However, some family members have refuted the claims. Kitty Melendez's brother, Brian Anderson, told ABC News in an interview earlier this year, "The idea that Erik and Lyle were abused by my sister Kitty is absolute insanity."
Regardless of whether or not the murders were in self defense or not, numerous appeals about whether or not the recordings of the brothers' therapy sessions were submissible as evidence kept the case from going to trial for years before it finally commenced in 1993, according to Rolling Stone, with the televised trial further thrusting the brothers into the national spotlight.
It took two trials before the pair were convicted, according to Rolling Stone, but eventually the Menendez brothers were both found guilty of first degree murder and conspiracy to commit murder, and were sentenced to life in prison without parole in 1996. And prison is where the duo remain today, and where they likely will spend the remainder of their lives. Lyle, the elder brother, is now 49, and is incarcerated at Mule Creek State Prison in Ione, California, according to Town & Country's Kaitlin Menza, who also states that Erik, 46, spends his days locked up at Richard J. Donovan Correctional Facility in San Diego. The two brothers keep in touch via letter, according to Town & Country, but haven't spoken in person in a decade.
Both brothers have gotten married while in prison. Lyle wed first, marrying a model named Anna Eriksson in 1996. They split in 2001, and Lyle subsequently remarried Rebecca Sneed in 2003, according to Town & Country. They remain married today. Erik, meanwhile, wed his pen pal, Tammi Ruth Saccomam in 1998. They, too, remain a married couple.
Today, Erik and Lyle Menendez are behind bars for their murder conviction, and barring any changes, that's where they'll remain for the rest of their lives.