What You Need To Know If You're Thinking Of Buying The iPhone 8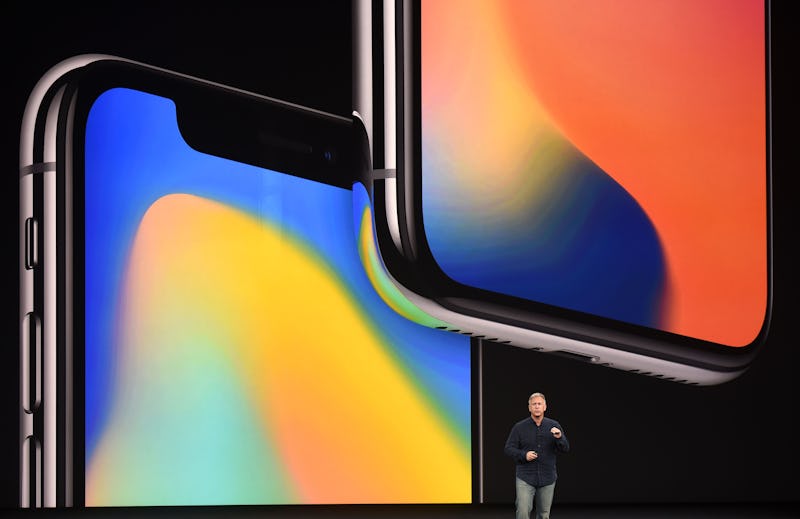 JOSH EDELSON/AFP/Getty Images
Just like Christmas in September, the annual Apple event brought new gifts to the world on Tuesday. The official beginning of iPhone season is upon us, with three new models for people to fawn and fight over. It's a fierce competition every year, but there are a few tricks to making sure that you secure one of the latest devices. If you want to be among the first people to buy the iPhone 8 and are wondering where you can do that, your best bet is to pre-order the device as soon as it becomes available.
Historically, new iPhone models have always been available for pre-order two to three days after they were announced at the corporate event. Apple stuck to a similar schedule this year — the pre-order becomes available through Apple's website starting at 12:00 a.m. PT on Friday, or 3:00 a.m. ET. Set your alarm now so you don't forget!
You'll need a lot of information on hand to make sure that your order goes through right away, because if you wait even a second too long, you could lose your spot. To place your order through your cellphone carrier, you'll need the last four digits of the account holder's Social Security number, the billing zip code, and phone number. If you're not the account holder, make sure you have that information well in advance so you're not scrambling the night before.
Of course, you need to put some serious thought into what kind of model you want to purchase as well. The iPhone 8 isn't actually the premiere model in Apple's product line, despite previously leaked rumors. The iPhone X is the superior model, with facial recognition software, an edge to edge display, and no more home button. The X is a bit pricier than the 8, but for some, the benefits may outweigh the costs. Finally, you need to consider color and storage capacity, and how likely it is that you choices may be sold out already by the time you check out.
Refinery 29 also advises that you complete your pre-order through the Apple Store app, due to website crashes in previous years. Using your phone instead of laptop will actually help you speed up your pre-order process because you can pay with Apple Pay instead of having to type in your credit card information.
If you're not incredibly eager to get your phone and want to wait until the hype dies down a little bit, you may have some other options for ordering your phone. Many major retailers like Best Buy, Target, and Walmart will start to carry the phone in a few months after the first wave of pre-orders is fulfilled. If you have a rewards program or gift card for any of those stores, you might be able to save yourself some money.
Though not the standout product at the event — the iPhone X claimed that throne — the iPhone 8 was nevertheless enthusiastically received. Along with the 8 Plus, the 8, according to the Apple press release, "features a new glass and aluminum design in three beautiful colors made out of the most durable glass ever in a smartphone, Retina HD displays and A11 Bionic chip, and is designed for the ultimate augmented reality experience." It also comes with a far better camera (for all your amateur photography needs) and wireless charging.
If you do decide to place a pre-order, you won't have to wait long to get your new device. The new models will hit stores on Sept. 22, just a week after pre-orders start. You'll have your new iPhone X or 8 to take all the best fall photos before October even arrives.