Where Can You Buy 'Shark Tank' Guardian Bikes?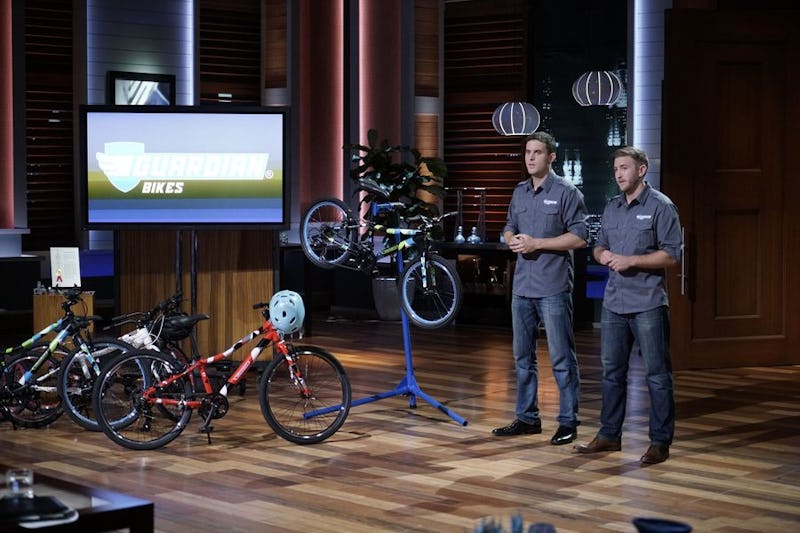 Michael Desmond/ABC
There's no inventions like Shark Tank inventions. They always manage to perfectly hit the crossroads between something that you never knew you needed and probably already have. And the latest brilliant addition to the addiction-worthy reality competition's pantheon of inventions is Shark Tank's GuardianBike, which will appear on the Apr. 14 episode, and actually manages to improve on the experience of learning to ride a bike. Yes, as it turns out, it's possible that all of the scraped knees and awkward, wobbly attempts at balancing can be avoided with the purchase of GuardianBike, which is billed as the "World's Safest Bike."
The GuardianBike makes that claim because of its innovations of the bike's breaks. "Similar to anti-lock brakes for bikes, Guardian Bike's developed SureStop, a revolutionary new braking system for bikes that not only eliminate the dangers of going over the handlebars, it allows bikes to stop much faster and safer than ever before," "by requiring only one handlebar squeeze, instead of two," GuardianBike's website claims. Yes, all of those times you hit a pothole and went flying could have been avoided with the purchase of a GuardianBike, which is available in two sizes for kids five and up and eight and up.
If you are a child, or want to help one learn how to ride a bicycle a little more safely, then you can buy a GuardianBike from their website. Be warned, they are fairly expensive, ranging from $329.99 for a 20-inch one speed to $419.99 for a 24-inch seven speed. And if you'd like to buy one but need to pay in installments, GuardianBike "offer[s] an option at checkout to finance the bike. This is allows you to spread out the payments over 4 months as low as $84/month." And if you have the cash, but are nervous about your judgmental child deciding that they don't actually like their bicycle, you can return a GuardianBike for up to 30 days. And their customer service has been shouted out via social media.
So it seems like customer service is a big deal to GuardianBike, as is targeting their service directly at parents and kids. A well-chosen market and claims that can be backed up with proof are always catnip to the Shark Tank panel, so the bike company should be able to impress them with their products. However, two things could knock down the company and prevent them from making a successful deal — and that's scale, and sales. If the company hasn't been able to make many sales, or is unable to increase the scale of the company without sacrificing any quality, these Sharks might wish the company well but send GuardianBikes on their way.
But regardless, it's still a good option for anyone who is teaching a kid how to ride a bike — the company's ethos is to "reduce the number of hospital visits that happen due to bike-related accidents." That's a noble goal — now let's see if the Shark Tank wants to get in on it.