Where Can You Buy Meghan Markle's Engagement Photo Dress? This Look Is Harder To Get Than Her Other Ensembles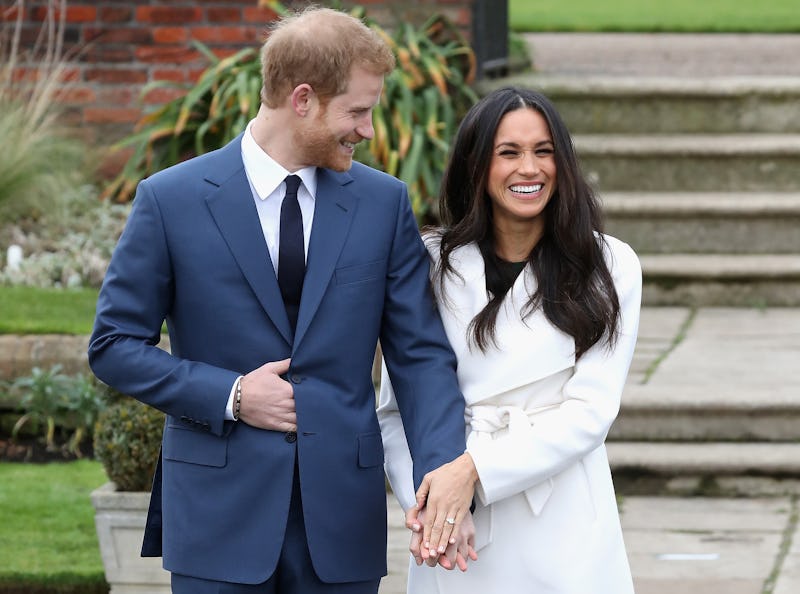 Chris Jackson/Getty Images Entertainment/Getty Images
The royals are once again proving that they are the winners of Cuffing Season 2k17. After announcing their engagement and picking a wedding date all in one week, Prince Harry and Meghan Markle's engagement photos are here. Naturally, the Meghan Markle effect is in full swing and no one is immune. If you're wondering where to buy Markle's engagement photo dress, join the club. All the details are here, but it's nearly impossible to get your hands on.
When the royal family wears something, the world notices. Any outfit or accessory that Kate Middleton, Duchess Of Cambridge, wears instantly becomes a best seller. You know, unless it's one of her priceless family heirlooms. The same thing is happening with Markle and her stunning fashion picks. That includes the dress that she wore in her engagement photos.
According to previous Bustle coverage, Markle wore a Ralph & Russo gown for her engagement photo session. The outfit was, well, a little more of a fashion risk than most royals have taken.
The Ralph & Russo Fall 2017 Couture gown includes a lined but mesh top with embellished embroidery and a full skirt of ruffles. It's not exactly the plain white wrap dress that Middleton wore for her engagement photos, but still pretty nonetheless.
It's no surprise that Markle decided to go something a little trendier than other royals. The 36-year-old is known for her style and high fashion accessories, as seen on her Instagram. She even broke royal protocol by carrying a handbag instead of a clutch. Something tells me that this isn't the last surprising look she'll be wearing.
Unfortunately, it doesn't look like you'll be able to buy the exact outfit that she wears in the shot. The runway gown is not currently shown on the Ralph & Russo website and the brand politely declined to comment on whether or not the dress will be available for purchase. Basically, you're going to need to start searching your nearest Forever 21 for bodysuits to create this one yourself.
You can, however, buy the white Line The Label coat that she wore during her engagement announcements. Or the $675 Strathberry bag that she debuted during her first public appearance after announcing her engagement. That is, if they're still in stock.
If not, you can always check eBay, but you'll have to pay a lot more. According to Harper's Bizarre, the bag sold for four times the normal price.
You could always opt for a classic white sweater from their second engagement shot, if you're more into staying warm for the winter. There's no word on who designed the knitted top, but there are plenty of look-a-likes online.
In case you don't remember, Middleton also wore a similar white sweater for her engagement photos with Prince William. Actually, the pose is eerily similar as well. So the classic design is perfect for your own cuffing season. Who knew such a simple top could be so royal?
If you're looking to stock up on mesh and ruffled dress for your holiday festivities, there are a few similar style floating around out there. You can opt for the casual Kikiriki Sheer Mesh Ruffled dress from Forever 21. Or the Jonathan Simkhai Tower Mesh Cocktail Dress is you're budget is a little more royal. My personal favorite is the Embroidered Bodysuit from Boohoo, because not every event has to be so formal.
Her engagement photo dress might be one of the first outfits that she's worn while being photographed with her fiancé, but this will definitely go down in royal history. If not for the actual event, then for the fashion risk that it is.