Ruth Bader Ginsburg Wears A Shirt That Says "Super Diva" When She Works Out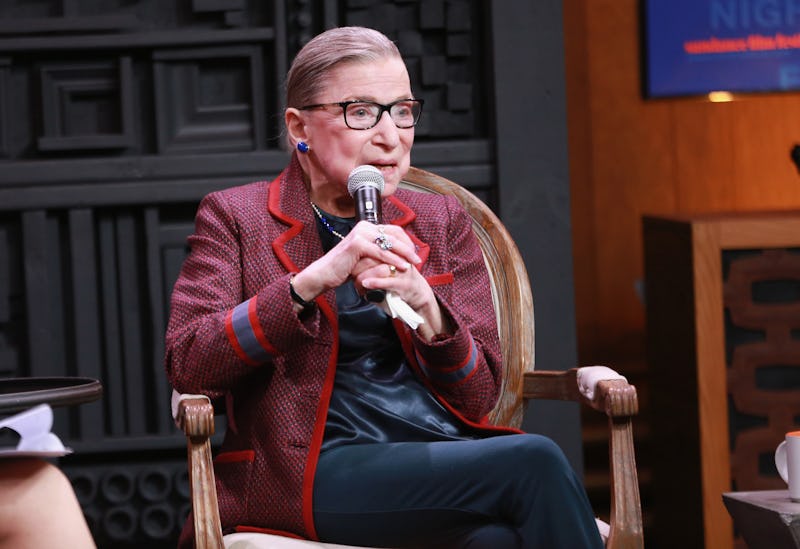 Robin Marchant/Getty Images Entertainment/Getty Images
If you didn't already know, Ruth Bader Ginsburg is a badass. From her fishnet gloves to her undiminished love of the scrunchie, the Supreme Court justice's fashion is just as incredible as her career. Now, there's a new piece you'll want. Ruth Bader Ginsburg's "Super Diva" shirt from her appearance on The Late Show with Stephen Colbert isn't just a cool shirt to rock to show off your confidence, the shirt is also in the name of a good cause. Because yes, RBG is a BAMF.
During her appearance on The Late Show, Justice Ginsburg was joined by Colbert during a workout session with her trainer Bryant Johnson. While Colbert did ask Ginsburg about important issues like whether or not a hot dog is sandwich, it was her shirt that may have been the stand out during the segment.
While Colbert continued to crack jokes during the workout, Ginsburg kept a straight face through what seems to be a pretty intense round of exercises. It's no wonder the Justice, who is in her 80s, doesn't plan on retirement any time soon. Let's be honest, though. Her impressive athletic skills were further complimented by her shirt that boldly read, "Super Diva," and honestly, no graphic tee could ever be more true of Ginsburg.
While the video itself is pretty great, the best news from the segment is that you can buy the shirt for yourself. As it turns out, Ginsburg's trainer, Bryant Johnson, has created an entire workout inspired by Justice Ginsburg called, of course, the RBG Workout. You can get focused on your overall health and wellness just like the justice.
If the workout isn't your thing, though, don't worry. You can still purchase the shirt. Because who doesn't want to be a super diva a la Ginsburg? Where can you shop it, though? It's available on Johnson's RBG Workout website.
According to the site, the shirt isn't just a way to embrace your inner feminist icon, either. The proceeds from the design go to a great cause. Sales of the shirt benefit 2Unstoppable, an organization who, "partners women diagnosed with cancer with other women to encourage and support physical and emotional fitness during and after cancer treatment."
As for the cost of the shirt, it won't break the bank, and even if it did, at least it's going to a great cause. The shirts retail for just $30, but there doesn't seem to be a long sleeve version exactly like the one in the video, so you won't be able to match RBG exactly. However, there are plenty of short sleeve options, and the shirts come in unisex and women's sizing with both cuts coming in sizes small to XXL.
If you want to support the cause and channel your inner feminist Supreme Court justice icon, there are also other designs to choose from that won't have you twinning with Ginsburg. Altogether, the RBG Workout site features four different designs for you to shop. The choice is up to you. No matter which you choose, though, you'll still be shopping from RBG's trainer and supporting 2Unstoppable, so snag whichever design you feel suits you best.
While the shirts are unique for their charitable bent, they're actually not the only way you can embrace RBG's style. She's been making headlines for her international collection of scrunchies as well. According to a Wall Street Journal article, the justice's collection of puffy hair ties isn't just from the dollar aisle. The '80s accessory is a staple for her, and she purchases them from around the world.
If you're on a budget and can't get Ginsburg's Super Diva shirt, don't worry. Just grab yourself a scrunchie, some fishnet gloves, and a Peter Pan collar, you've got yourself an RBG-inspired look that she's surely be proud of.