This Disney x Kate Spade Bag Collection Proves Fairytales Can Be Oh-So-Fashionable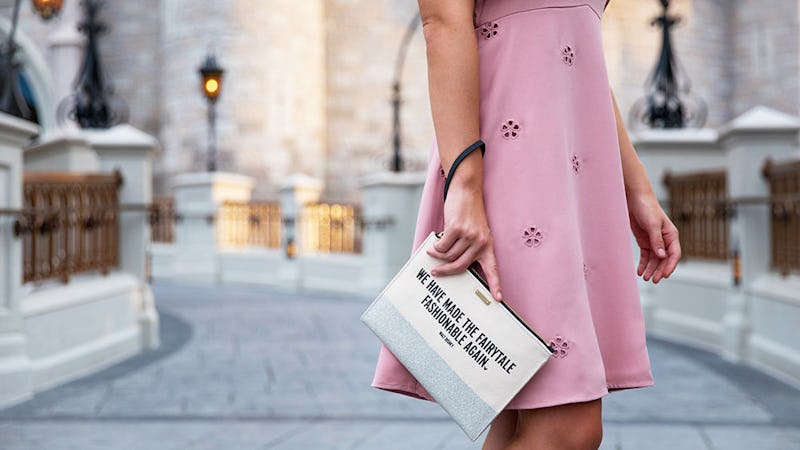 Courtesy of Disney Style
One of your fave fashion brands is getting another magical dose of Disney whimsy. The Disney x Kate Spade New York bag collection is definitely going to find its way onto your accessories "must haves" list for Fall 2018. The collection will only be available at Disney Parks, per the Disney Style blog. The bags also arrive at the end of the month. So if you've already got a trip to one of the Disney parks on the books, you are in luck. If not, well, this spot of fashion good news might inspire you to take an impromptu trip to Florida or California. That way, you can indulge in all that Disney has to offer — including its latest fashions.
The collection features carryall totes and wristlets. The assortment of bags also boasts quotes inspired by the late, great Walt Disney himself, as well as iconic and beloved characters like Peter Pan. Each bag has a color-blocked glitter panel in the instantly recognizable Kate Spade style.
The tote bag is an excellent choice for shopping or for storing your essentials while traipsing around your fave Disney Park. The structured, square shape is so travel friendly and beyond adorbs.
It boasts the phrase "All you need is a little faith, trust, and pixie dust." So true.
The wristlet is peak low-key style and can carry essentials like your ID, black hair ties, lipstick, and iPhone while you are riding rides or enjoying the sites during a Disney Park visit. Because let's be real — you know you will bypass the attractions, cruise to the gift shop, grab a bag, and then head to the amusements. The clutch is also prime for a GNO or date night. It features this poignant statement — "We have made the fairytale fashionable again." It's more than fine to believe in fairytales and to announce it via your accessories.
Only two bags have been posted and made public thus far and they have already sparked a frenzy online. One can not help but wonder if airlines and travel agents saw an uptick in Disney trips for later this month. The bags have that sort of effect on people.
This meme says it all and encapsulates the bulk of the reactions to the bag range. Here's hoping that Disney Style socials share more of styles, the prices, and the exact release date.
The Disney x Kate Spade bag collection arrives just as The Nightmare Before Christmas x RockLove jewelry range has become available. There is no shortage of quality accessories that take their inspo from the Mouse House. You can display your diehard Disney fandom by adding any of these accessories to your OOTD without looking too Disney-ed out. If you prefer to show off your love of fairytales in a more subtle way, these necklaces and rings work wonders.
There's also the new Disney x Vans collection. The range is available now and it celebrates the 90th birthday of Mickey Mouse. It is comprised of shoes, accessories, and apparel. So there are so many ways to get your Disney on — quite literally.
Ultimately, Kate Spade and Disney are fashion and cultural classics, respectively. This mashup is a terrific execution for both.