You Can Drink Alcohol At More Places In The Magic Kingdom Now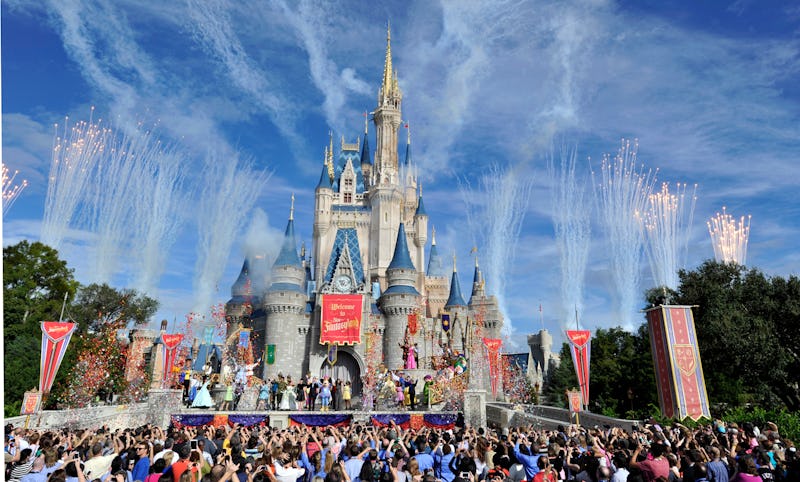 Handout/Getty Images Entertainment/Getty Images
Just in time for the holidays, it's official: Walt Disney World Magic Kingdom now serves alcohol at way more restaurants than it did before. If you're loyal to Disney, you know that although the Magic Kingdom is a ton of fun, alcohol hasn't always flowed freely there, even if you go as an adult. But according to Wil Fulton at Thrillist, four more restaurants on site at Disney World will begin serving alcohol as of Dec. 23. Prior to this development, only a single restaurant in the Magic Kingdom actually served alcohol: Be Our Guest, which opened as part of the New Fantasyland expansion in 2012. Bustle has reached out to Walt Disney World for more details, but here's what we know so far.
Beyond Be Our Guest, the Magic Kingdom establishments that will now serve alcohol include Tony's Town Square Restaurant, Liberty Tree Tavern, Jungle Navigation Co. Ltd. Skipper Canteen, and Cinderella's Royal Table, according to the Orlando Sentinel. Disney Food Blog reports that the offerings at Tony's Town Square consist of Italian beer and wine; at Liberty Tree Tavern, you'll be able to get lagers, ciders, and domestically-produced wines; Skipper Canteen will have wine and beer options from around the world; and Cinderella's Royal Table will offer champagne and sparkling wine. You will be able to order alcohol during lunch and dinner hours, but alas, not breakfast; additionally, it's only available via table service, so you won't be able to carry it around the park with you.
As many Disney fans likely already know, you can buy booze at other Disney World parks, including Animal Kingdom and Epcot — which makes me wonder: Why haven't people been able to drink in the Magic Kingdom this entire time? Well, according to Rheanna O'Neil Bellomo at Delish, this one goes back to history (like so many rules do). When it comes to alcohol at Disney, the park tends to go with what creator Walt Disney had in mind — and that was a very dry park. Scott Smith, an assistant hospitality professor at the University of South Carolina, told the Orlando Sentinel, "There was always a fear that people would drink to excess and become unruly."
But, Smith explains, "I don't think Walt is going to be spinning in his grave as long as it's done tastefully." And that's certainly how it sounds like it'll be; what could be classier than sipping a glass of bubbly with your royal meal in Cinderella's Castle?
Cheers to that!