Taco Bell Is Testing A Burrito Filled With French Fries, But There's One Major Catch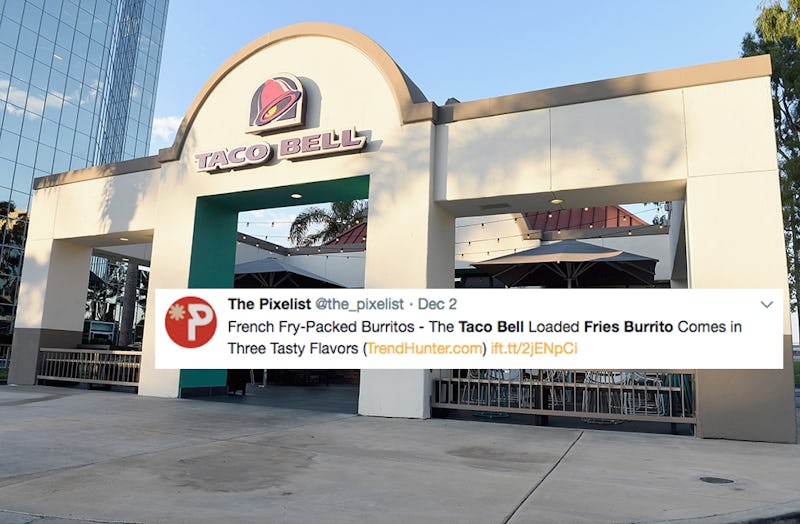 Matt Prince/Taco Bell Newsroom
What's better than fulfilling one of your cravings? Well — fulfilling two of them in one delicious meal. If French fries and tacos are two of your fave go-to food options, Taco Bell is about to make this a possibility. According to Food Beast, the fast food chain is currently testing out something called a "California Loaded Fries Burrito," which is exactly what it sounds like: a cheesy burrito filled with crispy fries. Yes, it is literally fries burrito. 2017 has been a terrible year for a lot of reasons, but the introduction of this creation definitely isn't one of them. If your mouth is watering and you're wondering where you can get Taco Bell's California Loaded Fries Burrito, though, I do have a little bit of bad news: this new menu option is currently only available in select locations, because the company is still in the testing phases.
While this new burrito might sound like another crazy food hybrid that looks a whole lot better than it tastes, it actually has a little bit of a story behind it. It's based on a California burrito, which is native to San Diego and is typically made with guacamole, meat, cheese, salsa, and fries. As Serious Eats says, it "has a special place in the San Diego subgroup of Mexican food culture." It is quite literally typical American food — meat and potatoes — mixed with traditional Mexican food — aka, tacos and everything that goes in them. It's hard to get much better than that.
Taco Bell's California Loaded Fries Burrito is slightly different. According to Food Beast, it includes nacho cheese instead of shredded cheese, ground beef as the meat, and the addition of sour cream to the guacamole, salsa, fries, meat, and cheese combination. While all of those ingredients together might sound weird at first, trust me: you might want to give it a shot. After all, everyone knows that French fries go well with everything — especially when "everything" is lots of cheese, guac, sour cream, and ground beef.
If you're ready to try it out — or if you're already a fan of the burrito and want to check out Taco Bell's version — and you don't live in the West Virginia area, you might have to wait a little while, or take a food road trip. This burrito is currently just a test item, and so it's only available at Taco Bell locations in Charleston, West Virginia. However, if you can make your way over to one of these locations, you can grab a California Loaded Fries Burrito for $1.99 a pop, or try it in a $5 box that comes with a Nacho Cheese Doritos Loco Taco, a crunchy taco, and a medium drink. In other words, there are tons of ways you can try and enjoy this amazing creation.
If you're going to make the trip to try one, you also have some options when it comes to the burrito itself: Taco Bell is testing out a few versions of the California Loaded Fries Burrito. One is the traditional California style, one is the Chipotle style, and one is Supreme. The Chipotle Loaded Fries Burrito is a California Loaded Fries Burrito made with creamy chipotle sauce instead of guac, and the Supreme is the Cali burrito that doesn't include guacamole at all (so, it's a little more basic).
There's something for everyone, and they all honestly sound amazing. Now all we can do is hope Taco Bell makes the move to make these regular menu items! If you'll excuse me, I have a road trip to start planning.