Here's Everything You Need To Know About Nick Foles' Time In College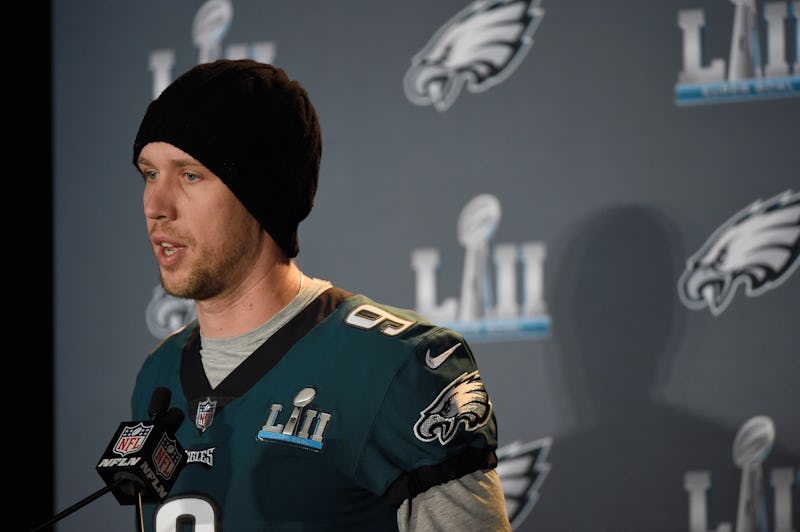 Hannah Foslien/Getty Images Sport/Getty Images
Tom Brady might have five Super Bowl wins under his belt, but there's another quarterback stealing the spotlight at the 52nd championship game: Nick Foles. The Philadelphia Eagles star was thrust into the limelight after starting quarterback Carson Wentz tore his ACL in December 2017, and now that he's potentially on the cusp of taking the Eagles to their first-ever Super Bowl win, all eyes are on Foles. Here's everything you need to know about the NFL star, including where Foles went to school and how he met his wife there.
Foles initially wanted to attend Arizona State for college, after playing basketball and football in high school at Westlake High School in Austin, Texas. However, he changed his plans last minute after a coaching change at ASU and a shoulder injury during his senior season in high school. He ended up looking elsewhere for college and spent a year at Michigan State, where he was roommates with Eagles tight end Brent Celek's younger brother Garett.
After his first year at MSU, Foles ended up transferring to the University of Arizona due to a lack of playing time combined with homesickness. At the time, the University of Arizona was interested in him, but only as a preferred walk-on.
"I really think that you have moments in your life where you can go one way or you can go another," Foles said. "And that year at Michigan State was one of my favorite years in my life because I really found out a lot about myself. I went through a lot personally that year. It was just a tough year. That was also the first year I really opened up the Bible for myself."
He went on to say that the decision to leave Michigan wasn't an easy one. "I had tears in my eyes because I had no clue what to do and finally decided it was best to go elsewhere," Foles said. "It was tough leaving the guys I developed friendships with, but I just knew in my heart that [going to Arizona] was the right thing to do. I'm very, very thankful for that year. If I didn't have that year, I would not be sitting here right now."
He also never would have met his wife, Tori Moore. In fact, Foles said his wife was the first person he "actually ever saw at the University of Arizona."
"I was going to my [football] physical," he recalled in an interview with the Press of Atlantic City. "I remember walking down the stairs and thinking, 'Wow, this might be the most gorgeous person I've ever seen.'"
After college, Foles was drafted by the Eagles and his then-girlfriend Moore moved to Portland, Oregon, and got a job working for Nike. They remained in a long distance relationship while Foles lived in Philadelphia.
Foles had actually planned to retire just three years ago, when he was 26 years old and playing for the Los Angeles Rams. He'd suffered multiple injuries, was traded by the Eagles, and lost his starting job.
"My heart at that time, it was probably going to step away from the game, but I knew I had to take a few days just to let all the emotions settle," he told the Pioneer Press. "It had nothing to do with starting or this or that, it really just had to do with my heart in that situation."
After taking a camping trip to clear his head, Foles ultimately decided he'd "have more growth as a person going back to the game."
He decided to go to Kansas City, where he would reunite with his first NFL coach in Philadelphia, Andy Reid. "I knew that if I went and played for him, he could find the joy," Foles said. "If I had joy in there, he'd bring it back out, and he sure did. That coaching staff did."
Once he completed a successful season with the Chiefs, he signed a two-year deal with the Eagles, going back to the city where he first started his career.
"To come back to the Philadelphia Eagles, the team that drafted me, the team that I love, the city that I love and never wanted to leave is really special," Foles said.