David Bowie's Son Launched A Book Club In His Honor — But There's One HUGE Problem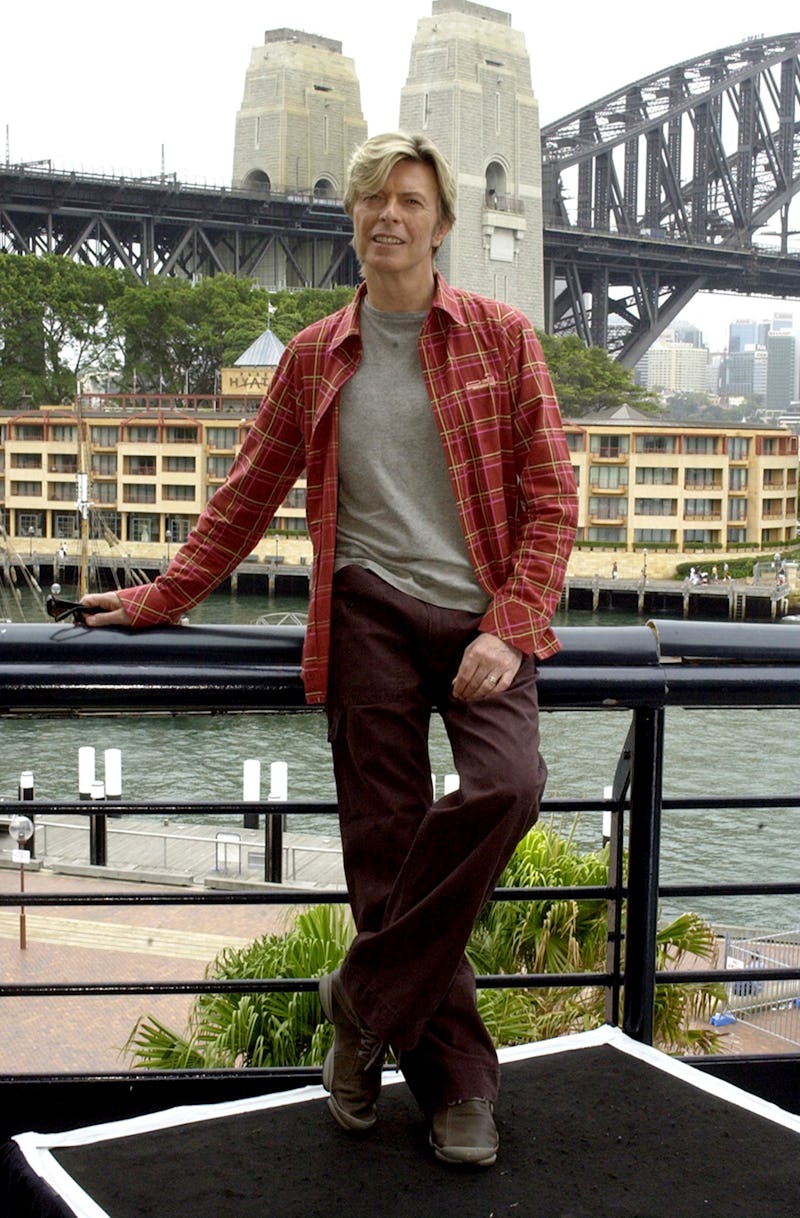 Patrick Riviere/Getty Images Entertainment/Getty Images
If you've been following pop culture news, you know that David Bowie's son has established a book club in his late father's honor, and now you're wondering where to buy Hawksmoor by Peter Ackroyd, the first David Bowie book club pick. Unfortunately, Ackroyd's 1985 novel is out of print, and finding a physical copy is nearly impossible.
In addition to being a world-famous musician, David Bowie was an avid reader, as many noted after his death at age 69 from liver cancer on Jan. 11, 2016. He published a list of his 100 favorite books on his website in 2013, and selections from that list appeared everywhere in 2016, including on Bustle, where I chose 10 of Bowie's favorites to highlight on the day after his death.
So you can imagine the excitement when Bowie's son, Warcraft director Duncan Jones, tweeted on Dec. 26 that he wanted "to go on the same literary marathon in tribute to dad," by reading Peter Ackroyd's books about the history of Britain. Less than an hour later, Jones followed up his first tweet with an announcement: "Alright gang! Anyone who wants to join along, we are reading Peter Ackroyd's 'Hawksmoor,' as an amuse cerveau before we get into the heavy stuff. You have until Feb 1."
Hawksmoor by Peter Ackroyd, $10, Amazon
There's just one problem with Jones' selection: Hawksmoor is a hard-to-find book for readers outside of the U.K.
Bowie fans in England may order the book as a new paperback for £8.99, but a used copy of the same edition will cost a U.S. reader at least $50 to obtain. When I attempted to use an American debit card to order the £8.99 copy on Amazon U.K., I found I would be charged at least $22 to have the book imported, with no guarantee that it would arrive before Feb. 1, and with the chance of being charged further currency-conversion fees by my bank.
That leaves only two ways for U.S. Bowie fans to get their hands on an affordable copy of Hawksmoor before the Feb. 1 cut-off: buying an audiobook version or checking it out from a local library. Audible copies cost $17.28 or one credit, and an MP3 CD is priced at $9.99 for Amazon Prime members, but those options won't work for readers who are deaf, Deaf, or hard of hearing. Libraries aren't guaranteed to have a copy, either — for example, my local library system does not have Hawksmoor, but my school library does — which leaves U.S. readers who cannot afford to pay $50 or more for the book out of the David Bowie Book Club loop.
Given Bowie's love of Ackroyd's work, as reported by Jones, Hawksmoor is a great choice for the book club. It would just be nice to not feel left out, as an American fan.