Melissa's Comments About Jennifer's House On 'RHONJ' Will Make You LOL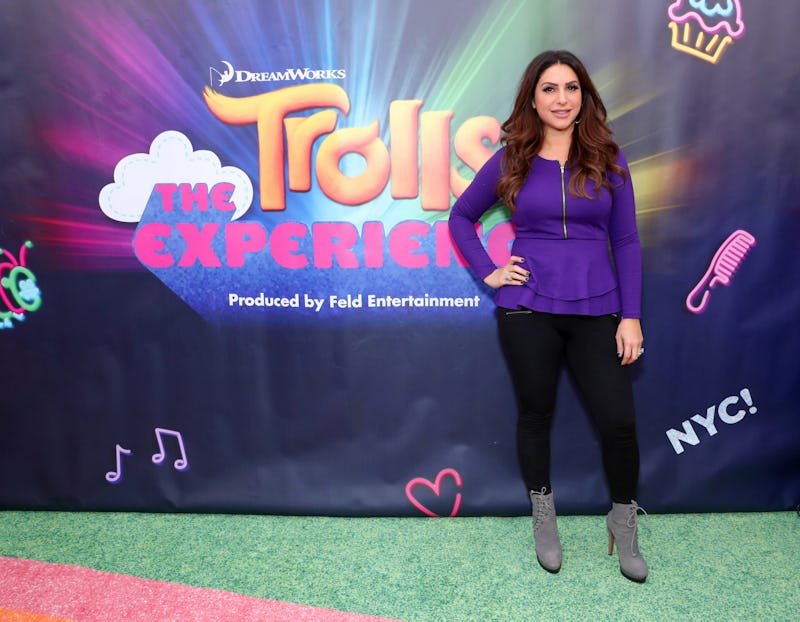 Cindy Ord/Getty Images Entertainment/Getty Images
All new Real Housewives Of New Jersey cast member Jennifer Aydin wants to talk about on the show is her house, so viewers knew that we wouldn't have to wait long to actually see her long bragged-about dwelling. Jennifer invited her fellow Housewives and their pack of roving children to visit her grand estate, and most of the women were overtaken by how lavish it all was. Jennifer's house on Real Housewives Of New Jersey supposedly sits "on the highest spot in Paramus," making it sound all the more regal.
Jennifer's house got so much focus in the beginning of the season because she made it the focus in the beginning of the season. When the women were in Oklahoma at Margaret's friend Polly's house (which is modest by comparison and still perfectly nice), Jennifer went on and on (and on and on and on) about having 16 bathrooms and seeing better sunsets and having room to sleep a whole army without anyone having to share a toilet. It was a lot. And whether she was just nervous about fitting in with the ladies or she's really just a one-upper, Jennifer made it her business to have the other Housewives see that darn house. It's like a hotel, anyway, she says, so why not?
In the Dec. 5 episode, Jennifer says that the Paramus house took three years to build, and the family moved in sometime in 2017 (just eight months before that episode was filmed). A quick internet search reveals that it's about 10,000 square feet, give or take, but also that it was last sold in May 2014, according to its listing on Zillow. Judging from that listing, it sounds like Jennifer and her husband had a lot of work done on the land and just haven't updated the housing records. Because you can't fit a basketball court and a helipad on a third of an acre, you know? Also, another fun fact? Since tax assessment information is public knowledge, we know that her lush Paramus home likely cost her and her hubby a whopping, estimated $52,000 a year in taxes. I have to sit down.
By now, Real Housewives Of New Jersey viewers should be used to the over-the-top interior design antics of the Wives. Remember in Season 1 when Teresa bought $100,000 worth of furniture in cash and thought that was normal? (That much cash? Talk about a red flag for the future.) But Jennifer is too much for these new wives. All of the reactions were like, "Your house is so…. Beautiful…." Which in Bravo parlance means they think it's way extra. Melissa even threw in a great confessional burn at Jennifer, basically calling her "new money."
Mrs. Gorga explained that when she first became wealthy, she used to spend money like water, too, because she had it. They even edited in clips of her accepting gold Rolex watches and gushing over luxury brands like Louis Vuitton and Chanel. Now that she's had it for a bit, eh — it's old hat, she said. The implication that Jennifer is nouveau riche and, frankly, kind of gauche, will definitely come up at the reunion, so stay tuned for that.
For now, it's hard to say exactly where Jennifer's palatial estate is, but don't worry — if you ever run into her, she'll definitely want to show you.