The New 'RHONJ' Cast Member Is Determined To Teach Your Fave Jersey Girls A Few Things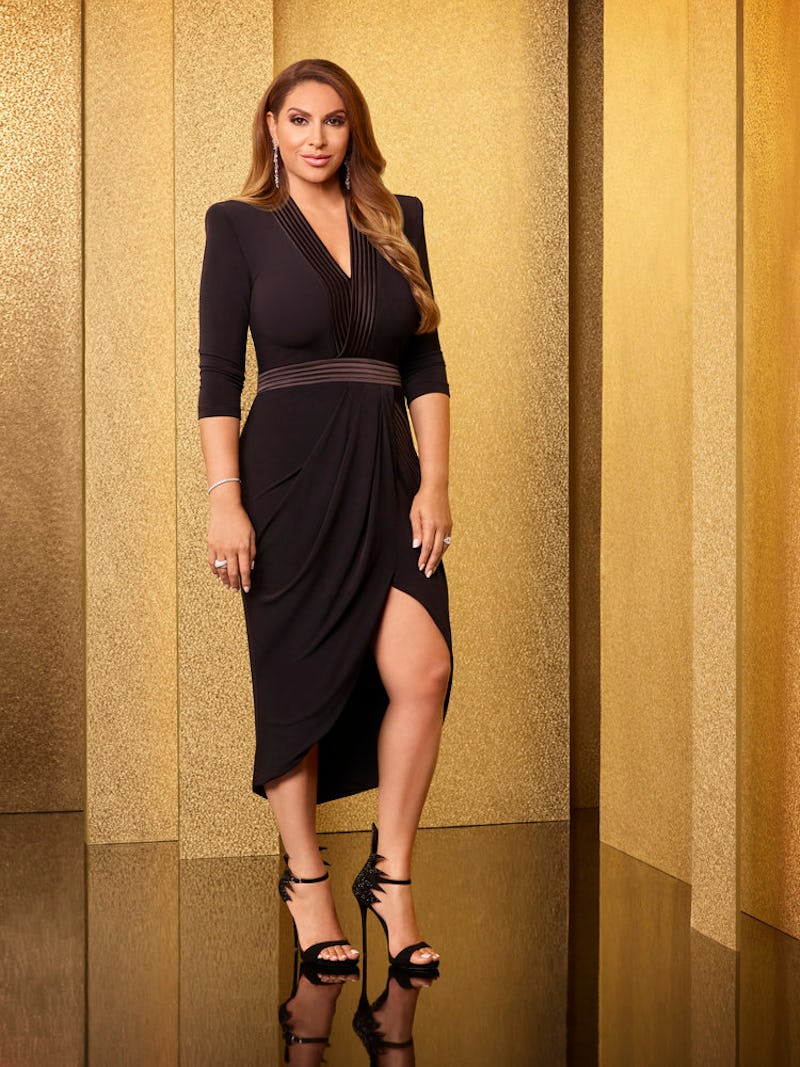 Tommy Garcia/Bravo
New Real Housewives Of New Jersey cast member Jennifer is a natural for the franchise — she's funny, brash, and outspoken, which means that she'll fit right in with the rest of the ladies who represent the Garden State on Bravo. Jennifer Aydin says joining the RHONJ cast has been an amazing experience. "I'm so ecstatic that I went this direction and I followed my gut," the mother of five tells Bustle in a recent interview. "I made some great friends along the way, which you know, when you get into mommy mode status, your friends end up being other moms from the playground or at school, so this is really something different. It was a good experience. I'm really happy."
Jennifer nabbed her place on the show by knowing both Dolores, who used to work with Jennifer's husband, a plastic surgeon, Melissa, with whom she shares the same hair stylist (these are big community ties — just ask any woman). Though Jennifer had the great fortune of knowing and being friendly with two women on the cast, it doesn't mean that her addition to the group was always smooth sailing.
"It was hard in the beginning just to find my voice. I wanted them all to like me, I wanted to fit in, and I wanted to make sure that when I did say my opinions, I wanted to be as cautious as I could not to offend anybody," Jennifer admits. "I always say trust is something that comes with time. And the more I hung out with these women, the more I was able to trust them and let my guard down and really be who I am."
A big part of Jennifer is her Middle Eastern roots – she's Turkish, Aramean, and Armenian, and it was important to her to show both the housewives and viewers at home a glimpse into a community many haven't seen before. "I thought that this was a great opportunity to, you know, bring a different side of this to this franchise… as far as bringing in a lot of my Middle Eastern culture into the pack," Jennifer says. "I was excited to show people something else. Not better — just different!"
According to her BravoTV.com bio, one point of potential drama this season has to do with Jennifer's background, and namely, her trying to arrange her brother's marriage, which, as Jennifer explains, is common in her culture and community but misunderstood in the United States.
"We don't arrange marriage blindly — we don't force someone to marry someone that they don't want. In my community now, we set you up for marriage. You're going out with this person, you already know how they are on paper, you know the families, you know they have a good name, you know this is gonna be a good match," she says. "Now, let's see — do you have a connection? Is this someone you can spend the rest of your life with?"
Jennifer explains that this group marriage culture is about family and loyalty, and divorce isn't an option. "We don't force people to do anything they don't want to do. We encourage them to find a path of harmony," she says. "Some of the women struggled with it, and I think it's just because they don't understand. I hope I do a great job of bringing that to life."
Of course, everyone has an opinion on Real Housewives Of New Jersey, and though some may not understand right away her culture or her opinions, Jennifer says the season is all the better for it. "You will see a lot of emotions pan out on the show, and that's one of the reasons I think we had such a great season. We were able to find common ground where we were all able to tell each other how we felt," Jennifer says of her fellow Housewives. "Sometimes, it was good, sometimes, it was bad, sometimes, it was funny, it was sad… Sometimes, it was filled with a lot of love, which is what I was most proud of."
Though Season 9 of Real Housewives Of New Jersey has yet to reach the airwaves, Jennifer's addition will bring equal parts of drama and heart to the long-running show. We'll just have to tune in and see how it all turns out.