So This Is Where The HG Trivia Money Comes From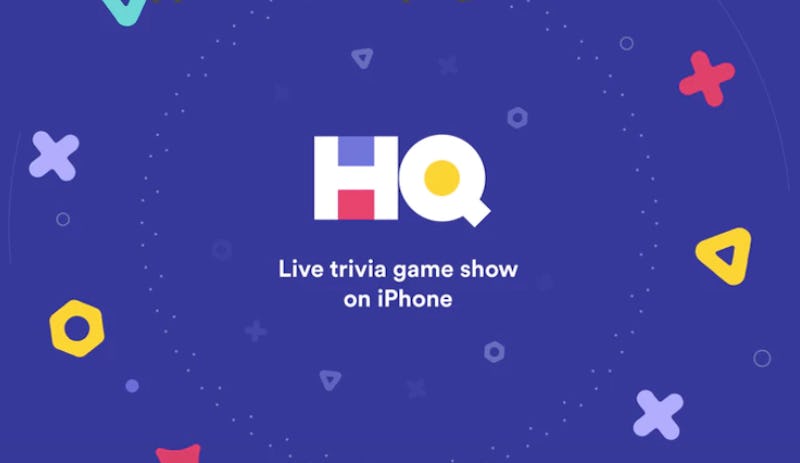 HQ Trivia
If you've yet to download HQ Trivia, the latest game craze to break the internet, you're seriously missing out. With no buy in or cost to join, the new app-based game show, which offers cash prizes to its winning contestants, has fans wondering exactly where the HQ Trivia prize money comes from. As the scope of nearly every industry constantly continues to shift amidst the ever-changing advancements in technology, HQ Trivia seeks to modify the enjoyment of trivia-style gaming. The platform, which gives fans the opportunity to join a live game show experience straight from the palm of their hands, has become the latest viral sensation that everyone's become glued to. But, the question is: how exactly do players get paid from the new app?
Though the game's winning pot varies from game to game, Variety indicates that the payouts are supplied by the app's developer, Intermedia Labs. As far as the app's business module is concerned its unclear just how the startup intends to turn a profit. The company, which is comprised of Vine co-founders, Rus Yusupov and Colin Kroll, has indicated that generating money is not their current focus, as they've chosen to place their concentration on creating a fun user experience. With the overall goal to someday up the cash pool to $1 million, according to Variety. Of its plans to monetize in the future, Yusupov explains,
"If we do any brand integrations or sponsors, the focus will be on making it enhance the gameplay. For a user, the worst thing is feeling like, 'I'm being optimized – I'm the product now.' We want to make a great game, and make it grow and become something really special."
Signing up to join in on the fun of HQ Trivia is quite easy as it only takes a few minuted to download the IOS app (an Android release is also planned) and enter your information. Once the game gets started, all it takes is a series of proper responses to cash in on the daily prize offering. Correctly answering all 12 multiple choice questions asked during the series will garner you a portion of the game's prize pool. Although the pot is said to vary from game to game, the jackpot prize is certainly nothing to sneeze at, once rising to a whopping $8500 on Dec. 3 – which is a huge climb from its opening payout offering of $100.
The most a single player had won was $535 as of Nov. 21 with the average overall HQ Trivia jackpot coming in at about $1,000 according to Time. HQ Trivia's pay out process is fairly simple as well, paying its winning contestants through PayPal once they accumulate more than $20 in winnings. If no one wins a game, the cash gets rolled over into the next series.
When it comes to playing the HQ Trivia, the instructions are pretty straight forward. All you have to do is answer 12 general trivia questions using three multiple choice answers. There is a total of 10 seconds allotted to answer each question with a countdown ticking during the last three seconds. Cheating via Google is nearly impossible due to the limited timespan of the quiz and one incorrect answer gets you eliminated from the game. Although the game does offer you a chance to get back into the game with an "extra life," which can be earned by inviting friends to play. The correct answers are ultimately revealed after each question, which gives you an opportunity to brush up on your trivia for future games.
Fans can't seem to get enough of the new quiz show, which has seen a growth spurt of exponential proportions following its soft launch back in August of this year. Since its summer roll-out the game has seen a steady increase in players which have mostly been received through word of mouth from past visitors, according to Variety. The games, which are played live at 3 p.m. and 9 p.m. on weekdays, have recently seen crowds in the hundreds of thousands flocking to the platform on a daily basis, according to CBS New York.
Playing HQ Trivia sounds like a total win-win for anyone who has ever dreamed of being on a game show like Jeopardy or Who Wants To Be A Millionaire. The competitive fun coupled with the exciting chance of snagging a cash payout makes this game show a complete no-brainer.