Here's The Not-So-Inspiring Way Donald Trump Reportedly Came Up With Tiffany's Name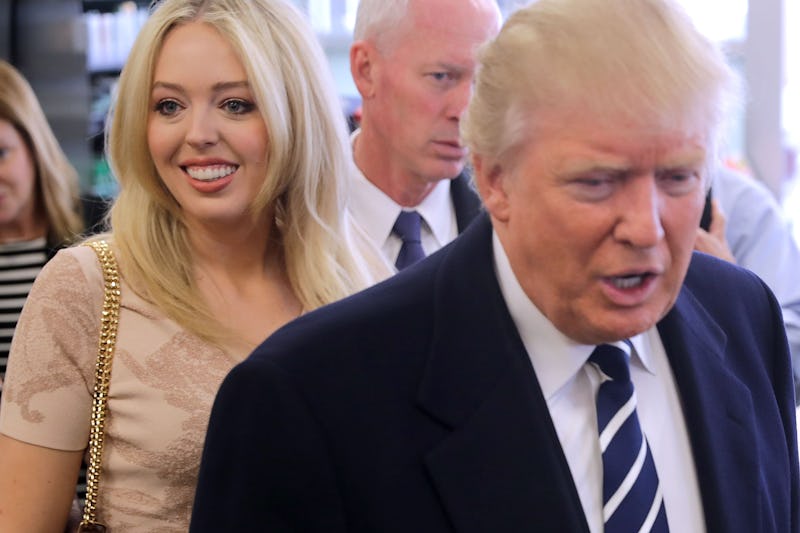 Chip Somodevilla/Getty Images News/Getty Images
It's been nearly three years since Donald Trump first announced his campaign, and since then, Americans have gotten a good, long look at him and his immediate family. Some of his family members have kept a lower-profile than others ― for instance, for all you hear about Ivanka Trump, you might not even know where Tiffany Trump's name comes from, even though it's a reference to a pretty famous brand.
Make no mistake, Tiffany is so often referred to as something of the forgotten daughter of the Trump clan. Unlike some of his family members who have gotten actively involved in the administration in a way that flaunts norms and draws scrutiny, Tiffany isn't often in the spotlight.
The president's eldest daughter Ivanka is a White House adviser who's traveled the world as an official representative of the United States — which has been a deeply controversial role to receive simply by being the president's offspring. His two adult sons Eric and Don Jr. have dabbled in their dad's political career. Meanwhile, Tiffany is relatively anonymous.
She did notably show up at the Republican National Convention in 2016, as well as one of the presidential debates, and recently attended an infrastructure-related event held by her father. But compared to his other adult children ― setting aside 12-year-old Barron Trump ― she's not nearly as in the spotlight, and as such, there's a lot less public knowledge about her.
A recent Vanity Fair profile about the Ivanka/Tiffany relationship, however, provides one biographical detail: she was reportedly named after the famous jewelry dealer Tiffany & Co., a company Trump had a business relationship with. Here's how the Vanity Fair piece described it.
Tiffany's name derives from that of the famous jewelry store on Fifth Avenue, adjacent to Trump Tower. Donald had bought the store's air rights for $5 million when he was still putting together the deal to build the signature building that bears his name.
Tiffany & Co. is one of the most iconic jewelers in America, and from the sounds of things, Trump plucked its name and bestowed it on his youngest daughter. He would eventually marry Tiffany's mother, Marla Maples, a couple months after her birth; the pair were divorced in 1999 after more than five years of marriage.
This is not the first time that a news publication has examined Tiffany's relationship with her famous family, or more specifically, her father. Just last week, in fact, People magazine reported that her relationship with Trump has become more strained and distant since his rise to the presidency, with her sometimes going months at a time without seeing or speaking to him.
"Since the inauguration, Tiffany and her father have sometimes gone for months without speaking and she went a very long time without seeing him," a source close with Tiffany reportedly told the magazine. "The last time she was at a family function with him, it was awkward for her and she didn't feel totally welcome."
This was reportedly a reversal from their relationship during the 2016 presidential race, in which the pair grew closer than they'd previously been, by way of some "bonding moments" while Tiffany was on the campaign trail.
Notably, during the aforementioned infrastructure event in Ohio, he shouted-out both Ivanka and Tiffany, but gave a lot less attention and emphasis to the latter. In short, at least according to recent reports, it sounds as if the 24-year-old Tiffany is not the offspring the president is closest to. Or at the very least, she's certainly spent less time in the political and cultural spotlight than the rest of her siblings.