"C'est La Vie" Just Turned 20 & The B*Witched Ladies Are Still Living Their Best Lives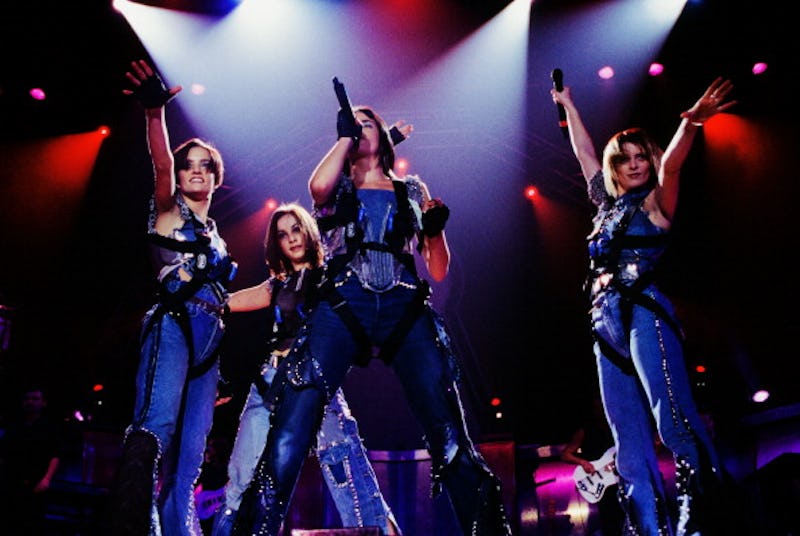 Nicky J. Sims/Redferns/Getty Images
Unbelievably, B*Witched dropped their preeminent single two decades ago, so in 2018, we are somehow facing down the momentous 20th anniversary of "C'est La Vie." The Dublin pop outfit, which consisted of Edele Lynch, Keavy Lynch, Lindsay Armaou, and Sinéad O'Carroll, proved to be one of the most beloved pop groups of the early-aughts. And if you have ever found yourself wondering where the members of B*Witched are now, and what they have been doing in-between, I've got you.
When their debut single was released in the spring of '98, radios across the UK were suddenly ablaze with folk violin, and televisions alight with the high-contrast denim-garbed female four-piece. From the unrepentant emasculation of lyrics like, "Hey boy, sittin' in your tree / Mummy always wants you to come for tea" to the impressive athleticism of their dance routines, there was something about the peppy Dublin girl group that caught the imagination of many a teenage girl.
My personal resounding memory of B*Witched was watching them live at the Nottingham Arena, clad in denim peddle-pushers and a candy pink Kookai shirt. At the climax of the show, they triggered confetti canyons and a glorious shower of shamrock-shaped tissue paper rained down on us. God it was good.
After scoring hits with "Rollercoaster" and "To You I Belong," both from their eponymous debut album, the band appeared on the seminal mid-aughts show Charmed and later went on to record their second album, Awake and Breathe. But it was while making their third album that things started getting a little prickly with the group. Their label, Sony, dropped them, ramping up existing tensions and culminating in O'Carroll's departure.
"Something went wrong," bandmate Keavy Lynch later told News.com.au of the time. "Somebody ripped it from under our feet, we were very lost. It was very shocking and a lot went with that."
Keavy confirmed long-held suspicions: her twin, Edele, was pushed up front as the lead singer, leaving the rest of the band feeling a little out of the loop.
B*Witched bowed to the pressure, eventually calling it a day in 2002. For a decade, they busied themselves with their respective solo projects. Edele and Keavy joined forces to form an electro-pop two piece called Barbarellas, releasing demos through their MySpace and eventually landing a contract with Irish record label Ceol Music. They released their debut album Night Mode in 2012. Edele went on to star in Celebrity Big Brother 2014, and contrastingly, Keavy went on to train as a counsellor, and she currently has a practice in Kingston upon Thames.
O'Carroll went on to manage a girl band called Minx before setting up her own performance school named Star Academy, while Armaou pursued an acting career, shooting a few small budget feature films.
B*Witched briefly reunited for the ITV programme The Big Reunion in 2013, a reality show that featured other pop outfits from around the same time, including Liberty X, Blue, Honeyz, and Atomic Kitten. The show followed two weeks of gruelling rehearsals, as they reunited for the first time in 10 years to put on a spectacular single show. In an interview on the show, Edele revealed that she was nervous about seeing O'Carroll again, describing her leaving the band as feeling as if her "wife was leaving."
"I just wasn't feeling it," O'Carroll admitted of the time. "To me it was like, what's the point?"
After re-bonding on the show, the group eventually embarked on an arena tour in 2013, releasing a Christmas single with other bands on The Big Reunion. Things went quiet for a while, until they released a single and EP, the cheekily titled Champagne or Guinness, on the crowdsourcing site Pledge Music in 2014.
"It's been inspired by some of our life experiences," Keavy told Renowned for Sound about the EP, "and been influenced by our Irish roots again but not ignoring that we have been and always will be a pop band."
As you can see above photo, B*Witched has been touring on and off for the past couple years, and they've confirmed that they will be doing some more shows following the "C'est La Vie" anniversary, with dates at the Kubix Festival and Mighty Hoopla, among others. Long may they live.