Here's What Happened To The Real Gene Palmer From 'Escape At Dannemora'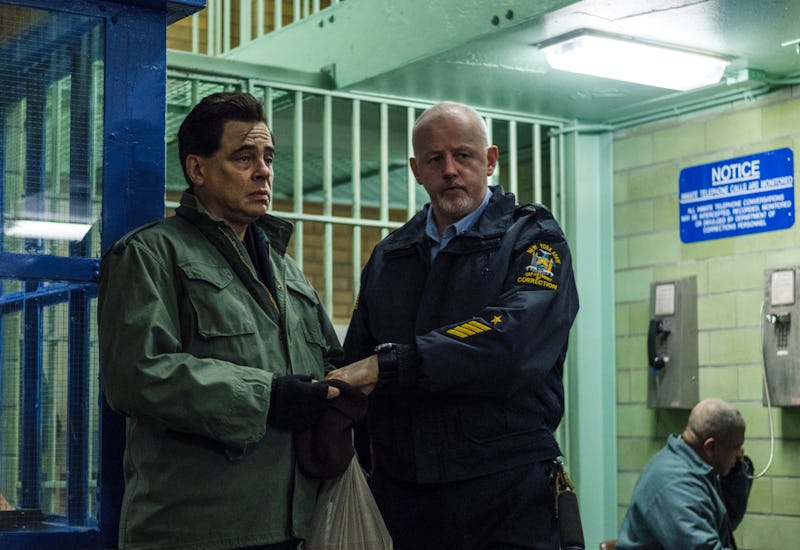 Chris Saunders/Showtime
Escape at Dannemora dramatizes the real-life 2015 prison escape of two convicts in upstate New York. As anyone who followed the prison break and subsequent manhunt closely when it happened will know, Richard Matt and David Sweat didn't pull of their escape alone — they had some help. David Morse portrays corrections officer Gene Palmer on Escape at Dannemora, and like Patricia Arquette's character Joyce "Tillie" Mitchell, Palmer assisted with the convicts' escape. Out of the four major players, Palmer's whereabouts in 2018 show that he had the best fate after this prison escape, which is because he also claimed to have the least involvement.
Ben Stiller (yes, that Ben Stiller) directed all eight parts of this miniseries that tracks the escape of Matt (Benicio Del Toro) and Sweat (Paul Dano) from Clinton Correctional Facility. Palmer was a corrections officer at the prison who was accused of helping these convicted criminals. While Matt and Sweat were on the run, information came out that Palmer used to get artwork from Matt and do the prisoner favors in return. As The New York Times outlined, Matt was a skilled artist, painting portraits of people like Barack Obama, Julia Roberts, and TV character Tony Soprano. In a statement to police, Palmer complimented Matt's artwork and admitted that in exchange for these paintings and intel on other inmates, he provided Matt with art supplies, among other accommodations.
Palmer claimed he didn't know of Matt and Sweat's plot to escape and Sweat reportedly confirmed in 2015 that Palmer was not directly involved in the plan. Yet, Palmer allegedly did provide Matt with needle-nose pliers and a flathead screwdriver. Police reports stated that Palmer also allowed Matt to tinker with the electricity in his cell. Most bizarrely, he gave Matt a pound of frozen ground beef that Palmer said he had gotten from Mitchell. Hidden in the meat were tools that aided Matt and Sweat in their escape.
The New York Times reported that Palmer had overseen Matt at Clinton Correctional Facility for seven years before the prisoner fled. And the fallen corrections officer did plead guilty in 2016 to one felony and two misdemeanor charges for his unintentional assistance in the prison break, per Plattsburgh's Press-Republican. The 59-year-old Palmer, who had been a corrections officer for 28 years, was sentenced to six months in a county jail.
After four months behind bars, the Press-Republican reported that Palmer was released in June 2016 — the minimum amount of time required. He also paid $5,375 in fines and was fired from his position with the State Department of Corrections and Community Supervision.
The Clinton County Sheriff, David Favro, told the local NBC affiliate at the time that Palmer kept to himself in prison. "I think after nearly 30 years' experience in the state correctional facility on one side of the bars, he learned that the best way to do his time is to be very quiet. Do what you're told to do and get out," Favro said.
Since his release, there don't seem to be any new updates about Palmer. Meanwhile, fellow prison employee Mitchell is still serving time for her role in the escape. As for Palmer actor Morse, he has played a prison guard before in The Green Mile, which was adapted from a Stephen King novel. Interestingly enough, New York Governor Andrew Cuomo compared the Dannemora escape to another King film adaptation set in a prison — The Shawshank Redemption. But you can see how this prison story — and Palmer's part in it — play out when Escape at Dannemora premieres on Nov. 18.