Kylie Jenner Was At The 2018 VMAs, But You Probably Missed Her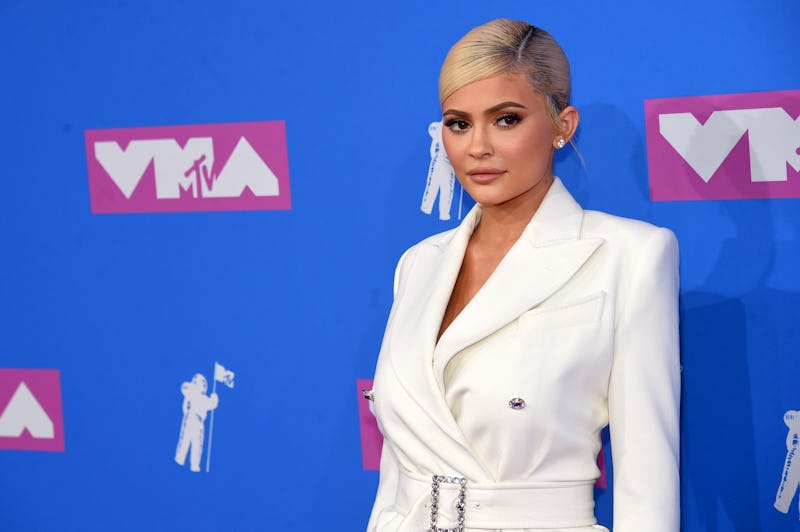 Jamie McCarthy/Getty Images Entertainment/Getty Images
Monday night's VMAs were a big celebration for celebrities and artists of all kinds, and fans geared up to see all their faves walk the red carpet. So where was Kylie Jenner during the 2018 VMAs? The reality star made an appearance on the red carpet in a crisp white suit, but otherwise wasn't shown much throughout the show.
She was definitely there — though the camera wasn't focused on her like it often is during an episode of Keeping Up With The Kardashians, she could be spotted from time to time in the audience. She was seated with her boyfriend, Travis Scott, and a few people on social media were on the lookout for any time she showed up onscreen.
It was always apparently the plan for Jenner to attend — Us Weekly listed her among their reported seating charts earlier this week — and that's not surprising. She and Scott have been a serious item for some time now, and now they even have a child together, Stormi, who Jenner gave birth to earlier this year. And, Scott was on the schedule to perform, so Jenner was likely always planning to show up and support her guy.
She was also spotted taking some selfies with fans, to the glee of many.
When Scott took to the stage to perform, his girlfriend was shown smiling and quietly bopping along to the music for a moment, but not too much focus was placed on her. The performance taking place was so colorful, electric and intricate, though, that the show probably wouldn't want to break up the flow with too many shots of the audience. Scott had a giant fake head and a huge crew of dancers alongside him onstage, not to mention tons of lasers and neon lights going at all times.
Throughout the show, Jenner wasn't featured all that much, and when she was, she looked pretty subdued, but in a room full of people who are often screaming and dancing, it's not hard to seem more chill. Plus, Jenner has never seemed like the "jumping up and down" type, particularly in public. And she's a new mom, too! Maybe she just wanted a night out where she could sit down and enjoy music from the peace of her seat, occasionally standing up to dance along with her boyfriend's music. That'd be totally understandable.
Jenner is in the public eye literally all the time, and people are always wanting to know what she's up to. Regardless of your opinion of her, that lifestyle has to get exhausting. If she wanted the VMAs to be a production that she stayed out of the spotlight for, she achieved her goal even as she showed up to cheer on the people she loves and had a good time. Living life in the Kardashian/Jenner family means that there's no shortage of eyeballs on you, no matter what you're doing. Jenner laid low Monday night while still being a supportive girlfriend, and really, no one can blame her for that.