Taylor Swift Just Might Be Able To Make An Appearance At The 2018 VMAs — Really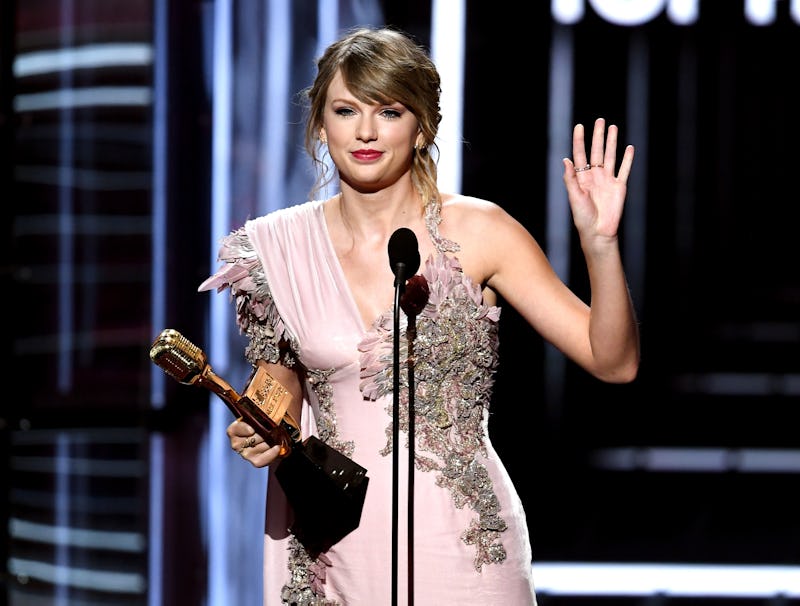 Kevin Winter/Getty Images Entertainment/Getty Images
Almost nine years after Kanye West and Taylor Swift's original infamous 2009 VMAs moment, fans are naturally wondering if Taylor Swift will be at the 2018 VMAs. After all, the Aug. 20 show on MTV will once again take place at NYCs Radio City Music Hall. The "Delicate" singer has not been announced as either a performer or presenter by MTV, but she is up for three Moon People this year — so there's still a chance she could make a surprise appearance. What's a music awards show without Swift dancing and singing along in the audience anyway?
There is some good news for Swifties: She does have a few blank spaces in her Reputation stadium tour schedule. Following her Aug. 18 concert in Miami, Swift, who's in the thick of the tour's North American leg, has a week-long break before her next performance in Nashville on Aug. 25. Since she has a home in Nashville — and with her tour not wrapping until November 21 in Tokyo — she may be using the time off for some R&R though.
Still, she technically doesn't have any prior public engagements preventing her from traveling to NYC for the VMAs. She did also recently take a break from her tour to attend the 2018 Billboard Music Awards with boyfriend Joe Alwyn in May, where she won two honors, including Top Female Artist.
There may be some bad blood, so to speak, between Swifties and the VMAs, however. Despite the singer's three 2018 MTV VMAs nominations, Swift's stans were livid that the video for "Look What You Made Me Do" was snubbed from all of the night's major categories, like Video of the Year. (The music video did receive nods for Best Art Direction, Best Visual Effects and Best Editing.)
In terms of Swift's history with the VMAs, she's attended seven of the past 10 shows, making her first appearance in 2008 when she was nominated for Best New Artist, along with Katy Perry and Miley Cyrus. (All three ended up losing out to Tokio Hotel.) The now-seven-time VMA winner, may have missed the past two consecutive ceremonies, but she did still premiere her highly anticipated "Look What You Made Me Do" music video during last year's telecast.
After all, the unfortunate incident with West was just the first of many times she's made VMA-related headlines. In 2010, all eyes were on Swift when she replayed footage of the rapper's shocking stage crash, during her VMA performance of "Innocent." In a full circle moment, the pair hugged it out when Swift presented West with his VMA Video Vanguard Award in 2015, joking in her speech, "To all the winners, I have to say... I'm really happy for you, and I'mma let you finish, but Kanye West has had one of the biggest careers of all time!" Of course, Swift and West's longstanding feud has reignited since then — even though she "would very much like to be excluded from this narrative."
While accepting the Best Female Video award for "I Knew You Were Trouble" in 2013, fans thought Swift reportedly threw shade at an ex in her speech, giving a shoutout to "who I wrote this song about cause you know who you are and now I have this award."
Between all of her energetic performances and candid behind-the-scenes moments, there's no doubt that Swift has given us some wild VMA narratives over the years. While it's still unclear if she'll continue the trend this year, one things for certain: Should she make a surprise appearance, fans will definitely be ready for it.