Why Brendan Dassey's Former Lawyer Won't Be In 'Making A Murderer' Part 2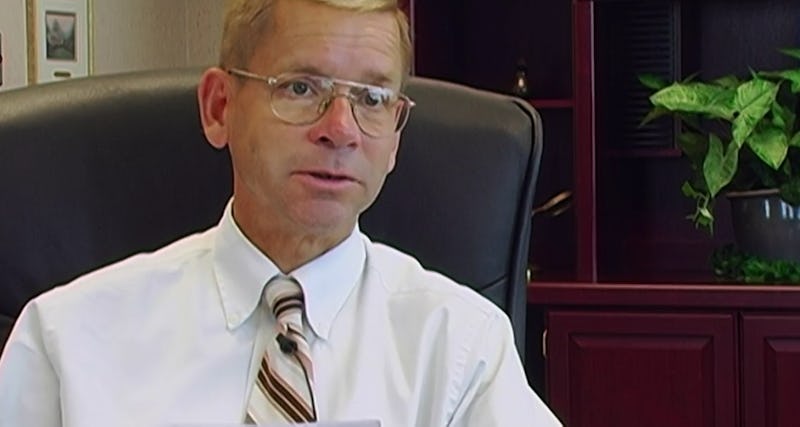 Screenshot/Netflix
While Making A Murder focused primarily on the trial of Steven Avery, the concurrent trial of his cousin, Brendan Dassey, also provided some of the docuseries' most compelling footage. While Avery had Jerry Buting and Dean Strang on his original defense team, Dassey's first experience with legal representation in the Halbach case was with attorney Len Kachinsky. He was removed from Dassey's defense team before the trial, and Making A Murderer Part 2 won't delve too much into where Len Kachinsky is in 2018, mostly because he's been accused of a crime himself. Bustle's request for comment from Kachinsky about the charges and his involvement, if any, with the new installment of Making A Murderer was not immediately returned.
Following the release of Making A Murderer in 2015, viewers were critical of Kachinsky's strategy as a defense lawyer, and specifically his decision to allow his investigator, Michael J. O'Kelly, to try and pursue a confession from Dassey without having his parents present for an interrogation, according to USA Today. The news outlet reported that people had left disparaging messages for Kachinsky via Twitter DMS, his office voicemail, and on his personal cell phone. Despite all the negative criticism, however, Kachinsky told The Wrap in 2016 that, "Frankly, I'm not responsible for Dassey going to prison ... You can say I made a mistake, that I should've [attended] or I should have rescheduled the interview — that's valid criticism."
The premiere of Making A Murderer Season 2 on Oct. 19 will help bridge the gap between the developments in the Halbach case and the efforts to exonerate Avery and Dassey, but Kachinsky's involvement with the docuseries might be complicated by the fact that he has been charged with felony stalking and two misdemeanor counts of violating a restraining order, according to ABC 2 WBAY. Kachinsky plead guilty to all charges in 2017, according to the same outlet.
According to the Post Crescent, the restraining order was issued in response to Kachinsky's court clerk alleging that he had allegedly harassed her by making "cat noises while staring at her," and then "retaliating against her" when she didn't respond to his advances. The multiple charges could lead to Kachinsky being sentenced to up to five years in prison. Lachinsky claims that the harrasment was a "workplace relationship gone bad," per the Post Crescent.
While Kachinsky's recent legal troubles may get in the way of Kachinsky commenting on Making A Murderer Part 2 after it is released, there's a chance that he will still be featured in the season itself. The Post Crescent reported in April of 2017 that the Making A Murderer crew had visited the attorney, and he told the Crescent that he spoke to the crew so that he could "set the record straight."
There's no way to know whether or not Kachinsky's interview in Making A Murderer Part 2 will be his final words on the matter, but as long as the crew behind Making a Murderer continues to explore the circumstances that led to Brendan Dassey being in prison, the role that Kachinsky played as his defense lawyer will likely continue to be explored.