Maritza's Prison Life Changes SO MUCH In 'OITNB' Season 6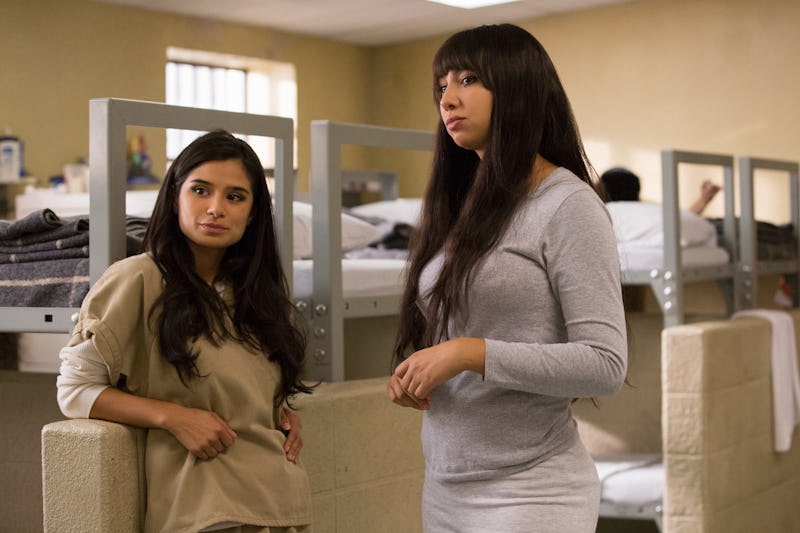 Cara Howe/Netflix
Name a more iconic duo than Flaca and Maritza from Orange is the New Black. I'll wait. Whether it's going viral with prison riot makeup tutorials or just having each other's back throughout all of the chaos, Flaca and Maritza are true BFF goals at all times, full stop. But the end of Season 5 featured the heartbreaking separation of these two besties, causing fans to worry that Flaca and Maritza might be placed in separate prisons. So where is Maritza in Orange is the New Black Season 6, and will she and Flaca be reunited?
If you don't remember what happened to the two friends at the end of Season 5 (it's been too long, Netflix!) allow me to refresh your memory. The season finale finally saw the end of the Litchfield prison riot, as the inmates were rounded up by security guards and a SWAT Team, handcuffed and loaded onto school buses. Though it was unclear where each bus was headed, it was apparent that after the deaths of two security guards, most of these women would be headed to maximum security, at least until those responsible for the deaths could be identified.
Despite Flaca and Maritza's best efforts to be herded onto the same bus, a guard separated them, and refused to let them board the same vehicle. Flaca began to cry, but Maritza reassured her as she headed for a separate bus. "It's okay," she called out to her best friend, before adding, "I love you!" Pass the tissues, please.
Fans were understandably very distressed to see these two separated, and were desperately hoping for their reunion in Season 6. But sadly, sometimes the Orange is the New Black writers work to remind viewers that this is still a show about prison, and the inmates have lost autonomy over most of their lives. So while Flaca was sent to the Litchfield maximum security prison along with Piper, Taystee, Ruiz, Red, and most of the other key OITNB characters, she reveals in Season 6 that her BFF was sent off to another prison facility somewhere in Ohio. It turns out that not all of those school buses were headed to the same place, and many of Litchfield's inmates were spread out across the U.S. following the riot. Unfortunately, Maritza was on one of those buses, effectively removing her not only from Litchfield, but from the Season 6 storyline.
Maritza's exit from Season 6 is part of a larger pattern. Cosmopolitan reports that before the season premiere, showrunner Jenji Kohan hinted that Season 6 might have a narrower scope than in previous seasons, which means that some of the show's supporting cast gets considerably less screen time, or are removed from the show altogether. Diane Guerrero, who plays Maritza, has joined the cast of CBS sitcom, Superior Donuts, but that doesn't mean she might not come back for Season 7 of OITNB.
This current season focuses mostly on the women who were in the bunker at the end of the riot, their adjustment to a new maximum security prison, and the dire consequences they might face for their actions inside Litchfield.
This means that fans spend even more time with Red, Daya, Taystee, Suzanne, and Piper, but much less time with characters like Flaca, Lorna, Maureen, and Brook. But of course, with a new prison comes new guards and new inmates to contend with, and the show's old supporting cast is quickly supplemented with lots of new characters, from Red's wiley, dangerous bunkmate "Badison," to a corrections officer completely obsessed with self-help books.
Obviously, that doesn't make the separation of Flaca and Maritza any easier to swallow. The pair managed to find the bright side in everything, even after Maritza suffered horrible abuse from CO Humphrey (who could forget the mouse incident?). They were a major source of humor and lighthearted fun in the show, and in a season that is filled with horrible abuse, friends turning on one another, and severe consequences for the women of Litchfield, the Maritza/Flaca duo is sorely missed in Season 6.
As is their "Flaritza" YouTube channel. I'm dying for more makeup tips.