Where Is Nancy Kerrigan now? 'I, Tonya' Shows The Ice Skater's Tragic Attack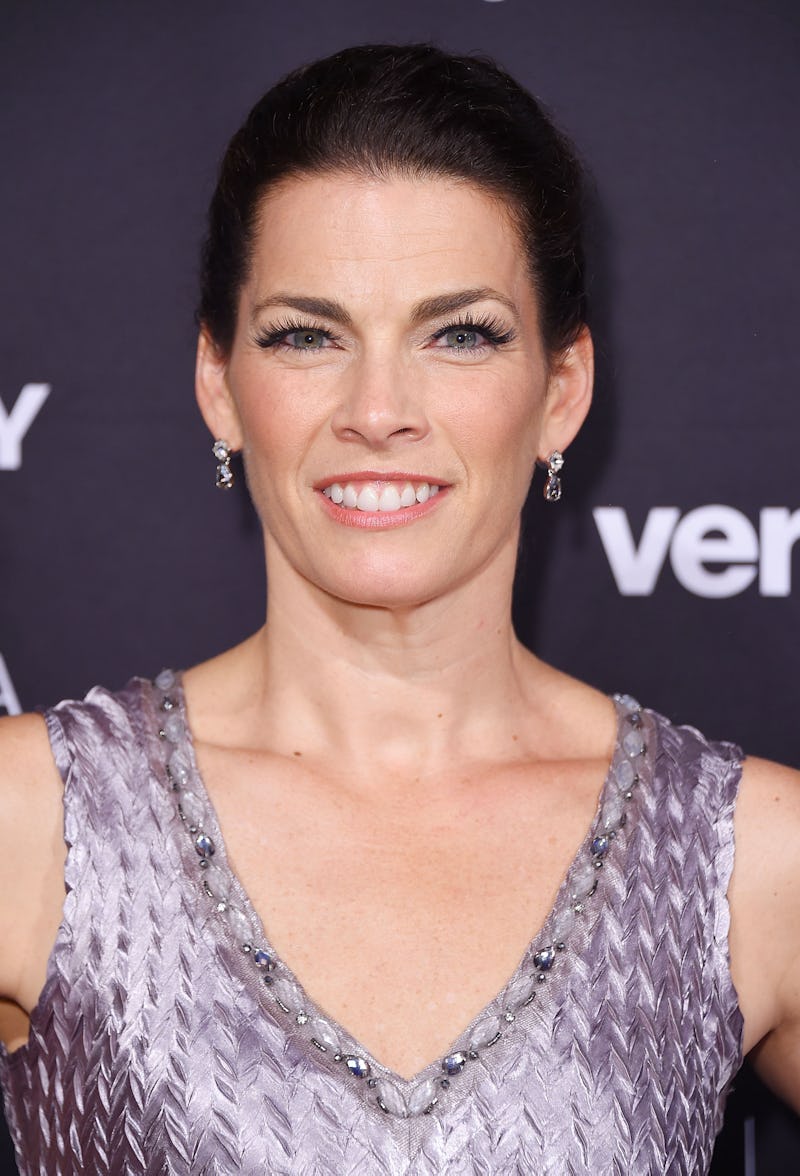 Michael Loccisano/Getty Images Entertainment/Getty Images
The Winter Olympics will be here before you know it, and while those heartwarming commercials might give you all the feels, the film I, Tonya shows a darker side of what seems to be the most wholesome professional sport — figure skating. Starring Margo Robbie, Allison Janney, and Sebastian Stan, the film chronicles the mysterious feud between Kerrigan and Tonya Harding, specifically the attack prior to the 1994 Olympics that shaped both of their lives going forward. But just where is Nancy Kerrigan now, years after her attack?
Kerrigan is played by Caitlin Carver, who you may know from The Fosters, Paper Towns, Hit The Floor, and Dear White People on Netflix. In real life, Kerrigan may have retired from figure skating after the 1994 Olympics, according to Biography, but she has stayed working and in the public eye ever since. The Silver Medalist wasn't completely ruined by the attack. She received a number of endorsements following her win, has performed as a non-competitive figure skater over the years, appeared in Blades of Glory, and is married with three children. In a 2017 interview with People, Kerrigan talked about how "my job is being with my kids after school and asking them how their day was," and opened up about suffering six miscarriages following the birth of her oldest son.
In 2014, according to The Hollywood Reporter, Kerrigan was hired by NBC as a Figure Skating Analyst for the Sochi Winter Olympic Games, and broke her 20 year silence about the "incident" in 1994. While Kerrigan has not completely fallen into the shadows, she doesn't often talk about what happened — THR reports that she told NBC that "getting attacked, that's not something to celebrate." Fair enough.
Earlier this year, Kerrigan competed in Dancing With The Stars, a show where figure skaters and gymnasts often find success. Kerrigan and Artem Chigvintsev did well, almost making it to the quarterfinals. Her partner, at least, believed they deserved to go further. In an interview with E! Online following her elimination, Kerrigan said she had taken away from DWTS, "oh, a lot of friendships. It's been an incredible experience to be part of. The cast, the crew, everybody is amazing hard workers and so talented. It's just an incredible experience for me."
She's also producing a documentary called Why Don't You Lose 5 Pounds, about eating disorders and professional athletes. She told People this year that she developed (undiagnosed) anorexia following the stress of her attack and the attention that followed. As an adult, she noticed the patterns and decided to do something about it. "I've seen women who have ended up having having hysterectomies because they had an eating disorder for so many years that they damaged their bodies so much," said Kerrigan. "There's one girl that I competed against when I was young, she died. I think a lot of times people see it as something they can control, but frankly the eating disorder starts to control you."
Unfortunately, the attack that almost cost Kerrigan her Olympic metal has never truly left her. In an April interview with ABC News during her appearance on Dancing With The Stars, Kerrigan said that she never got a direct apology from Harding, though she doesn't think it matters at this point. She also raised an issue with how she was ridiculed at the time for her cries of pain after being attacked, and talked about the documentary.
So, at the end of the day, not only did Kerrigan triumph over a brutal attack and finish strong at the Lillihammer Olympics, but she's still doing fine. She's using her position to spread light on stigmas surrounding miscarriage and eating disorders, and that's awesome. This scandal defined a large portion of her life, but it didn't ruin it either.