The Navy Is Really Sorry Some Pilots Drew A Giant Penis In The Sky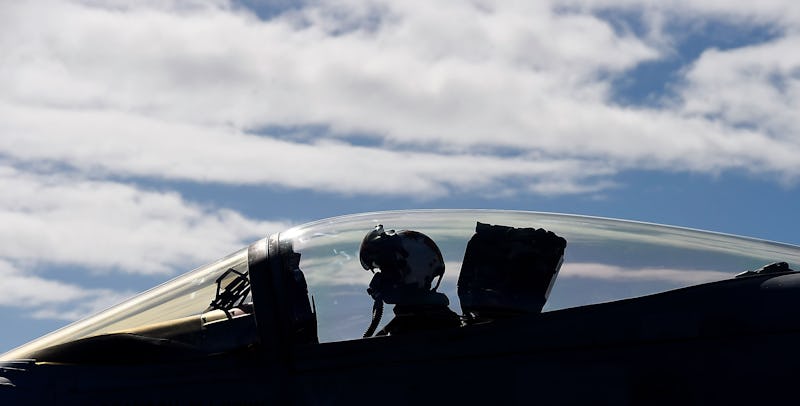 Ian Hitchcock/Getty Images News/Getty Images
So you're out at a barbecue, or a picnic, or doing any kind of fun, carefree, activity outdoors. And as people do when it's a nice day out, you tilt you head upward to admire the stunning blue sky overhead. Then you notice something a bit strange in the clouds. Is that — wait, really? It couldn't be, right? But it is — as some Washington state residents noticed — a penis in the sky drawn by a Navy pilot using a jet's contrails. Let's just say the pictures might be worth your time, if you have a certain sense of humor.
The giant sky penis appeared over Okanogan County, which is Washington state's largest county by area and borders Canada. It also has a population of just over 40,000, so not too many people got to see the bizarre show. At least one of the county's residents was not delighted with the act of vulgar skywriting: According to local Spokane CBS affiliate KREM 2, the Navy was alerted to the eye-popping act after a mother who was displeased with the display set about looking for an explanation.
This woman reportedly contacted KREM 2, which then followed up with Naval Air Station Whidbey Island. The air station acknowledged that one of its planes had been the culprit in the lewd skywriting. But enough of that. You want to see what it looked like, right?
According to KREM 2's report, the Okanogan mother who complained about the sky penis was worried that she might have to explain what it was to her children. The Navy responded to the news outlet's questions in a statement, accepting responsibility for the offensive image and promising to hold whoever was behind it accountable.
The Navy holds its aircrew to the highest standards and we find this absolutely unacceptable, of zero training value and we are holding the crew accountable.
The Navy was quite clearly not kidding about this. As BuzzFeed reported on Friday, the aircrew that drew the sky penis has been grounded and an "investigation" is pending. A spokesperson also reportedly described the incident as an "irresponsible and immature act," which is definitely one way to put it. It's unclear what consequences the crew might face, or what the investigation will entail.
"We hold our aircrews to the highest standards, and we do find this absolutely unacceptable," the spokesperson told BuzzFeed. "There was zero training value in that maneuver and we're holding the crew accountable."
Not to challenge the Navy's expertise on this, but doesn't it seem a little harsh to say there was zero training value whatsoever? The crew responsible for this giant sky penis are surely a little better at some things now than they were before. For example, they're definitely better at drawing penises in the sky with jet contrails. And conspiring to draw penises in the sky with jet contrails. And kicking off investigations into juvenile stunts! Plus, the pilot probably logged some extra flight time.
All jokes aside, it does sound as if the people responsible for the sky penis are going to end up facing some form of disciplinary action, which is quite a price to pay for the childish glory of the stunt. Still, they'll probably have a pretty good story to tell for the rest of their lives, whatever else drawing a sky penis might cost them.