Why Patty Hearst Is Fighting Back Against Re-Tellings Of Her Own Infamous Kidnapping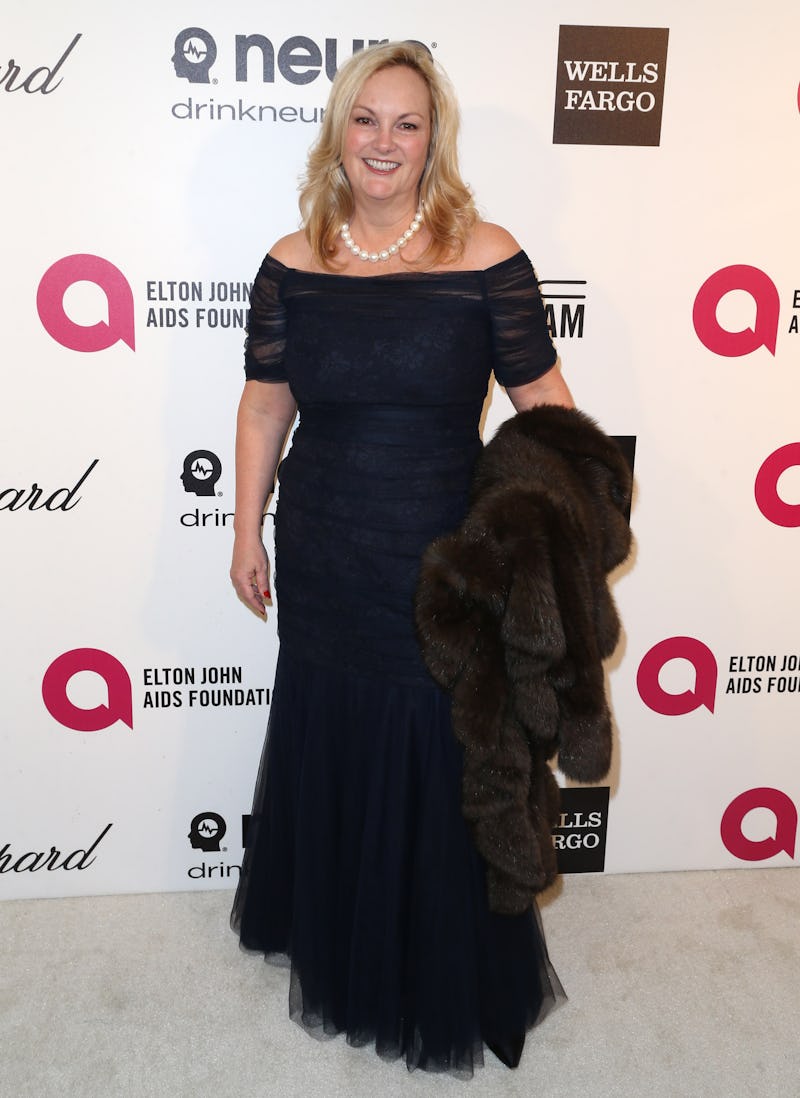 Frederick M. Brown/Getty Images Entertainment/Getty Images
In a new docuseries, CNN will examine perhaps one of the strangest cases in American history in The Radical Story Of Patty Hearst, premiering Feb. 11. In 1974, 19-year-old college student Patty Hearst was kidnapped from her apartment by domestic terrorist organization the Symbionese Liberation Army, according to the official FBI record of the case. Then, the granddaughter of media magnate William Randolph Hearst was exploited by the group in hopes of gaining ransom. They allegedly abused and "brainwashed" Hearst so that she'd help the SLA gain more followers. She was famously videotaped holding a gun during an SLA bank robbery and recorded messages of support for the organization. The former heiress survived the ordeal, but where is Patty Hearst in 2018?
Hearst, despite these events in her past, has continued to live her life in as normal a fashion as possible. According to The New York Times, she was surrounded by about 20 bodyguards following her initial release from prison, and ended up marrying one of them. She wed Bernard Shaw shortly after President Jimmy Carter commuted her sentence for her bank robbery conviction in 1979, according to the Times, and they remained married until his death in 2013. They had two children together, the article states, and Hearst appears to remain close to them to this day. Her daughter, Lydia Hearst, is a model, actress, and television personality who is married to comedian Chris Hardwick, according to Harper's Bazaar. Lydia has been known to share photos with her mother on her social media.
According to a 2015 Chicago Tribune article, in the years since her kidnapping and arrest, Hearst has become involved in charity work and dabbled in acting. She also has had a notable presence in the dog show world for more than a decade. Her dog, Rocket, a Shih Tzu, won best toy dog at the 2015 Westminster Kennel Club show, according to the same article. "People move on," she told the Tribune. "I guess people somehow imagine you don't evolve in your life. I have grown daughters and grand-daughters and other things that normal people have."
Nowadays, Hearst gives few interviews about her ordeal, and largely keeps to herself, at least as far as media is concerned. She was profiled by the New York Times in 1988, and even then was described as "stingy" with details about her personal life. Given the scrutiny she faced in the direct aftermath of her trial, that isn't altogether surprising. In a recent statement shared by Deadline, Hearst claimed that she's told her story as fully as she chooses to, noting the book she co-wrote in 1981, and at the same time slammed the new CNN docuseries slated to air this month and executive producer Jeffrey Toobin, who also wrote the book American Heiress about the case.
Her full statement — produced shortly after the Golden Globes Time's Up demonstration — reads:
"This past weekend at the Golden Globes so many strong women put together an incredibly moving testimony to the fact that times are changing. I'm so grateful for people like Reese Witherspoon, America Ferrera, and Eva Longoria who have taken a stand for women everywhere. When Oprah gave her acceptance speech it moved so many of us…she said, '[Recy] lived as we all have lived, too many years in a culture broken by brutally powerful men. For too long, women have not been heard or believed if they dared to speak their truth to the power of those men, but their time is up.' That hit home for me more than you can imagine. It's no secret that I was abducted, raped, and tortured at 19. What followed was a series of events that were the direct result of a child having been destroyed both inside and out.
Over the years I have been approached many times to discuss my ordeal, and I have answered many questions. I have spoken the truth about my experience and even wrote a 499-page book where I lay it all out, as painful as it was to relive. Each time I do, it puts me back in the nightmare which, as you might imagine, is deeply painful. This is why for the last several years, I have declined to answer any more questions. It's very hard on me, and not something I want my daughters to be reminded of. When approached by Jeffrey Toobin in what could only be construed as an incredibly arrogant and egotistical fashion, he stated in an email that I should talk to him, saying, 'you've written your own book and given many interviews,' yet he continued with, 'It would be in your best interest to talk to me. I'm a high profile writer. This book will get a lot of attention. It will be seen as the last word on the subject.' It was offensive to me that a man would have the audacity to tell a woman that he would have the last word on her trauma. Naturally, I declined his request.
Jeffery Toobin's unauthorized book, American Heiress, which cites one of my kidnappers as its main source, romanticizes my rape and torture and calls my abduction a 'rollicking adventure.' This project is attempting to rewrite history and directly flies in the face of the present #MeToo movement where so much progress is being made in regard to listening, and providing a voice, to those who have suffered abuse. I am further saddened and appalled that Fox 2000 agreed to finance and produce a movie based on Toobin's book (with a similarly themed screenplay, also written by men) and that CNN has agreed to continue to perpetuate a one-sided dialogue romanticizing my torture and rape by hosting a podcast and docuseries through Toobin's distorted lens. I refuse to give Jeffrey Toobin, 21st Century Fox, CNN or anyone else involved in these projects about my life the power to make me a victim again, or the power to provide a platform where victim blaming is ok.
As hard as it was to do, I have grown well past the 19-year old me and gone on to become a proud wife, mother, and grandmother. I have no interest in revisiting such a violent and hurtful time in my life. Aren't we living in a better world than this? I sincerely hope the answer is a resounding 'Yes.' I am joyful and inspired by all of the women who have been brave enough to come forward with their truths. I stand with you, I support you, and I applaud you. #ListenToWomen #TIMESUP #MeToo"
Bustle has reached out to CNN for comment, but did not receive a response as of publication.
Deadline reported that Twentieth Century Fox Film released a statement later in the same day as Hearst, stating that the studio "and its production partners have decided to cancel the studio's planned project based on the book American Heiress." Though, the spokesperson did not confirm that the move was made in response to Hearst's complaints.
It seems clear that Hearst wants to move past these events in her early life. She's established an identity that is anchored by her family and her privacy, not the events of her kidnapping.
If you or someone you know has been sexually assaulted, call the National Sexual Assault Telephone Hotline at 800-656-HOPE (4673) or visit online.rainn.org.