All The Celebrities Wearing Time's Up Pins At The Golden Globes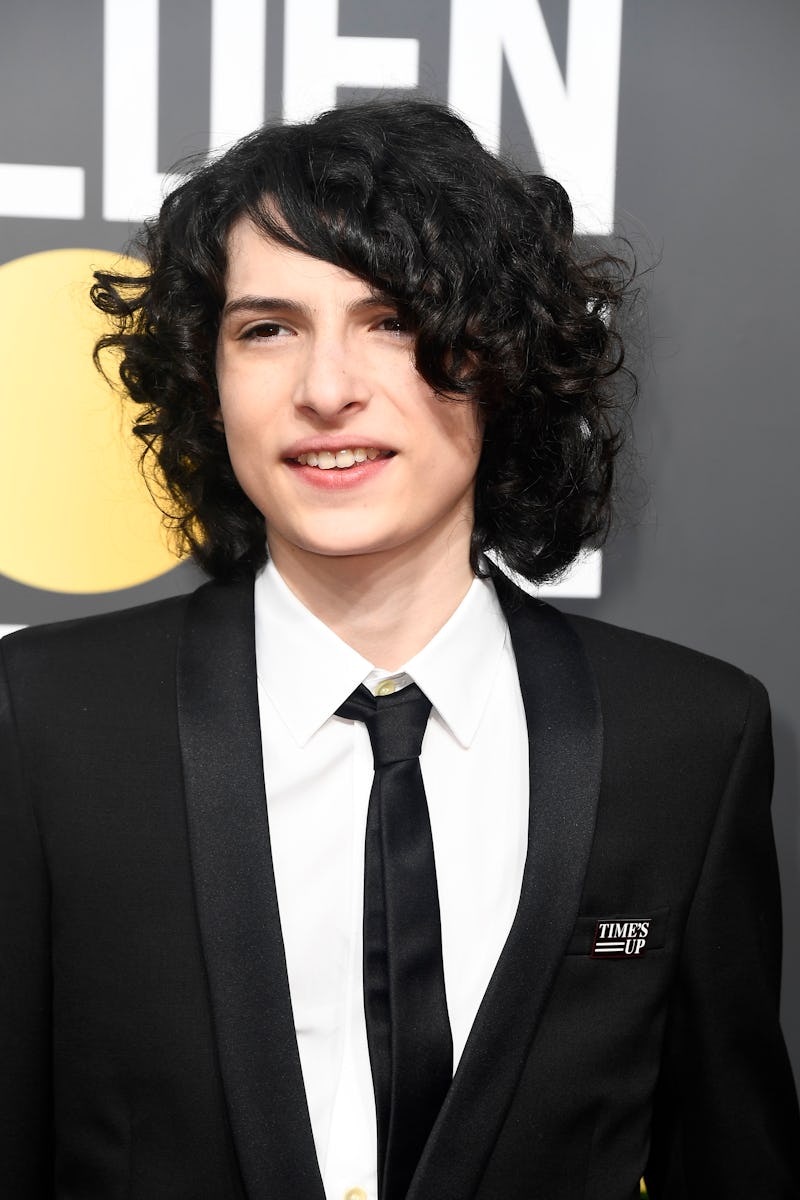 Frazer Harrison/Getty Images Entertainment/Getty Images
While we're used to seeing a range of colorful gowns and tuxes on the red carpet, this year's Golden Globes was a bit different. And for an incredibly good reason. To protest all the recent sexual assault allegations and blatant inequality in Hollywood, many celebs decided to stand together and wear one color: black. And many more stars wore Time's Up pins, too.
The black outfits stood out and made a bold statement. But the pins may have been a bit harder to see. Did you miss them? They were simple, white buttons that said "Time's Up," and many stars had them pinned to their tops or lapels.
Time's Up is the name of the movement that kicked off the black gowns and tuxes idea, and the addition of the pins simply added to the important message. According to the Time's Up website, "The clock has run out on sexual assault, harassment and inequality in the workplace. It's time to do something about it." And do something about it everyone did, even if only making the smallest of statements with a pin. (Take a look at the Time's Up Instagram page, if you'd like to learn more.)
Celebs banding together at the Golden Globes, especially at a time when so many people are stepping forward and sharing their experiences with sexual assault, made for quite the powerful scene. As noted on The New York Times, "Time's Up ... is an initiative created by several hundred actresses and female agents, writers, directors and entertainment executives to fight sexual misconduct across the country."
Celebrities, and people the world over, have had enough. And by wearing a pin, they truly did help to send a message to everyone who watched the Golden Globes, and beyond. Take a look below to see all the celebs who donned a pin to show their support.
Daniel Kaluuya
The actor, from everyone's favorite movie Get Out, joined the movement with a pin tacked onto his lapel. See what I mean? It was difficult to spot. But its message spoke volumes.
Chrissy Metz
Chrissy Metz, the gorgeous actress from This Is Us, tacked a pin to her glittering Sachin & Babi gown. The perfect touch, don't you think?
Freddie Highmore
We all know and love Freddie Highmore from his performance in The Good Doctor, which earned him a nomination for Best Actor in a Drama TV Series. And the fact he wore a Time's Up pin made him all the more lovable.
Justin Timberlake
Justin Timberlake wore one, too. He was in attendance to support Jessica Biel, who was nominated for her role in The Sinner. Biel also showed her support for the movement by wearing all black.
Seth Meyers
The host of the show was on board, wearing his pin high on his lapel.
Finn Wolfhard
And here's Finn Wolfhard's on take on the pin. Most of the Stranger Things cast wore one too, because they're awesome like that.
William H. Macy
The actor looked great in his velvet tux, but especially so with that pin on his lapel.
David Harbour
David Harbour was nominated for an award Sunday night as well, for his role as Jim Hopper in Stranger Things. But that didn't distract him from remembering to wear a pin.
Steve Carell
Another celeb who was made even more lovable by showing his support. Steve Carrel stuck one to his jacket. And also wore a pair of really cool glasses.
Nick Jonas
Nick Jonas looked chic on the red carpet in a black tux and (you guessed it!) a pin.
Norman Reedus
The Walking Dead star paired his pin with an excellent tux, and excellent hair.
What a simple, yet effective way to get the word out about equality, and at such an important time.