Princess Charlotte Just Made History & She Probably Doesn't Even Know It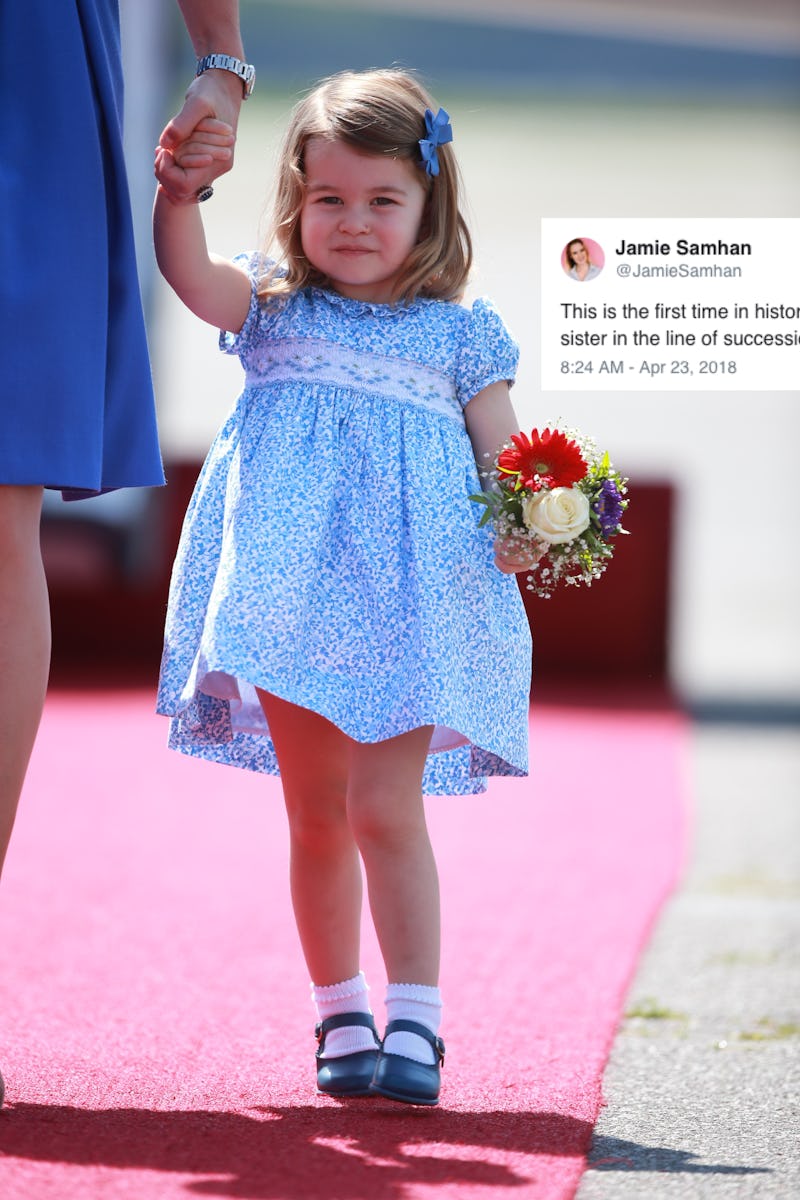 Pool/Getty Images Entertainment/Getty Images; JamieSamhan/Twitter
By now, it's probably safe to say most royal enthusiasts are well-aware of the fact that Kate Middleton gave birth to the royal family's newest member early Monday morning. Besides the excitement surrounding the baby's arrival, some buzz has cropped up about his older sister, too. In light of the new baby's birth, some people are wondering where Princess Charlotte is in line for the throne. It turns out that Charlotte is making history — and she may not even realize it.
Whether Charlotte realizes it or not, the arrival of Windsor's tiniest bundle of joy marks an important occasion for the 2-year-old princess, according to a recent report by Marie Claire, published several hours after the baby's birth. (And not just because she became a big sister, either.) Because, as the magazine reported, with the much-anticipated arrival of Princess Charlotte's infant brother, the angel-faced toddler just became the first female member in Britain's royal family to maintain her place in the throne's line of succession following the birth of a male heir.
Jamie Samhan, a royal commentator for CTV, took to Twitter in the wee hours of Monday morning, April 23, to share the news of this exciting feminist win with fellow royal enthusiasts. Suffice to say, Samhan summed up the due cause for celebration quite plainly in her tweet:
For the record, at this point, Princess Charlotte is fourth in line to assume the throne. And judging by Monday's recent news of history-making proceedings playing out at Buckingham Palace, it looks like Charlotte won't be relinquishing her spot amid the royal pecking order any time soon. (Barring any future occurrences that might bump her up to No. 3, that is.) As Marie Claire noted in its report, this is a really big deal — for Charlotte, but also for the royal family at large.
Because, historically, a female royal in Charlotte's position would immediately lose her spot in line to a brother — even a younger one. But, thanks to an arguably groundbreaking piece of legislation (helmed by U.K. Parliament) that gave first-born daughters and sons of the royal family an equal chance to assume the throne. Victoria Arbiter, also a noted royal commentator for both CNN and CTV News, similarly turned to Twitter to share news of the momentous happening. "Princess Charlotte makes history as the first royal girl to not have her position in line usurped by a younger born brother," Arbiter tweeted.
In 2013, Parliament passed a law that laid the groundwork to, essentially, usher in a new era for Britain's royal family, wherein the hierarchical path to the throne no longer prioritizes gender over age, according to BBC. The legislation stipulated that any royal family members born after October 2011 would adhere to the new parameters, which, in simplest terms, basically means those in line for the throne will precede their younger siblings in the succession sequence, regardless of whether or not they're a woman. And, while the law was technically put into place about five years ago, it wasn't until the birth of Princess Charlotte's baby brother that its mandates could actually take effect in real life.
It might also be worth it to note here that at age 2, Charlotte currently holds the highest standing of any female person listed in the British throne's line of succession. (After her, the next woman in the running is Princess Beatrice of York, at No. 8.) So, it's not too difficult to understand why ensuring that she maintains that standing feels revelatory for so many people — U.K. residents and otherwise — who've long been frustrated by a royal hierarchy that favors its male affiliates, even if only in the name of longstanding tradition.
A few excited fans of the royal family voiced their excitement about Charlotte's history-making moment in the comments section of Samhan's tweet, echoing the understanding that this day (and the conceivably more female-fronted future it seems to invoke) in royal history is certainly one for the books — that, and it probably should've come along a bit sooner than it did.
So, while the selection methodology behind the royal line of succession might still prove itself a little tough to understand (for all us overseas admirers from across the pond, at least), it seems like the whole process is going to become significantly more straightforward — not to mention significantly less patriarchal — from now on. Who else is already crossing their fingers to see a Queen Charlotte reign at some point during this lifetime?