Oxygen's New True Crime Series Takes Another Look At A Disturbing & Ongoing Case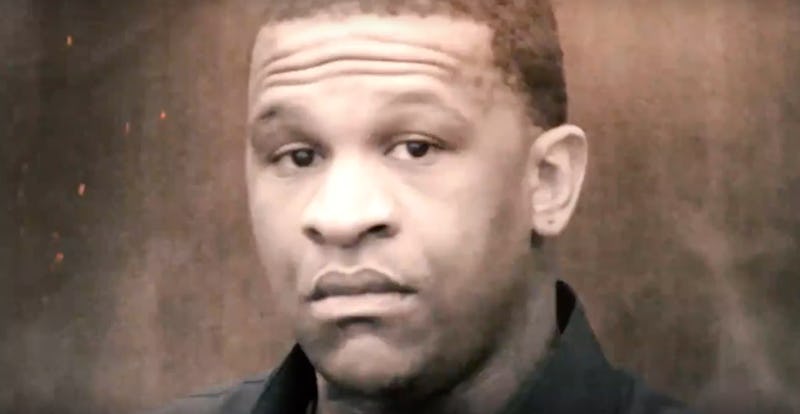 Oxygen
The case explored by Oxygen's latest true crime series created a media frenzy from almost the moment it occurred. 19-year-old Jessica Chambers was found burned on Dec. 14, 2014, on the side of a road in rural Mississippi, per USA Today. Quinton Tellis was indicted, according to The Sun Herald. He was few years Chambers' senior but grew up in the same neighborhood and had attended the same high school. But there are still some familiar with the case who believe that Tellis is innocent, as the new Oxygen docuseries Unspeakable Crime: The Killing of Jessica Chambers, seeks to chronicle when it premieres on Saturday, Sept. 15 at 7 p.m. ET. Where is Quinton Tellis now, and why are some still convinced of his innocence?
Jessica Chambers was found on the side of the road next to her burning vehicle and with burns covering 98 percent of her body, according to a report by the Clarion Ledger. Her injuries were mortal and extremely painful. A first-responder at the scene of the crime testified during Tellis' first trial that the sight of Chambers was severely disturbing. "She had her arms out, saying, 'Help me, help me, help me,' " USA Today reports that firefighter Cole Haley stated under oath. Chambers later died of her injuries in a hospital, according to the same report.
Why would someone want to kill Chambers in such a violent manner? The question plagued investigators for more than a year after her death, until they were able to uncover evidence on Chambers' cell phone that led to an arrest. Investigators recovered deleted text messages between Chambers and Quinton Tellis, messages that revealed that Chambers and Tellis had been texting and calling each other constantly in the days leading up to her murder, according to WMC5. The text evidence also demonstrated that in the four days before Chambers' death, Tellis solicited sex from Chambers four times, only to be denied in each instance, per the same report.
Cell tower evidence was also able to determine that on the day of her death, Tellis and Chambers had been near the same location hours after Tellis told investigators he had last seen the victim, per WMC5. The same report stated that about an hour after Chambers was burned alive in her car, Tellis deleted all text messages between them, and made no effort to reach out to Chambers again. Tellis was charged with Chambers' murder in 2016, per CNN. He continues to maintain his innocence.
Yet not everyone familiar with the case was convinced of Tellis' guilt. For one thing, there was the fact that eight different first responders at the scene testified to hearing Chambers say "Eric set me on fire" when approached by the firefighters and medics, according to NBC News. And Oxygen reports that the new docuseries covering the case will delve into the racial undertones that began to emerge during the course of the case, divides exacerbated by the racist legacy of black men being wrongfully accused of harming white women. Buzzfeed, which had been following the hoard of online amateur sleuths trying to solve the case from the comfort of their couches, reported that many of these chatrooms and crime threads were filled with people dissatisfied with Tellis' arrest.
The jury on Tellis' first murder trial seemed to agree with those skeptical that the evidence pointed unequivocally to the defendant. The Associated Press reports that a mistrial was declared after the jury was unable to reach a verdict after 10 hours of deliberation. A retrial has been scheduled for Sept. 24, according to USA Today.
Though Tellis has not been convicted of Chambers' murder, he is currently serving a five-year-sentence on the unrelated charge of burglarizing an unoccupied building, a sentence he is serving at the Mississippi State Penitentiary at Parchman, according to USA Today. Tellis is also connected to the 2015 murder of exchange student Meing-Chen Hsiao in Monroe, Louisiana, as he allegedly used her debit card after her death. Per Oxygen, he was never indicted or charged in that case, however.
The Chambers case is soon to be relitigated in the state of Mississippi as well as in the court of public opinion, as the new Oxygen series is set to cover the retrial process as well as the investigation into the murder. But while Tellis' guilt or innocence has yet to be determined, Jessica Chambers' family is still searching for closure, and for justice. "I walk around looking [for Jessica's killer]," Lisa Chambers, the mother of the victim, told People. "You get angry at everything." And whatever the verdict of this second trial, the Chambers family will still be missing their daughter. "I still text her phone," Lisa told People in the same interview. "I write her, 'I love you to the moon and back my sweet, precious angel. I miss you.'"
Though it is small comfort for losing a daughter, hopefully the truth about the murder of Jessica Chambers, whatever it may be, will soon be uncovered.